Quill and Scroll Announces 'Chapter of the Year' Award
In honor of former Executive Director Vanessa Shelton.
CHAPTER OF THE YEAR
Entries are now being accepted for the first Vanessa Shelton Chapter of the Year Award. The award is named for former Quill and Scroll Executive Director Vanessa Shelton, who served in that role from 2007 to 2017. Entry is free. See the form below. The deadline is April 10, 2020.
Over the past 94 years, Quill and Scroll has granted charters to more than 11,000 schools around the world. When a school's journalism program receives its charter, students in the school begin a Quill and Scroll chapter there. Quill and Scroll does not dictate how active a chapter should be, but the organization's "Chapter Manual" does provide some guidance on the value of an "active chapter," the activities it may engage in, and its general goals:
"The chapter can accomplish these goals: (1) inspire members of the staff to greater efforts; (2) attract students of higher ability to publications/media work by offering them journalistic recognition and honors; (3) provide incentive for the development of the journalism department and the improvement of school publications/media; and (4) secure greater recognition of journalism work by students, school officials and the community."
–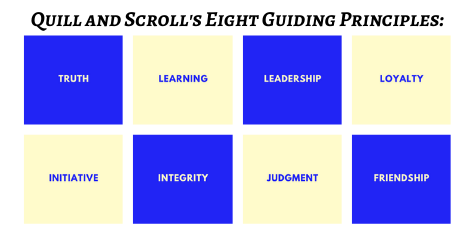 Other details:
The application deadline will be April 10, 2020, and the winner will be announced in May. 

Eligibility for the Award will require chapters to have initiated members into Quill and Scroll in each of the past three years.

There will be no entry fee for the award.
–
CHAPTER AWARD
The 2020 Vanessa Shelton Chapter of the Year will receive:
A trophy signifying the winning chapter's achievement.

One student from the chapter will be awarded a spot on the Quill and Scroll Student Advisory Board for the coming year.

Memberships for five eligible staff members —including five pins and honor cords — in Quill and Scroll for qualifying students from the school (A $160 value).