Quill and Scroll Magazine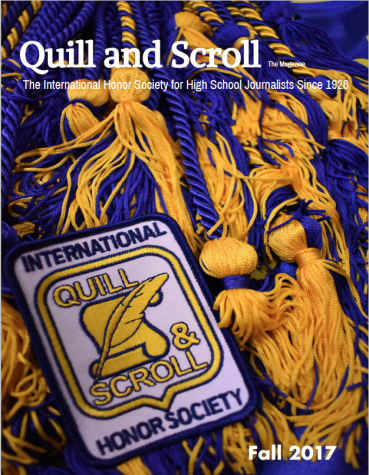 Quill and Scroll produces a magazine aimed at providing tips and pointers for Society members and their advisers. After 91 years of publishing the magazine in print, Quill and Scroll moved to digital distribution of the magazine in 2018.
You can find the information from the magazine in two ways.
First, the stories in the magazine are still placed in a traditional magazine layout and distributed electronically via Constant Contact email newsletter and via issuu.com at this link. All issues of Quill and Scroll magazine from 2010-2017 are at that link. Older issues may be requested from Quill and Scroll's office. Here are a few of the most recent issues. Click on one to read:
Second, almost all stories and images from the magazine are published on this website, at the Q&S News tab under "News" in the navigation bar above.
If you have any stories about scholastic journalism, press freedom, reporting, photography, writing or journalism education in general that you would like to see published, please forward those stories to Executive Director Jeff Browne. Include a letter of inquiry in your submission. Story parameters include, but are not limited to:
Pieces written by authors who are student journalists; journalism teachers and advisers; professional journalists; journalism professors and/or researchers; and others who may have a specific connection or knowledge of journalism, specifically as it relates to journalism education.
A short (50 words) biography of the writer(s).
Stories should run between 800-1,600 words. Longer stories can be accepted. Personal memoirs are encouraged in addition to more formal articles.
Stories should also include artwork, including, but not limited to photographs, charts and informational graphics.
Subscriptions
Quill and Scroll offers a number of publications and resources related to scholastic journalism. You may call Quill and Scroll at (319) 335-3457.
Quill & Scroll magazine and Web site are the official media of Quill and Scroll, the International Honorary Society for High School Journalists.
Announcements and reports of the Society's activities are published in the magazine and online. Readers are informed about developments in the field of scholastic journalism education and related areas. Official business forms and announcements are maintained on the Quill and Scroll Website.
Quill & Scroll is the most widely circulated magazine devoted exclusively to the field of high school media. It includes news items and helpful hints for students and advisers.
Subscription rate:
$17.00 for one year
$30.00 for two years
Advertising rates
Journalism Workshops/Education Rates
For more information, contact us:
Email: [email protected]
Phone: (319) 335-3457