Quill and Scroll Archives
Quill and Scroll Magazine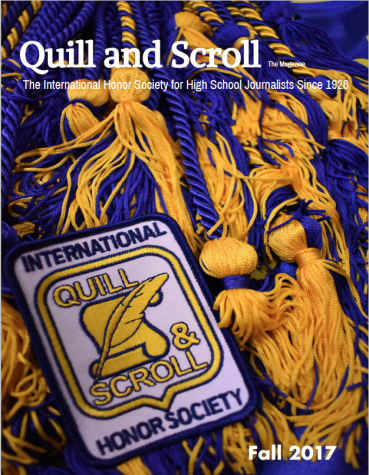 Quill and Scroll produces a magazine aimed at providing tips and pointers for Society members and their advisers. In Spring 2020, we moved from a magazine format to an interactive publication called "The Digital Quill," where we distribute our news, "The Weekly Scroll," featured profiles, our podcast "The Source," and more.
All issues of Quill and Scroll magazine from 2010-2017 at this link. Older issues may be requested from Quill and Scroll's office at the National Scholastic Press Association or in the University of Iowa library.
Here are a few of the most recent issues. Click on one to read:
A Quill and Scroll podcast for high school journalists around the world. Listen along to learn about scholastic journalism and its intersection with politics, economics, sports, lifestyle, and culture. You'll hear from some of the biggest names in the journalism industry. Here's the Podbean page that contains all our episodes over the past few years. Enjoy!
LATEST EPISODES:
Season 3 of The Source features interviews with judges from the Writing, Photo, and Multimedia Contest in advance of the February deadline for entries. Learn what judges are looking for and what defines great journalism in every area of the contest.
Episode 31: Jack Kennedy on critiques
Episode 30: Caryn Mirriam-Goldberg
Episode 29: JEA President Sarah Nichols
Episode 28: Scholastic Journalism Week
Episode 27: Entering the WPM Contest
Episode 26: Annie Wooden on Design
Episode 25: CNN's Erica Hernandez on pandemic coverage
Episode 24: Trevor Ivan on good journalism no matter the medium
Episode 23: News Feature Photography and Photo Illustration
Episode 22: News Writing and COVID coverage with Fred Wickman
Episode 21: Culture writing
Episode 20: Covering Politics
Quill and Scroll Executive Director Jeff Browne sat down with award-winning adviser Jonathan Rogers from Iowa City High School to discuss his philosophy of journalism advising, the importance of media literacy for reporters and audiences, and the meaning of being the adviser at one of Quill and Scroll's 19 original schools, all established as Q&S charters on April 10, 1926 in Iowa City.Click here to add your own text
Quill and Scroll spoke to Ron Stallworth, a retired police officer and author on Jan. 23 to tell us his story about infiltrating the Ku Klux Klan in 1979 Colorado. Listen to our podcast here or continue reading below for the written article version.