Miller wins adviser scholarship
Katherine Miller from Central Kitsap HS in Washington earns Lester Benz Scholarship
May 19, 2023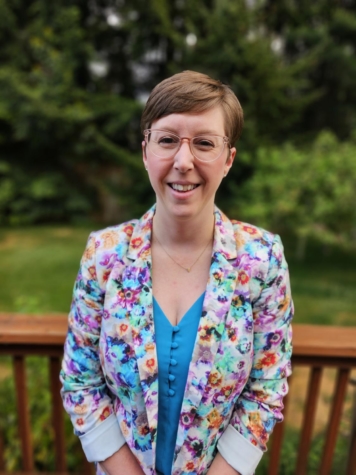 Cougar Chronicle adviser Katherine Miller from Central Kitsap High School earned the 2023 Lester Benz Scholarship from Quill and Scroll.
Miller will use the money she earned to attend this year's NSPA's Boston convention, with an express focus on print and production sessions. Their publication will bring back a quarterly magazine this coming academic year.
"Based on her application it was apparent she would take and apply what she's learned in the classroom," said Lori Keekley, NSPA associate director for Quill and Scroll. "This will benefit the students at Central Kitsap for years to come. We're so excited to name Katherine as this year's Lester Benz scholarship recipient."
Miller has been particularly happy with the past year, resulting in awards at state conventions for her students as well as a year that helped to build her publication's brand.
"Katherine is a fantastically engaged and supportive teacher who has taken her expertise with effective instructional practices and applied them to the benefit of our journalism program," said Craig Johnson, principal of Central Kitsap.
The Cougars' district does not give them an annual budget, meaning the staff — and Miller — must fundraise to attend both their state and national conventions.
In her six years as an adviser, she has taken the program from a one-year class to creating a CTE-certified course offerings that, starting next year, can have running membership for all four years of high school.
"Katherine has continued to seek out professional development for herself and our journalism students," principal of Central Kitsap, Craig Johnson, said. "The result of her work has increased the number of students interested in journalism; and it has also resulted in students who are highly skilled."
Miller initially became an adviser after her school's yearbook and newspaper adviser split the course in two. After taking on the role, Miller attended an adviser summer camp and also got her master's in journalism.
"This is a really important opportunity for students. It's a unique opportunity to be able to really learn what it means to exercise First Amendment rights, and I don't want to see that go away," Miller said. "That's actually what helped find my home and my school community."
2024 Benz Scholarship applications will be available in February 2024.
2024 Lester Benz Scholarship open for applications
Applications for the 2024 Lester Benz Scholarship are now open. Applications are due April 12, 2024.
Quill and Scroll will award the $250 Lester G. Benz Scholarship to an adviser who undertakes a professional development activity over the summer or in the academic year. The award can be used to attend a National High School Journalism Conference, to pay for tuition for a university course in a relevant subject area, or for a summer workshop, the JEA Summer Advisers Institute or a local summer workshop in your state, to name a few.
Who is eligible?
Quill and Scroll encourages applicants who:
Teach at a Quill and Scroll charter school (check here to see if you are and, if you're not, how to get a charter);
Have at least one year teaching high school journalism and/or advising publications;
Have a minimum of one year experience teaching journalism or advising school publications;
Plan to return to the high school classroom and media advising next year; and
Will apply the information gained in the course work, seminar or workshop taken as a result of this scholarship.
The scholarship program's objective is to identify and reward experienced journalism teachers and publication advisers (as defined above) who seek the opportunity to upgrade their journalism skills, teaching methodologies and advising techniques.
What's required?
Complete the application form below this section, including the requirement that you submit two letters of recommendation from people who will attest to your journalism teaching skill, publication advising, quality of the journalistic writing course(s) you teach and the quality of the publication(s) you advise. The letters of recommendation should come from any of the following sources:
Superintendent;
Principal;
Vice or Assistant Principal;
Department Chair;
Regional or State Scholastic Press Association Director;
Scholastic Journalism Workshop Director;
A faculty member of the school, college or department of journalism for whom you will take a journalism course; or
JEA mentor, current or former.
It is the intent to select a journalism teacher/publication adviser who plans to take course work that is definitely beyond the introductory level. Descriptions of courses or workshops should be submitted with the application to help inform the scholarship committee about the plan of study. The award is named after former Quill and Scroll Executive Director Lester G. Benz.
Lester G. Benz Scholarship
Past Winners
2023 — Katherine Miller, Central Kitsap High School, Silverdale, Washington
2022 — Sarah Nichols, Whitney High School, Rocklin, California
2021 — Shari Chumley, Tupelo High School, Tupelo, Mississippi
2020 — Laura Bowe, The King School, Stamford, Connecticut
2019 — Andrea Negri, Alief Hastings High School, Houston, Texas