Weekly Scroll for May 24, 2019
News, Tips and Advice from Quill and Scroll's Jeff Browne
"Ye shall know the truth, and the truth shall set ye free." — Quill and Scroll motto
The Lede
Remembering Our Fallen
In the days leading up to Memorial Day 2019, the United States continues to be a country riven by political differences:
Still, Monday brings a potential respite from all that as many of us take a day off to remember American soldiers, sailors, Marines, and members of the Air Force and the Coast Guard who have died in the line of duty.
One Midwestern mother is touring the country to make sure we remember.
"Remembering Our Fallen" has become the life's work of Noala Fritz of Verdon, Nebraska. Noala and Lyle Fritz's eldest son, 1st Lt. Jacob Fritz, was killed in Karbala, Iraq, on Jan. 20 2007, when enemies dressed in allied uniforms broke through security and carried out an attack on Americans there, killing four. "Remembering Our Fallen" is a tribute to every single American who has died in the war on terror since Sept. 11, 2001.
After spending this weekend in Washington, D.C., the exhibit will continue its tour of the United States throughout the summer. Check the schedule to see when and where you can see it. If you do, you will be reminded that the military is largely made up of young Americans — documented and undocumented, gay and straight, cis and trans — who love their country more than life itself.
Full disclosure: Noala Fritz is my aunt — having married my mother's brother, former Marine Lyle Fritz — and Jacob is my cousin. Lyle Fritz died in 2011. Jacob's brothers, Daniel and Ethan, continue to serve in the U.S. Army.
Trump's proposed pardons meet resistance
U.S. President Donald Trump has proposed pardoning three Americans convicted of war crimes that included murdering innocent civilians and urinating on dead enemy soldiers. Yet some senior U.S. military officials are speaking out against the pardons, saying it would send a bad message to American allies and the rest of the world.
Army Gen. Martin Dempsey, the former chairman of the Joint Chiefs of Staff, tweeted: "Bad message. Bad precedent. Abdication of moral responsibility. Risk to us."
PM Trudeau to exonerate 19th-century Cree leader
Canadian Prime Minister Justin Trudeau on Thursday pardoned Cree leader Chief Poundmaker in a ceremony at the autonomous Poundmaker Cree Nation in Saskatchewan. Chief Poundmaker was convicted of treason after the 1885 rebellion in which starving Cree people took supplies from military stores. They were then attacked by the Canadian Army, which eventually retreated. Chief Poundmaker did not tell his fighters to attack the retreating soldiers, yet he was tried on charges of treason. He was imprisoned in Manitoba before being released and dying in 1886.
It's An Honor
Six students earn Q&S scholarships
Six students from fives states earned Quill and Scroll scholarships that will help them study journalism in college. They are:
Sophie Ryland, McCallum (Texas) High School to the University of Texas, George and Ophelia Gallup $1,000 Scholarship.

Hannah Miller, Harrisonburg (Virginia) High School to Elon University; George and Ophelia Gallup $500 Scholarship.

Deana Trautz, Cedar Park (Texas) High School to Austin Community College; Edward J. Nell Memorial $500 Scholarship.

Linda Shi, Woodward Academy (Georgia) to Northwestern University; Edward J. Nell Memorial $500

Scholarship.

Grace Altenhofen, Shawnee Mission North (Kansas) High School to Drake University; Edward J. Nell $500 Scholarship.

Liza King, Richland R-1 (Missouri) High School to Mississippi State University; Richard P. Johns $500 Scholarship.
Winners in our Yearbook Excellence Contest and our Writing, Photo and Multimedia Contest are automatically eligible to apply. The Richard P. Johns Scholarship is for Quill and Scroll members who may not have been winners in our contests, though Liza King of Richland HS in Missouri won multiple prizes in Quill and Scroll contests.

The Yearbook Excellence Contest is open!
If you have a couple of weeks between now and the end of the school year, you might take some time out to enter the Quill and Scroll 2019 Yearbook Excellence Contest.
We have 18 contest categories, and we separate entries in two classes based on enrollment:
Class A for schools with 750 students (grades 9-12) or more
Class B for schools with 749 students or fewer
Schools with the most winners overall will be honored with Blue and Gold Awards for overall excellence, and writing and visual excellence.
The final deadline for entry is Oct. 10, but why wait?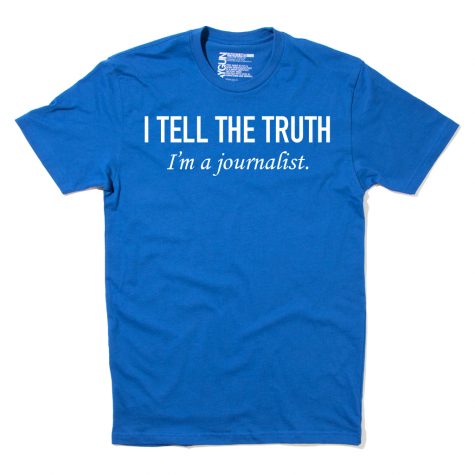 T-shirts!
With a lot of controversy surrounding reporting and the charged connotation #fakenews brings with it, it's important to remind those around us that a journalist's first priority is to the truth when informing the public. With that said, now is the time to order your Quill and Scroll "I TELL THE TRUTH — I'm a journalist" t-shirts.
Side note, "Truth" is the first pillar upon which Quill and Scroll was founded in 1926!
We're taking pre-orders from now through Sept. 15, 2019, and we'll deliver your shirts by Oct. 15, 2019 or earlier (depending on how many order we get at a time). Every time we get to 100 t-shirts ordered, we'll print up a new batch and ship them to you.
All profits will go to the Quill and Scroll Scholarship Fund, which benefits Quill and Scroll members who plan to study journalism in college.
This year's scholarship winners will be announced May 22!
Get your orders in, make your nominations for induction … now !
We ask any schools wishing to send in orders of pins, t-shirts, cords, etc. to do so as soon as possible. Our office becomes very busy with a large influx of orders this time of year; as a result, we ask for your patience and allow at least three weeks for your order to be processed and completed. We also need a form of payment (check, purchase order, credit card payment) before we ship. Start your membership order here.
It's critique time!
Everybody likes a good critique, right? Well, Quill and Scroll's News Media Evaluation service is designed to provide your staff a chance to luxuriate in their success, grimace at any minor error and contemplate what they can do to further their work in the coming school year.
The NME service is registering news publications for the 2019 summer critique season. We do four types of critiques:
COMPREHENSIVE NEWS MULTIMEDIA. Do you have a news magazine, a website and social media associated with both? Submit multiple media for a full evaluation of your entire news and journalism programs. These critiques include extensive comments from your evaluator. (Fee is $150 for a comprehensive evaluation.)
COMPREHENSIVE SINGLE NEWS MEDIUM. Submit a single medium (newspaper, news magazine or online news site) for a full evaluation. These critiques include extensive comments from your evaluator. (Fee is $80 per medium.)
RATINGS ONLY MULTIMEDIA. Submit your multimedia news operation for a ratings-only evaluation ($80). These critiques include no comments from your evaluator. (Fee is $80.)
RATINGS ONLY SINGLE NEWS MEDIUM. Submit a single medium (newspaper, news magazine or online news site) for a ratings-only evaluation. These critiques include no comments from your evaluator. (Fee is $55.)
If you've already paid for your evaluation through the Writing, Photo and Multimedia Contest, we now just need you to fill out the forms on this page.
If you haven't registered, there's still time! Our final deadline is June 15.
The best news media will be honored with the Gallup Award, a symbol of journalistic excellence for a half-century.
Q&S wants your induction video!
Would you like to be a part of the official Quill and Scroll video that chronicles the welcoming of students across the nation into our organization? Send us any video of your induction ceremony by clicking the button below, and we'll use it as visual evidence (that's fancy for "b-roll") for our video. The Q&S video is set to debut in the fall. Send us the video file in .mov or m4v format. It doesn't matter if you've used professional cameras or your mobile phone. Send it to [email protected].
Below is the most recent Q&S video, produced in 2010. It's time for a new one!
Commemorate your induction with an official Quill and Scroll Certificate Plaque
We are pleased to introduce our new official membership certificate plaque program in partnership with Award Emblem — our award partner and manufacturer of the official Quill and Scroll International Honorary Society membership pin for more than 50 years. For the first time, you can now purchase exceptional quality plaques that honor your induction and membership into Quill and Scroll. Each plaque is custom imprinted with your personalized membership certificate. These beautiful plaques will remind you and others of your hard-earned achievement for years to come.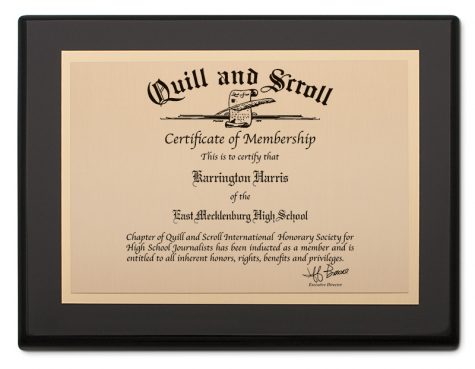 What's Viral?
California students win battle against censorship
Don't mess with California public school students, and don't mess with the Student Press Law Center and its phalanx of attorneys around the country.
That's the lesson this month as students at Bear Creek High School, where a story in the Bruin Voice ran afoul of the school's administrators and the district superintendent, who apparently had never heard about the state's robust First Amendment protections for student journalists.
The story profiled a female student, 18, who had started a career in pornography. The story contained no descriptions of the student's work in the adult entertainment industry, yet school officials tried to censor the story, which then prompted the student journalists to seek redress through the SPLC and the professional media.
Here's the opinion piece by the student journalists about their ordeal in trying to publish facts.
Yearbook headaches … and hurrahs
Yeah, the school's mascot has been misspelled. That's not good.
Some faculty members posed for photos in questionable costumes. That's worse.
Some entire books have been recalled because Nazi quotes made it into print. How did that happen?
But keep in mind the value that yearbooks have in preserving memories and moments in time that otherwise might be overlooked. Such is the case with this year's book at Marjory Stoneman Douglas High School in Parkland, Florida. The Feb. 14, 2018 shooting was more than a year ago, but for students at MSD this year, the scars and trauma were still very present. So the school's therapy dogs played a huge part of the school year, and the yearbook staff wanted to make sure those pooches had their place in the book. Watch the video and try not to smile.
Just A Thought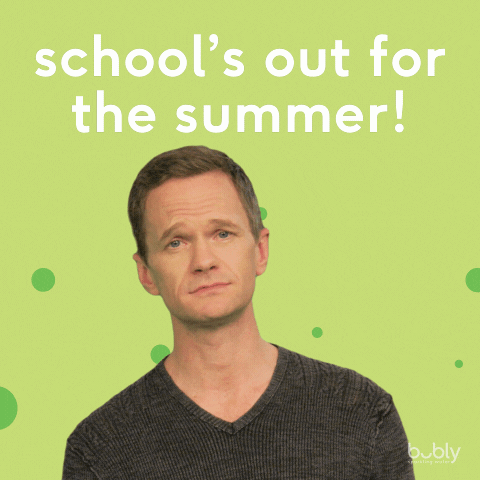 School's out; learning isn't
Research is clear about summer break: If you don't practice what you learned during the school year, you will backtrack if you do nothing. So while the next 10 weeks or so may be a great time to re-charge our batteries, we also need to be sure that our skills don't fall too far back.
That's why the Dow Jones News Fund has put together this extensive list of journalism summer camps that can help you maintain and improve your skills, as well as get a head start on planning your yearbook or your news coverage for 2019-2020.
See you in August!
https://quillandscroll.org/wp-content/uploads/2019/05/charles-651959-unsplash.jpg
1500
1319
Jeff Browne
https://quillandscroll.org/wp-content/uploads/2017/10/QS-Logo.png
Jeff Browne
2019-05-23 11:27:47
2019-11-08 13:42:58
Weekly Scroll for May 24, 2019