News, Tips and Advice from Quill and Scroll
Compiled by Quill and Scroll Journalist Tess Knickerbocker
The Lede
Abortion restrictions stir controversy in several states
Alabama's governor signed into law the nation's most restrictive and controversial abortion bill. This bill could punish doctors who perform abortions with life in prison and makes no exceptions for rape or incest. The only exception is if the pregnancy poses a health risk to the mother and for ectopic pregnancies.
Many call this abortion law a threat to women's rights. And some partisan news outlets are pointing to the nearly all-white, all-male legislature that passed the bill.
Internet drags all white GOP men who voted to pass controversial Alabama abortion ban https://t.co/gY2rl9t1Uz pic.twitter.com/LFjixKpUEJ

— The Hill (@thehill) May 16, 2019
Recently, other states have passed more restrictive abortion laws. This Missouri Senate passed a bill banning abortions at eight weeks of pregnancy. Earlier this month, Georgia made abortions illegal after a fetal heartbeat can be detected, usually at the six-week mark and when many women do not realize they are pregnant. Ohio, Mississippi and Kentucky all passed similar bills this year.
Iowa passed a "fetal heartbeat" bill in 2018, but it was ruled unconstitutional by the Iowa Supreme Court.
The U.S. Supreme Court's 1973 Roe v. Wade decision made abortion legal in all 50 states. The states that passed the abortion laws are hoping their bills will challenge Roe v. Wade and, with a conservative majority in the Supreme Court, possibly overturn it.
The New York Times has created an instant lesson plan for teachers and students who have access to their "Learning With" series.
Texas adviser leaves her job after administrator cuts student work
The journalism adviser at Seven Lakes High School in Katy, Texas is leaving her job after the principal there instituted a robust program of censoring student journalism in the school's student publications.
Katie Moreno will be moving to another district after this school year, and neither she nor the district will make any official comments on the situation, but the Student Press Law Center obtained a copy of Moreno's contemporaneous notes over the last seven months. Those notes outline the principal's control of the student media and what Moreno's students call "bullying" of the adviser.
Seven Lakes opened its doors in 2005 and has been a Quill and Scroll charter school since 2015.
Best states? US News says Washington and New Hampshire
The latest rankings of best states was released this week by US News, and Washington landed on top of the list. Where's does your state rank? What were the determining factors and data for that ranking? Do you and your classmates agree? What evidence do you have that might contradict what US News wrote?
It's An Honor

The Yearbook Excellence Contest is open!
If you have a couple of weeks between now and the end of the school year, you might take some time out to enter the Quill and Scroll 2019 Yearbook Excellence Contest.
We have 18 contest categories, and we separate entries in two classes based on enrollment:
Class A for schools with 750 students (grades 9-12) or more
Class B for schools with 749 students or fewer
Schools with the most winners overall will be honored with Blue and Gold Awards for overall excellence, and writing and visual excellence.
The final deadline for entry is Oct. 10, but why wait? Winners are eligible to apply for Quill and Scroll scholarships that help students who plan to study journalism in college.
This year's scholarship winners will be announced May 22!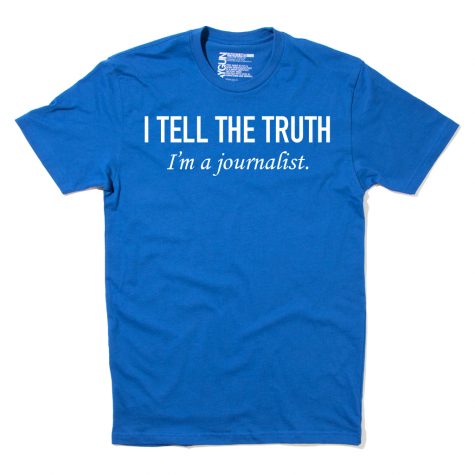 T-shirts!
With a lot of controversy surrounding reporting and the charged connotation #fakenews brings with it, it's important to remind those around us that a journalist's first priority is to the truth when informing the public. With that said, now is the time to order your Quill and Scroll "I TELL THE TRUTH — I'm a journalist" t-shirts.
Side note, "Truth" is the first pillar upon which Quill and Scroll was founded in 1926!
We're taking pre-orders from now through Sept. 15, 2019, and we'll deliver your shirts by Oct. 15, 2019 or earlier (depending on how many order we get at a time). Every time we get to 100 t-shirts ordered, we'll print up a new batch and ship them to you.
All profits will go to the Quill and Scroll Scholarship Fund, which benefits Quill and Scroll members who plan to study journalism in college.
This year's scholarship winners will be announced May 22!
Get your orders in, make your nominations for induction … now !
We ask any schools wishing to send in orders of pins, t-shirts, cords, etc. to do so as soon as possible. Our office becomes very busy with a large influx of orders this time of year; as a result, we ask for your patience and allow at least three weeks for your order to be processed and completed. We also need a form of payment (check, purchase order, credit card payment) before we ship. Start your membership order here.
It's critique time!
Everybody likes a good critique, right? Well, Quill and Scroll's News Media Evaluation service is designed to provide your staff a chance to luxuriate in their success, grimace at any minor error and contemplate what they can do to further their work in the coming school year.
The NME service is registering news publications for the 2019 summer critique season. We do four types of critiques:
COMPREHENSIVE NEWS MULTIMEDIA. Do you have a news magazine, a website and social media associated with both? Submit multiple media for a full evaluation of your entire news and journalism programs. These critiques include extensive comments from your evaluator. (Fee is $150 for a comprehensive evaluation.)
COMPREHENSIVE SINGLE NEWS MEDIUM. Submit a single medium (newspaper, news magazine or online news site) for a full evaluation. These critiques include extensive comments from your evaluator. (Fee is $80 per medium.)
RATINGS ONLY MULTIMEDIA. Submit your multimedia news operation for a ratings-only evaluation ($80). These critiques include no comments from your evaluator. (Fee is $80.)
RATINGS ONLY SINGLE NEWS MEDIUM. Submit a single medium (newspaper, news magazine or online news site) for a ratings-only evaluation. These critiques include no comments from your evaluator. (Fee is $55.)
If you've already paid for your evaluation through the Writing, Photo and Multimedia Contest, we now just need you to fill out the forms on this page.
If you haven't registered, there's still time! Our final deadline is June 15.
The best news media will be honored with the Gallup Award, a symbol of journalistic excellence for a half-century.
Q&S wants your induction video!
Would you like to be a part of the official Quill and Scroll video that chronicles the welcoming of students across the nation into our organization? Send us any video of your induction ceremony by clicking the button below, and we'll use it as visual evidence (that's fancy for "b-roll") for our video. The Q&S video is set to debut in the fall. Send us the video file in .mov or m4v format. It doesn't matter if you've used professional cameras or your mobile phone. Send it to [email protected].
Below is the most recent Q&S video, produced in 2010. It's time for a new one!
Commemorate your induction with an official Quill and Scroll Certificate Plaque
We are pleased to introduce our new official membership certificate plaque program in partnership with Award Emblem — our award partner and manufacturer of the official Quill and Scroll International Honorary Society membership pin for more than 50 years. For the first time, you can now purchase exceptional quality plaques that honor your induction and membership into Quill and Scroll. Each plaque is custom imprinted with your personalized membership certificate. These beautiful plaques will remind you and others of your hard-earned achievement for years to come.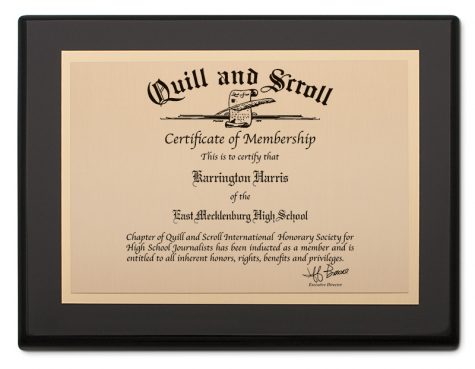 What's Viral?
"Endgame" dominates at the box office
"Avengers: Endgame" is the No. 2 film at the worldwide box office and is looking to take the top spot away from "Avatar" (not adjusted for inflation). "Endgame" reached $2.5 billion at the end of its third weekend, and despite dropping over 50% at the box office from the week before, it is still expected to pass another one of James Cameron's films. Cameron lost his hold of both the number one and two spots when "Endgame" passed "Titanic" at the end of its second week.
— James Cameron (@JimCameron) May 9, 2019
Access the full list of highest grossing movies here.
You "GOT" mad, bro?
This last season of "Game of Thrones" is disappointing fans left and right. Season 8 took two years to make and is mostly original content not found in the books, which isn't going over too well with fans. The season finale hasn't even aired yet, but over 30,000 angry fans have signed a Change.org petition calling for a remake of this season with competent writers. Last week's episode, "The Bells," has the worst rotten tomatoes rating in the show's history.
New York Times moves to TV
The New York Times' new TV series is set to premiere on FX and Hulu. "The Weekly" will show a new story each week with the Times journalists who have been reporting on the issue for months, or even years. It's no secret that journalism is under attack like never before, and the Times hopes television will be a powerful weapon in this fight.
Just A Thought
Does your school have Chick-fil-A?
Cal Poly voted to remove a Chick-fil-A outlet from its campus and joined the growing list of colleges, cities and airports that have banned the fast food chain because of its continued donations to anti-LGBTQ organizations. Tax returns show that in 2017 Chick-fil-A donated $1.6 million to the Fellowship of Christian Athletes and $150,000 to the Salvation Army, organizations known for their opposition to same-sex marriage. The decision was easy for Cal Poly's Academic Senate as the university prides itself on being diverse and inclusive and wants to embrace LGBTQ individuals.
Can you still be supportive of LGBTQ rights if you eat Chick-fil-A?
Podcasting tips from a pro
Have you started podcasting yet? Planning it for next year? Thinking about it?
Other than getting good audio recording equipment and adequate software, you need to begin thinking about how audiences encounter and listen to podcasts.
Here's "Podcasting for the People" from the Poynter Institute to help you think about what kind of podcast your audiences will listen to and engage with.
https://quillandscroll.org/wp-content/uploads/2017/08/WeeklyScrollLogo.jpg
1108
2554
Tess Knickerbocker
https://quillandscroll.org/wp-content/uploads/2017/10/QS-Logo.png
Tess Knickerbocker
2019-05-16 11:07:51
2019-11-08 13:43:05
The Weekly Scroll for May 17, 2019