News, tips and advice from Quill and Scroll
Amy Coney Barrett
Supreme Court candidate confirmation hearing
The Senate confirmation hearing for Supreme Court nominee Amy Coney Barrett began Monday with opening statements from members of the Senate panel. Tuesday and Wednesday brought opening question upon Barrett, and outside witnesses are scheduled to testify regarding Barrett today.
However, the Senate has scheduled a vote to approve Barrett for 9 a.m. Thursday, before her hearing has ended. Once voted on, the decision is delayed a week, according to Senate rules. If approved as expected, the GOP-led committee would then vote on her confirmation next Thursday, Oct. 22. Final confirmation would be scheduled to take place the week of Oct. 26.
You can watch the Senate hearing live everyday starting at 9 a.m. ET.

Journalists need protection, too
Why some journalists are heading into stories with security guards
Denver TV station KUSA-TV hired a security guard to accompany their journalists to protest demonstrations on Saturday. They believed they had hired the guard from the Pinkerton security company, but the guard was subcontracted; Saturday night, that guard shot and killed a demonstrator that approached him while accompanying the KUSA-TV journalists Saturday night.
The investigation into this shooting is underway and the shooter is in custody. However, it presents the question whether journalists: 1. need protection while covering stories, and 2. if that protection requires weapons.
Poynter reporter Al Tompkins said it is not uncommon for news networks to send armed security with their TV crews when covering large stories.
Reports of violence against journalists are in the news frequently.
Latest reported aggressions against the press as of Oct. 8, 2020

*856+ total press freedom incidents*

118+ arrests
215 physical attacks (153 by law enforcement)
196 rubber bullet / projectiles
99 tear gassings
63 pepper sprayings
90 equipment/newsroom damage
75 other/TBD

— U.S. Press Freedom Tracker (@uspresstracker) October 8, 2020
Violence against journalists has led to the need for protection in the form of armed guards. While the example above does not assert that armed protection – or use of armed protection – was necessary in that case, it does call into question the need for the guard in cases of emergency.
Tompkins cites the presence of camera crews and knowledge that a bystander is a journalist attracts attention from troublemakers. The public may find journalists responsible for the type of news that is being reported and its validity. This leads to high tension between journalists and the public.
The safety of the journalist and those involved in the story should be the main focus of news stations. The use of security guards is supposed to address that concern, not heighten the need for more protection on all sides of the issue. Yet, there is repeated evidence across the United States that shows security is necessary for journalists to do their jobs.
Book the vote!
'Read think vote' initiative informs users how to support democracy
Penguin Random House, PEN America, When We All Vote and Out of Print have teamed up this election season to provide a collection of resources to inform voters on voting processes, candidates, the history of American democracy and how to be prepared to vote in the 2020 election called, "Book the Vote!" Weekly materials include interviews with popular authors, a featured collection of books that speak on democracy in America and educational videos focused on different aspects of voter democracy.
The organization's slogan, "Read, think, vote" originates from their purpose to provide voter information tools that inspire free thought before going to the polls. The organization is aimed at all ages: featured content each week includes children's picture books and early level chapter books about democracy in America as well as best-sellers for the adult reader. Video content also includes cross-generational discussions, like this one between author Deepak Chopra and his granddaughter.
PEN America is an organization dedicated to protecting freedom of speech rights in the United States and across the world. Their involvement in "Book the vote!" focuses on providing information related to censorship, fake news and disinformation. For more information on their services, visit their website.
Q&S Fall Deadlines
Yearbook Contest – TWO DAYS left to submit!
The Yearbook Excellence Contest deadline is Oct. 17 for all 2020 books. Students may enter their work in 18 categories, and all individual entries are $5. Theme Development entries are $10. There's no limit on the number of individual entries a school may complete. Each school is limited to one Theme Development entry.
With just one day left to submit to the Yearbook Excellence Contest, make sure your students' work is represented.
Competition is divided by school size, with Class A consisting of schools with 750 students or more, and Class B consisting of schools with 749 students or fewer. Begin your entry process here.
Eleven schools named George H. Gallup Award winners
Named for the founder of Quill and Scroll and the Gallup Poll, the award is given only to those publications that achieved and sustained excellence during the 2019-2020 academic year.
Gallup Award recognition is based on extraordinary improvement, exceptional service to the school and community, editorial campaigns, and in-depth reporting on special issues.
International First Place Award recognition went to 18 schools. The International Second Place Award was awarded to nine schools. Click here for a full list of winners. 
The Gallup Award winners include:
Felix Varela Senior High School, "The Viper Vibe"
Clarke Central high School, "Odyssey News Magazine"
Shawnee Mission Northwest High School, "The NW Passage"
Francis Howell North High School, "North Star"
Nixa High School, "Wingspan"
Green Valley High School, "The InvestiGator"
Southwest CTA, "Southwest Shadow"
Lakota East High School, "Spark"
Harrisonburg High School, "Newstreak"
McLean High School, "The Highlander News"
Shalhevet High School, "The Boiling Point"
It's never too late (or early!) to honor seniors and induct members
If you put off your spring celebrations, you can still induct new Quill and Scroll members and honor seniors this fall. We're able to take and fulfill orders, even as Quill and Scroll staff work from both our home offices and our offices at the Adler Journalism Building on the University of Iowa campus.
We published this update earlier in August. It includes a simplified order form for schools and advisers willing to pay via credit card, and an offer to host an online induction ceremony for your students. The sooner you induct new members, the sooner they'll be able start planning chapter activities in the spirit of Quill and Scroll. Here's a link to a PDF file of the Q&S Chapter Handbook if you don't already have it.
A reminder about cords:
Students MUST HAVE BEEN OR WILL BE INDUCTED into the Society to earn the honor to wear an Honor Cord (GHC) or Honor Cord with Insignia (GCI). If you order cords for non-members, please choose the Non-Member Cord Option (NCD). Quill and Scroll exists because of the special unifying bond brought about by membership and the lasting legacy of the induction ceremony.
And, as always, feel free to email [email protected] if you have any questions.
Mental health in your newsroom
Ways to increase support and discussion of mental health for student journalists
As journalists, we are constantly asked to cover difficult topics. Without us, the world would be left to discover sensitive information on their own. Covering important stories can be mentally taxing – especially when we are required to cover issues that are close to our own interests and experiences.
In order to report accurately on topics, journalists must prioritize their own mental health – just as the directors of their newsroom should be looking out for issues that may be triggering for their journalists. Creating a collaborative environment requires journalists to feel safe: if they do not, it leads to inaccurate reporting and burnt out journalists.
Poynter journalist Taylor Blatchford compiled a list of ways for journalists to create and cultivate a safe space in their newsrooms and how to implement these strategies into your own student newsroom.
Create a safe space for your journalists to express their feelings and opinions on their job as a journalist, but also their position outside of the newsroom
When we create a space that encourages open discussion, journalists are more likely to feel free to express their opinions and feelings on topics that are important to them. Not only does this make for happier journalists, but also serves as a brainstorming activity. What is important to your journalists? Why? Run with it – and thank your journalists for their vulnerability along the way.
Determine how journalists can take a break from covering tough topics
Blatchford says taking time off is important for students journalists to recharge. She recommends focusing on beat reporting – assigning multiple students to a topic and allowing them to find their own story on the topic. This provides students with less intense work loads because they don't have to cover all the information, but also gives students an outlet to express their feelings on the topic with a group of their peers. It also allows you to have more student bylines in your paper by attributing part of the work to multiple students.
Figure out collaborative ways to relax and recharge
Ask your students what helps them recharge and find ways to incorporate that into your news room. If taking a walk helps clear their head, encourage them to do so while in the newsroom. Often, students don't have the ability throughout their school day to take a mental break. If there is time in the newsroom to do so, prioritize your students' mental health and encourage them to do what they need to do to feel prepared for the next day and next assignment.
Research what mental health resources are available at your school and in your community. Many towns have free mental health resources for students. If it has been a particularly difficult news cycle, take the time to invest in your students' mental well being by giving them a break. Short yoga classes, journaling activities, or the classic Kindergarten "quiet time" can make all the difference in your newsroom.
Have more ideas on what works? Let us know! We would love to hear from you.
Mask Madness
How, exactly, cloth mask protects from airborne viruses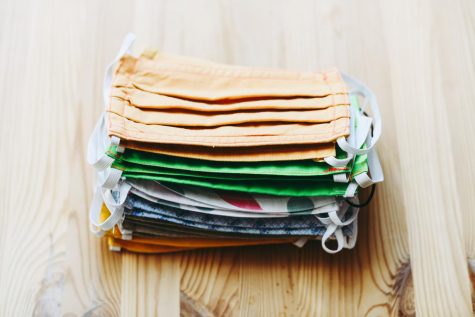 Masks have become a staple in my every day fashion: I have a mask to
Photo by Vera Davidova on Unsplash
match the most casual of outfits, a velvet mask for any dressy occasions, and a mask with my team mascot on it to rep on campus.
Masks are a part of our daily routine – some cities and states have mask mandates, while others don't enforce any policy but have thousands of citizens that choose to wear a mask. The effectiveness of masks has been debated since March; so, what do masks do?
The Conversation recently published an article listing known facts of cloth and disposable face masks at preventing the spread of airborne viruses. While cloth masks have imperfections, such as small holes in the cloth, the filtration of the cloth protects from airborne droplets that come from breathing, talking, sneezing, and singing. Virus particles cannot determine the direction they travel – they follow the momentum of their progression. So, whatever is in front of the particle, will block that from being projected into the air (at least partially).
What is the best material for cloth masks?
Research shows that woven cotton, flannel, tea towel material and cotton T-Shirt material is the most preventative fabrics that masks can be made out of.  This is based off a pleated medical mask design. For more specific prevention rates, click here.
Layering material is important to making your mask effective. Think about it: the more layers you are placing between your airborne particles and open air, the more likely it is that your mask will prevent those particles from being released.
What are the benefits of wearing a mask?
Cloth masks protect the wearer at a rate of 50% adoption of a 50% protective mask. According to Health Affairs, the COVID-19 daily case rate decreased on average of 1% in the first five days of a mask mandate being imposed. When the positive case rate per day nationally is sitting at 46,000 people, 1% is equal to nearly 5,000 people.
A new study suggests that when masks are worn, the severity of the case of COVID-19 is decreased.
What are the takeaways from mask studies? Wear a mask.
Looking for more information on cloth masks? Visit this site.
NBA question of the age: who is the GOAT?
LeBron James vs. Michael Jordan
The Los Angeles Lakers won the 2020 NBA championship Sunday, marking LeBron James' tenth finals appearance and fourth win.
The Lakers win comes in an unprecedented year of the NBA: it shut down its games on March 11, only to resume the same season in July, when the NBA finals was originally scheduled to take place. Despite the years' differences, the NBA's arguably star player, James, prevailed in winning MVP rights in for the association.
With another title under his belt, the age old question comes to mind: Who is the Greatest of All Time?
If you ask any person this question, it's natural to receive one of two answers: Michael Jordan OR LeBron James. Let's break down the careers of the NBA's two most notorious players.
Michael Jordan and the Chicago Bulls
Jordan delivered the Chicago Bulls a 6-0 finals performance record, winning MVP each time he appeared in the finals. Jordan's career in the NBA lasted fifteen seasons from 1985 to 2003. Jordan played for only two teams in his career: the Chicago Bulls and the Washington Wizards.
LeBron James and the Cavaliers, Heat and Lakers
James has been in the game since 2003 – coincidentally, Jordan's last year playing for the association. Notably, James has been a part of three different NBA teams, but in four different stints. James returned to the Cavaliers in 2014 after leaving for the Heat. He again left the Cavaliers to join another team, the Lakers.
James has been a part of 10 NBA Finals, winning the title four times with three different teams. James is one of only four players to reach the finals 1o times throughout his career. He was awarded MVP in all four winning championships.
So, who takes the title?
It will probably always be a debate of choice — but for now, we can rely on the two players' stats and congratulate both for amazing careers. For more information comparing the two players' stats, check out this article.
THE SOURCE: culture journalism
Writing, Photo and Multimedia Contest judge Jann Nyfeller talks about courage in journalism
Journalist Jann Nyffeler joins host Sylvia Clubb to discuss what makes for a great arts review. How should critics approach their jobs, especially in student media. Jann talks about some of the reviews she's written, the mistakes she's made and how she uses that experience as the Review Writing judge in Quill and Scroll's Writing, Photo and Multimedia Contest. In addition to writing about music and the arts, Jann also works with her husband, Tom Kohn, in their Rochester, N.Y., store, Bop Shop Records. Enjoy this latest episode of THE SOURCE.
HOSTED BY SYLVIA CLUBB