News, Tips and Advice from Quill and Scroll
The Lede
Tragedy — again — in Colorado
Politics have again intruded on grieving students who simply wanted to mourn and remember a deceased friend and classmate. Journalists heard about it straight from the survivors.
Students walked out of a gun-control rally Wednesday night in Highlands Ranch, Colorado, claiming that the rally intended to honor Kendrick Castillo instead featured politicians trying to make points. Castillo was killed Tuesday at the STEM School when he rushed a gunman who had opened fire on Castillo's classmates. Eight other students were injured when two teens opened fire at the K-12 tech specialty school.
Two alleged student gunmen made their first court appearance Wednesday, but charges against them have not yet been filed.
Wednesday's rally was sponsored by the Brady Campaign to Prevent Gun Violence, which issued an apology after for their politicization of the tragedy. Journalists also felt the ire of the survivors, who pushed and screamed at reporters, demanding to see images taken by photojournalists.
Just last month Coloradans remembered the 1999 Columbine shooting. 20 years later, they're living through that horror again. It's a sad reminder that journalists have an important role to play when they inform the public about what is happening. However, trolling for survivor interviews is delicate business that can wait until the immediate shock of the attack has worn off. Here's some advice from the Columbia Journalism Review about covering school shootings.
Washington may offer tuition-free college
Washington's state legislature last week approved a measure that would move the state toward reducing the costs — potentially to nothing — for students in the state to attend public universities and community colleges.
The Workforce Education Investment Act would raise almost $1 billion over four years by imposing a surcharge on companies that employ highly skilled workers. That includes such Evergreen State business giants as Microsoft and Amazon, which paid $0 in federal taxes last year on $11.2 billion in profits.
AP style changes
English is a dynamic language, and while we know that standards are important, they also change over time. So tell your teacher — who probably still clutches that vintage 1988 Associated Press Stylebook as if it were ordained on high — that she needs to take note of this year's AP style changes.
One of the most notable changes is the allowance of the symbol "%" instead of the word "percent." Blasphemy, I know. How will we ever survive?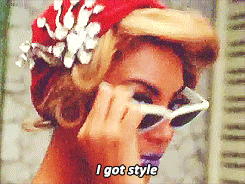 Other interesting changes include:
You may now use accents in people's names who have them.
You no longer need a hyphen in "African American" and other compound ethnic identifiers.
"Latinx" is still not OK with AP, but if you want to make that YOUR publication's style, that's your choice.
Just remember — AP style is just a great place to start. The most important thing for any news outlet is to be consistent and to make sure everybody on staff understands your style choices.
It's An Honor
T-shirts!
With a lot of controversy surrounding reporting and the charged connotation #fakenews brings with it, it's important to remind those around us that a journalist's first priority is to the truth when informing the public. With that said, now is the time to order your Quill and Scroll "I TELL THE TRUTH — I'm a journalist" t-shirts.
Side note, "Truth" is the first pillar upon which Quill and Scroll was founded in 1926!
We're taking pre-orders from now through Sept. 15, 2019, and we'll deliver your shirts by Oct. 15, 2019 or earlier (depending on how many order we get at a time). Every time we get to 100 t-shirts ordered, we'll print up a new batch and ship them to you.
All profits will go to the Quill and Scroll Scholarship Fund, which benefits Quill and Scroll members who plan to study journalism in college.
Get your orders in, make your nominations for induction … now !
We ask any schools wishing to send in orders of pins, t-shirts, cords, etc. to do so as soon as possible. Our office becomes very busy with a large influx of orders this time of year; as a result, we ask for your patience and allow at least three weeks for your order to be processed and completed. We also need a form of payment (check, purchase order, credit card payment) before we ship. Start your membership order here.
It's critique time!
Everybody likes a good critique, right? Well, Quill and Scroll's News Media Evaluation service is designed to provide your staff a chance to luxuriate in their success, grimace at any minor error and contemplate what they can do to further their work in the coming school year.
The NME service is registering news publications for the 2019 summer critique season. We do four types of critiques:
COMPREHENSIVE NEWS MULTIMEDIA. Do you have a news magazine, a website and social media associated with both? Submit multiple media for a full evaluation of your entire news and journalism programs. These critiques include extensive comments from your evaluator. (Fee is $150 for a comprehensive evaluation.)
COMPREHENSIVE SINGLE NEWS MEDIUM. Submit a single medium (newspaper, news magazine or online news site) for a full evaluation. These critiques include extensive comments from your evaluator. (Fee is $80 per medium.)
RATINGS ONLY MULTIMEDIA. Submit your multimedia news operation for a ratings-only evaluation ($80). These critiques include no comments from your evaluator. (Fee is $80.)
RATINGS ONLY SINGLE NEWS MEDIUM. Submit a single medium (newspaper, news magazine or online news site) for a ratings-only evaluation. These critiques include no comments from your evaluator. (Fee is $55.)
If you've already paid for your evaluation through the Writing, Photo and Multimedia Contest, we now just need you to fill out the forms on this page.
If you haven't registered, there's still time! Our final deadline is June 15.
The best news media will be honored with the Gallup Award, a symbol of journalistic excellence for a half-century.
Q&S wants your induction video!
Would you like to be a part of the official Quill and Scroll video that chronicles the welcoming of students across the nation into our organization? Send us any video of your induction ceremony by clicking the button below, and we'll use it as visual evidence (that's fancy for "b-roll") for our video. The Q&S video is set to debut in the fall. Send us the video file in .mov or m4v format. It doesn't matter if you've used professional cameras or your mobile phone. Send it to [email protected].
Below is the most recent Q&S video, produced in 2010. It's time for a new one!
Commemorate your induction with an official Quill and Scroll Certificate Plaque
We are pleased to introduce our new official membership certificate plaque program in partnership with Award Emblem — our award partner and manufacturer of the official Quill and Scroll International Honorary Society membership pin for more than 50 years. For the first time, you can now purchase exceptional quality plaques that honor your induction and membership into Quill and Scroll. Each plaque is custom imprinted with your personalized membership certificate. These beautiful plaques will remind you and others of your hard-earned achievement for years to come.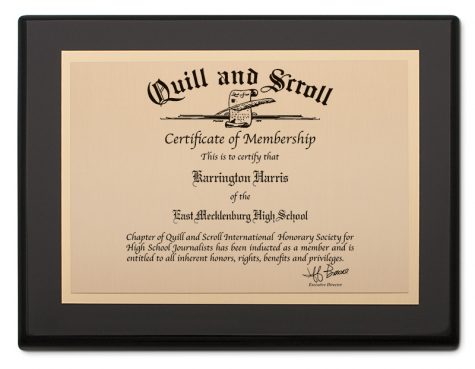 What's Viral?
Former N.J. yearbook adviser sues district
Political controversy strikes again—but this time in yearbook production of Wall Township High School.
In 2017, high school yearbook adviser and teacher Susan Parsons became the face of national political controversy in Holmdel, New Jersey, as news was released that three pro-Trump yearbook submissions were altered to omit the right-wing political expressions of those students. Parsons took the heat, receiving hate mail, death threats and harassment for the censorship that occurred in the production of the yearbook.
So, Parsons struck back against the backlash from the yearbook she advised in 2017 by filing a complaint lawsuit against the Wall Township Board of Education on May 6. In Parsons' complaint file, she alleges the school administration spearheaded all editing and censoring of the yearbook. Furthermore, she alleges the administration prohibited her from speaking with the media regarding the yearbook controversy. She claims the administration made her the scapegoat, which resulted in what Parsons argues is a false narrative about the actual production and dissemination of the yearbook that was distributed in 2017.
Access the full complaint file here.
Lattes and dragons and lairs, oh my!
Starbucks has become such a pervasive force in the marketing of their products that consumers can't seem to escape it anywhere—even in the fantasy world where "Game of Thrones" prevails.
Nobody here at Quill and Scroll has ever watched "GOT" because we're just not that into fantasy — after all, our motto is "Ye shall know the truth and the truth shall make ye free" — but we've seen highlights. So we're pretty sure the Starbucks cup that sneaked onto the set and made it onto the most recent episode of the show is the most real thing "GOT" has ever seen.
Still, the internets have had some fun with the award-winning HBO show's mistake.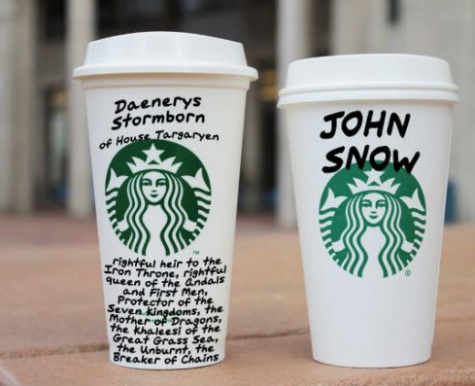 Janelle Monáe: Not Ugly
The Advocate calls her a "musician, style icon, actress, and pansexual rule breaker," but one thing's for sure: Janelle Monáe is not ugly. Yet that didn't stop the Kansas City, Kansas native from feeling that way growing up.
She tells her story to The Advocate, including why she signed up for the new kids' movie "Ugly Dolls." For her, it was Cabbage Patch Dolls that helped her get through tough times.
"I was obsessed with my Cabbage Patch doll," Monáe told The Advocate. "She was black and she had that black yarn hair, and she was so cute. I carried her everywhere with me. I don't remember her name. I hate that I don't remember her name. But I remember her face."
Just A Thought
To be mindful or not to be mindful?
With students facing so much stress in their lives, including dealing with gun violence as we saw this week in Colorado, some schools have turned to the practice of "mindfulness" to provide stress relief. The practice, which is being promoted by a several groups, including a foundation called Mindful Schools, incorporates meditation and yoga into regular school curricula.
Some groups, however, say that the practices are rooted in Buddhism, and because of that shouldn't be used in public schools.
Corporations, smaller businesses, and even the U.S. military are using mindfulness techniques for their employees and current or returning soldiers.
Is your school using meditation and yoga? Is it causing any rift among conservative groups? If so, how does your school deal with the conflict? If not, how does your school provide stress relief for its students, if at all?
https://quillandscroll.org/wp-content/uploads/2018/03/WeeklyScrollLogo-180x180.jpg
180
180
Jeff Browne
https://quillandscroll.org/wp-content/uploads/2017/10/QS-Logo.png
Jeff Browne
2019-05-09 13:03:06
2019-11-08 13:43:10
The Weekly Scroll for May 10, 2019