It's the May Day After, so it's time for a Scroll through the news flowers!
The Lede
Chickens and politicians, Part I
Fried chicken showed up in both the White House and Congress this week, for very different reasons.
First, President Donald J. Trump served up another fast-food banquet (including a bunch of Chick-fil-A) to championship athletes on Monday when he hosted the Baylor Bears women's basketball team, this year's NCAA Division I champions. It has become a tradition for the president to serve fried foods to college athletes, having done so initially because of the government shutdown earlier this year — White House kitchen staff had been furloughed, so the fast-food-loving Commander-in-Chief called every greasy chain within a few blocks of 1600 Pennsylvania Ave.
Unfortunately for the president, it appears the Lady Bears (yeah, they still use the name "Lady" for the women's team but don't call the men's teams the "Gentleman Bears") didn't all appreciate the gesture. See at least a couple make fun of the president's spread.
Here's @kalanibrown21 at the White House, laughing as she surveys the Big Macs and Pizza and Fries and BBQ Sauce on display.

"Okay, Donnie. Coooool." pic.twitter.com/TBUs8i9TVI

— Lindsay Gibbs (@linzsports) April 29, 2019
The University of Virginia men's basketball team (just plain old "Cavaliers") has refused to visit the White House after winning the NCAA Division I men's title. Coach Tony Bennett said there were too many scheduling conflicts. However, one player tweeted, "No thanks, Trump." (We here at the Scroll generously inserted the comma of direct address into his tweet.)
Chicken and politicians, Part II
What? No mashed potatoes? No cole slaw?
.@RepCohen brought a plastic chicken and a bucket of Kentucky Fried Chicken (which he is tucking into ahead of this 9AM House Judiciary hearing.)

"He's here," Cohen said, pointing to the chicken and referring to AG Barr who is not attending after a grilling in the Senate. pic.twitter.com/bGz3HCRSCQ

— Lauren Gambino (@laurenegambino) May 2, 2019
Yep, that's a U.S. Congressman, Rep. Steve Cohen (D-Tennessee), eating KFC in a House committee room Thursday. He may have been hungry, but the gag (pun intended) was supposed to be a clever dig at U.S. Attorney General William Barr, who was invited to speak to the House of Representatives. Barr declined to show up, citing his displeasure at the format of the appearance. Cohen also placed a plastic chicken in the seat where Barr was supposed to appear.
Barr spent six hours Wednesday in a Senate committee trying to explain why Special Counsel Robert Mueller wrote a letter to Barr back in March, explaining that Mueller thought Barr mischaracterized the special counsel's findings in the 21-month investigation into Russians meddling in the U.S. election. Democrats wanted Barr to answer questions from an attorney. Barr wanted to be asked questions by both Democrats and Republicans in a format that would have limited each representative to a five-minute period.
Truth decay
Of course, all this chicken dissing belies the serious business going on in Washington, D.C.
Democrats — who control the House of Representatives — want to exercise their powers of oversight as granted in both the U.S. Constitution and various statutes. Specifically, they want to read the entire Mueller report, not just a redacted one, and they want to determine for themselves if President Trump obstructed justice by seeking to have Mueller removed from his post and nine other actions investigated by Mueller.
Mueller did not indict the President, apparently because Barr's Department of Justice has a policy that says a president can't be indicted for crimes while the president is in office. The Constitution allows Congress to impeach the president. Two presidents, Democrats Andrew Johnson and Bill Clinton, have been impeached by the House. Neither was convicted by the Senate, however.
Republicans — who control the White House and have majorities in both the Senate and the U.S. Supreme Court — argue that the investigation has ended and that Democrats should let sleeping chickens lie.
Did I just write "lie"?
Well, that's what House Speaker Nancy Pelosi (D-California) accused Barr of doing in his previous appearances in front of Congress. And late last month, President Trump crossed the 10,000-lie threshold, according to the Washington Post, which has been tracking the president's statements since he was sworn into office on Jan. 20, 2017.
Of course, almost all politicians make misstatements, mischaracterize information or spin data in order to make themselves look good, or simply because they just don't know better. Quill and Scroll is a nonpartisan organization, of course. Yet we do have an overarching guiding principle — THE TRUTH — and our constitution states our official motto: "Ye shall know the truth, and the truth shall make ye free."
Thus, in the spirit of encouraging free, open and honest discourse, we encourage President Trump, all Congresspersons and Representatives, as well as journalists and politicians of all stripes, to stop lying to us and to seek out the truth — even if it makes yourself look bad.
We need the TRUTH. And we need it NOW.
It's an Honor!
Student scholarship deadline is May 10
Students who are national winners of the Yearbook Excellence Contest or the International Writing, Photography and Multimedia Contest and Blogging Competition are eligible to apply for one of the Edward J. Nell Memorial scholarships in journalism, or one of two George and Ophelia Gallup awards.
The Richard P. Johns Scholarship is open to all Quill and Scroll seniors, including those who did not enter contests. Postmark deadline for all applications is May 10. All scholarships can be used for tuition, room and board at any college or university. Recipients must major in journalism or a related area of communications. The scholarships are awarded for the freshman year only and are paid in two installments (fall semester and spring semester).
Get your orders in, make your nominations for induction … now !
We ask any schools wishing to send in orders of pins, t-shirts, cords, etc. to do so as soon as possible. Our office becomes very busy with a large influx of orders this time of year; as a result, we ask for your patience and allow at least three weeks for your order to be processed and completed. We also need a form of payment (check, purchase order, credit card payment) before we ship.
Q&S wants your induction video!
Would you like to be a part of the official Quill and Scroll video? Send us any video of your induction ceremony by clicking the button below, and we'll use it as visual evidence (that's fancy for "b-roll") for our video. The Q&S video is set to debut in the fall. Send us the video file in .mov or m4v format. It doesn't matter if you've used professional cameras or your mobile phone. Send it to [email protected].
Below is the most recent Q&S video, produced in 2010. It's time for a new one!
Commemorate your induction with an official Quill and Scroll Certificate Plaque
We are pleased to introduce our new official membership certificate plaque program in partnership with Award Emblem — our award partner and manufacturer of the official Quill and Scroll International Honorary Society membership pin for more than 50 years. For the first time, you can now purchase exceptional quality plaques that honor your induction and membership into Quill and Scroll. Each plaque is custom imprinted with your personalized membership certificate. These beautiful plaques will remind you and others of your hard-earned achievement for years to come.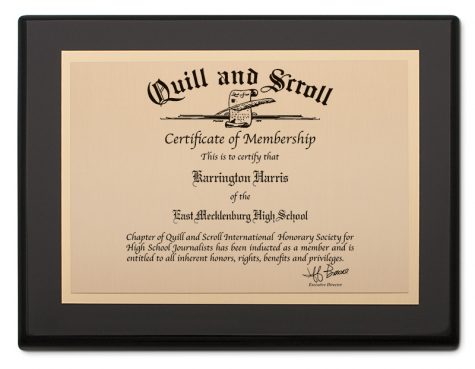 Classical Academy in California wins Student Journalist Impact Award
Quill and Scroll and the Journalism Education Association have named The Chronicle staff at Classical Academy High School in Escondido, California, as winner of the 2019 Student Journalist Impact Award.
After the loss of one of their classmates, the staff of The Chronicle knew it needed to do something to help the school and community learn more about mental health and the impact on their generation.
What followed was an in-depth look driven by information collected in 370 student survey responses, which accounts for almost half of their student body. "Invisible Wounds," a full-page spread, presented information that the school and community not only listened to, but used as a driving force to take action and make change. 
Chronicle students will receive their award Thursday, April 25 at the opening ceremony of the 2019 Spring National High School Journalism Convention in Anaheim, California.
What's Viral?
Goodbye to Facebook posts from Alex Jones and
Louis Farrakhan
Facebook banned Alex Jones, Louis Farrakhan and other right-wing media personalities from using its social media. Jones, a conspiracy theorist and founder of extremist sectarian InfoWars, and Farrakhan, an anti-Semitic black nationalist minister, were criticized in the past for their controversial and at times hateful content. Jones has a history of restrictions from various social media platforms and services, including account suspensions from Facebook, YouTube, Twitter and Spotify for inciting hate speech. Now, Facebook has decided to permanently enforce their content policy in a bolder move against than they have before against personalities and users like Jones and Farrakhan.
Facebook said this action comes as a response to criticism they received from users on the service and deemed Jones, Farrakhan and a slew of other far-right figures as "dangerous individuals and organizations."
In a statement from Facebook, a spokeswoman said, "We've always banned individuals or organizations that promote or engage in violence and hate, regardless of ideology."
Transgender and other female athletes
South African Olympian Caster Semanya lost her case this week in front of the international Court of Arbitration for Sport (CAS), casting a shadow on the rights of female athletes — transgender, cisgender and intersex — to compete against other women.
Semanya was born and raised as a woman, but her levels of the male hormone testosterone have been judged to high for her to compete in international events such as the Olympics, where she won the 800-meter race in both 2012 and 2016.
The CAS ruling supports the policy of the International Association of Athletics Foundations that discriminates against women with high testosterone levels. CAS admitted that the IAAF policy discriminated against women, but that "such discrimination is a necessary, reasonable and proportionate means of achieving the legitimate objective of ensuring fair competition in female athletics in certain events."
Semanya will have to take female hormones in order to compete in the future. A trans activist writing for NBCNews.com argues that is a step in the wrong direction.
"For a decade, the IAAF has tried to slow me down," Semanya wrote in a statement, "but this has actually made me stronger."
Of course, this could serve as a trickle-down policy that affects local athletic regulations in the U.S., Canada and other countries. What do your state and district policies say?
Is "Jeopardy" being played?
As of Wednesday, professional gambler — yeah, that's a legit profession these days — James Holzhauser has won 20 consecutive contests on the television show "Jeopardy" and amassed more than $1.5 million in cash. He's amazingly smart, obviously, but his techniques are drawing some criticism.
Holzhauser himself concedes that he uses a strategy called "The Forrest Bounce," where he jumps from category to category to throw his opponents off. As smart as he is, Holzhauser doesn't get every question right, including this one about U.S. Senator Ben Sasse (R-Nebraska).
The most impressive champion in @Jeopardy history had no damn clue who Ben Sasse was last night pic.twitter.com/TcJh7aLhJ5

— Brent Scher (@BrentScher) May 1, 2019
Just a Thought
California restaurants fight climate change
Would you pay an extra 1 percent (I'm going old-school on AP style) on your dinning bill to fight climate change?
Restaurants in California this fall can join the Restore California Renewable Restaurant program, which adds 1 percent to every diner's bill. The tax is optional for both diners and restaurants, and the money would go to farmers who alter their practices to help capture carbon dioxide before it becomes part of the atmosphere and contributes to climate change.
With the U.S. government paralyzed in its attempts to address climate change, it may be up to states to take action.
Food and housing insecurity on college campuses
A study released this week by the Hope Center for College, Community and Justice revealed that nearly half of all students at colleges and universities in the U.S. experience "food insecurity," which means they go hungry too often because of a variety of circumstances (the most common including housing and health care).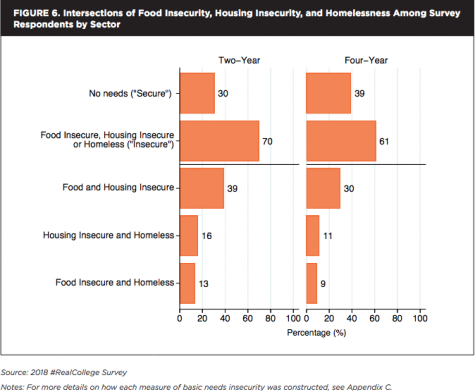 In addition, nearly half of all college students have experienced "housing insecurity," which means they either don't have a place to call home or they are in danger of being evicted because they can't pay their rent. Food and housing insecurity are real-life issues common to everyday students' college experience.
Think about how to amplify their voices in order to get your community and institutions to recognize issues like these that intersect with education and survival. Are there students in your region who experience food insecurity? If so, how can your community support hose individuals, make sure their voices are herd and their needs fairly met?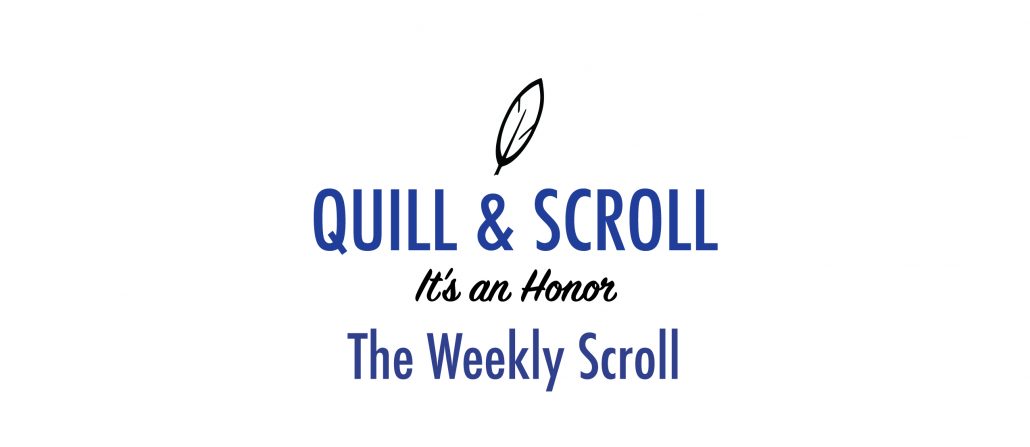 https://quillandscroll.org/wp-content/uploads/2019/05/jasmine-coro-1533077-unsplash.jpg
1001
1500
Jeff Browne
https://quillandscroll.org/wp-content/uploads/2017/10/QS-Logo.png
Jeff Browne
2019-05-02 12:55:01
2019-11-08 13:43:15
The Weekly Scroll for May 3, 2019