News, tips and advice from the Quill and Scroll International Honor Society
Compiled and written by Quill and Scroll journalist Caley Griebenow
jjj
The Lede
Tinker celebrates 50th anniversary, lasting impact
Mary Beth and John Tinker just wrapped up their "Tinker Tour" here in Iowa City on February 26. The pair held a reception followed by a lecture discussing their landmark case with the community, answering questions and talking with students and attendees. Entering the public eye five decades ago, the Des Moines natives are known for wearing black armbands to school in peaceful protest of the Vietnam War, consequently being suspended despite Mary Beth removing her armband, and taking their case all the way to the Supreme Court. Their 7-2 ruling was announced on February 24, 1969, famously declaring that students do not "shed their Constitutional rights at the schoolhouse gates."
The case consistently comes up in arguments concerning the First Amendment, especially for young journalists and/or students. According to the Tinker Tour website, their ruling has been brought up almost 6000 times in student First Amendments cases, as well as appearing in the majority of American history textbooks. As the debates over student publications and what they are allowed to publish (looking at you Hazelwood case!), Mary Beth has spent the past several years on tour in an effort to "promote youth voices, free speech and a free press." For more on this and other Supreme Court cases, check out John Tinker discussing the case on C-SPAN here, and be on the lookout for more coverage on the lecture, including photos and a Q&A, appearing in Quill and Scroll's upcoming Spring 2019 magazine.
Anti-Hazelwood legislation on the move in Nebraska
Speaking of the Hazelwood Supreme Court case, which is considered a big step backwards in fighting for student journalists' rights, new legislation in Nebraska is working its way through the state's governmental committees, hopefully reaching governor Pete Rickett's desk soon. The bill is part of a nationwide movement to vote on and pass "New Voices" bills that work to combat the limitations and impacts of Hazelwood, such as prohibiting unjust prior review or the blocking of certain content by administrators. It only allows for prior review of a school newspaper if it violates "commonly accepted ethical journalistic standards."
The bill now goes to the floor to face debates after unanimously passing the legislative committee on February 22. However, it will have to wait while previous bills recently voted on by committee are discussed- that is, if no Nebraska senator picks it as a "priority bill," thus allowing it to bypass other bills and start the three rounds of debate. If passed, this bill joins 14 other states with New Voices laws in place. Stay updated on this issue here.
It's an Honor
Q&S THE SOURCE podcast's seventh installment: JUDGMENT
In this episode, Quill and Scroll Student Advisory Board member Jack Rintoul talks with his fellow editors from Kirkwood High School about their strategies in making journalistic decisions when the right decision isn't always clear. Rintoul serves as The Kirkwood Call's Editor-in-Chief, and on February 6 he testified in Jefferson City in support of the New Voices Act, which would overturn the Hazelwood decision, thus stopping prior review. "It's common sense to give students the chance to pursue stories they wish to pursue," Rintoul said, according to the Kirkwood Call website.
Listen to all of our podcasts here.
2019 Writing, Multimedia and Photo Contest
Submissions for our 2019 Writing, Photo and Multimedia Contest closed Feb. 6. Thank you to those of you submitted entires for our judges to evaluate on individual excellence and overall performance quality.
We received over 2,450 entries from more than 100 schools across the world. Our judges evaluate each submission carefully, and winners will either receive a framed certificate or plaque, depending on their placing. All individual winners receive a Quill and Scroll National Award Gold Key and, as seniors, they are eligible to apply for one of the scholarships offered by Quill and Scroll.
Stay tuned to hear the winners by the end of March.
News Media Evaluation Contest
The News Media Evaluation Contest entry will be open April 1 to June 15. However, you can pay for it with your WPM Contest entries on the School Registration Form 
here,
 as well as view more general information on the contest.
To view a complimentary guide for your own entries on the actual content and judges comments from the 2018 NME Contest, click 
here
.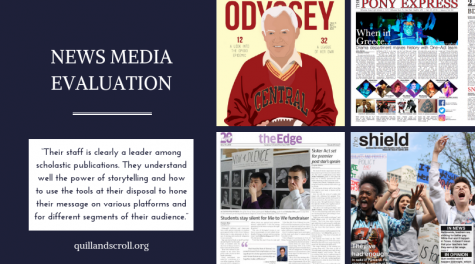 Student Advisory Board applications
Quill and Scroll's Executive Director Jeffrey Browne is accepting applications for the 2019-2020 Student Advisory Board. A total of eight students will be accepted, and their goal and responsibility is to work together in an international, pro-journalism campaign.
Board members must be inducted into the Q&S organization before Sept. 1, 2019. However, if you're already a member, or anticipate becoming a member for the upcoming school year, fill out the form 
here
.
The application can be found 
here
, and the deadline for submission is April 10, 2019.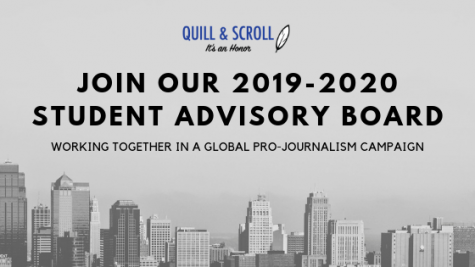 Adviser scholarships
Quill and Scroll encourages advisers to apply for our scholarships. Winners can receive up to $500 for actual tuition, room, board and transportation costs.
The Lester G. Benz Memorial Scholarship for College Journalism Study requires you to have at least six semester hours of journalism courses and a minimum of four years of teaching experience and advising of school publications. You must currently teach a journalistic writing class, and plan to return to the high school classroom and media advising next year to apply the information gained in the course work taken as a result of this scholarship.
Download the application 
here
, and send then submit it through mail to our address at 100 Adler Journalism Building, Room E346 Iowa City, Iowa 52242.
Student scholarships
Q&S encourages students to apply for our scholarships.
To be considered, students must fill out 
this application
 if they are an eligible senior who was or will be a winner in our contests. This means any student who has placed first, second, third or honorable mention is can apply.
Scholarships can be used for tuition, room and board at any college or university that offers a major in journalism or related areas of communications such as multimedia, broadcast, graphic design, strategic communications, and photography.
Apply for the scholarship 
here
. The deadline to submit the application is May 10, 2019.
–
What's viral?
Pinterest bans anti-vaccination content
In the face of rising anti-vaccination-related content, which largely thrives unchecked on social media platforms like Twitter and Facebook, Pinterest has taken a stand against the spread of false information regarding vaccinations. Should one type "vaccination" into their search bar, nothing pops up. A spokeswoman said banning all searches related to vaccines is a temporary solution.
This decision, first reported by the Wall Street Journal, is likely in direct response to mounting pressure for social media companies to take a bold position against the movement. Pinterest now joins YouTube in that sense, as the video platform demonetizes anti-vaccine content. Estimates show that around 80% of mothers in the US have a Pinterest account.
Despite the clear evidence that vaccines are not only safe and effective, more and more parents are citing irrational fears that vaccines cause autism, thus choosing to not vaccinate their kids. This has caused a surge in Measles cases, with five outbreaks in the US alone. The issue has become so pressing that the World Health Organization identified "vaccine hesitancy" among the top ten threats to global health.
Read more about vaccines and Pinterest's stance here.
Just a thought
Kids risking safety, livelihood to get to school
In some of the most dangerous neighborhoods in LA, riddled with gangs and violent crime, some thousands of students have no choice but to navigate those same streets to and from school. They face threats of assault, aggressive dogs, robbery, kidnapping and other fears. One student found a bullet casing on his route to school, another faces regular catcalls from passing cars. Think about your morning commute to school and consider how it might changed if you lived in a different area.
Read more from the Los Angeles report on this issue here.
https://quillandscroll.org/wp-content/uploads/2018/03/WeeklyScrollLogo-180x180.jpg
180
180
Nichole Shaw
https://quillandscroll.org/wp-content/uploads/2017/10/QS-Logo.png
Nichole Shaw
2019-03-01 12:36:22
2019-11-08 13:47:02
Weekly Scroll for March 1, 2019