News, tips and advice from the Quill and Scroll International Honor Society
Compiled and written by Quill and Scroll journalist Nichole Shaw
jjj
The Lede
200 teen reporters document gun violence "Since Parkland"
A year after the mass shooting at Marjory Stoneman Douglas High School in Florida, the "Since Parkland" project was released, showcasing a the 12 month stories of gun violence that affects children across the United States. The project is comprised of 200 teenage reporters from all over the nation, coming together to shed light on "the human stories behind the statistics" of chronic gun violence in America. The summer of 2018 is when this collective effort began to document the children killed by guns from February 14, 2018—the Marjory Stoneman shooting—to today.
Their goal was to tell the stories of these children in 100-word profiles, to humanize them instead of regard them as a mere statistic. They emphasized the victims as they lived, rather than how they died, in order to honor each victim in their own respect. By giving these victims a voice that was taken away from them in an act of violence, reporters and project members of "Since Parkland" hope to eradicate the numbness that has seeped into the attitude of many Americans surrounding gun deaths. With that eradication, they hope to help people realize that every child's death is unacceptable.
The work of this journalists is still going on now, as they consider this project a work in progress. The reporters ask that the public help them in completing it by providing photos, memories or corrections to their coverage through their email at [email protected].
In their last two paragraphs of their about page, "Since Parkland" states:
Ultimately, however, "Since Parkland" exists because of the doggedness of the young people who took it on. This was their story to tell, and it is told in their voices.
Through their determination, we have gained an unprecedented account of the full scale and contours of gun violence as it impacts American youth.
Their coverage doesn't strictly pertain to school shootings, but rather to all acts of gun violence targeting children in America, excluding suicide.
To read all 1,200 stories of each child killed from gun violence, click here. To read about a team of 20 student journalists that gathered in Brooklyn this past weekend for this project, click here.
Pope acknowledges sexual abuse of nuns by priests and bishops
On Feb. 5, Pope Francis publicly said, during a news conference aboard the papal plane en route to Rome from the United Arab Emirates, that the Roman Catholic Church has a problematic history of the sexual abuse of nuns by priests and bishops. He said this for the first time when prompted to comment on a Vatican magazine that published an article two weeks ago about the sexual abuse nuns experienced from priests and bishops.
The editor of the women's L'Osservatore Romano magazine, Lucetta Scaraffia, attributed the abuse to a systemic unchecked power the clerics have, enabling them to sexually abuse nuns, resulting in forced abortions or birth to the children of priests. Recently, nuns in India, Africa, Latin America and Italy accused clerics of sexual abuse, according to a New York Times article. This comes during the #MeToo movement, which has been going strong since 2017, establishing the demand for women's voices to be heard on the systemic sexual abuse women have endured. To read more about the denouncing of sexual abuse against nuns, read this Washington Post article.
To read more on Pope's acknowledgment, read here.
Jeff Bezos accuses National Enquirer of blackmail
On Jan. 28, The National Enquirer devoted several pages to the affair of Jeff Bezos's extramarital affair with Lauren Sanchez, former host of "So You Think You Can Dance." In their exposé, the Enquirer published private text messages and paparazzi photos regarding the affair between Mr. Bezos and Sanchez. Mr. Bezos responded in a personal blog post he published on Medium, accusing The National Enquirer of "extortion and blackmail" on Feb. 7.
In Mr. Bezos's post, he published an email from Dylan Howard, the chief content officer of American Media Inc., and Jon P. Fine, a lawyer for the same company. He argued that both were blackmailing him to release a public statement denouncing any political motivations for the Enquirer's coverage of his affair. What they were threatening him with: graphic photographs, including a "below-the-belt" selfie, according to the emails Bezos published.
The relationship between AMI and Bezos is an interesting one. Since Mr. Bezos owns The Washington Post, he began investigating how and why the information about his affair had been leaked to the Enquirer, who is a daughter company of AMI. AMI said the Enquirer had "acted lawfully" but would look into the matter. To read The Washington Post story on the politics surrounding the investigation and the exposé, click this link.
"If in my position I can't stand up to this kind of extortion, how many people can?" Bezos said.
k
It's an Honor
Scholastic Journalism Week is just about here!
Scholastic Journalism Week 2019 #SJW19 coincides with the 50th anniversary of the Tinker v. Des Moines Independent School District this year, making celebrations across the country even more poignant. Quill and Scroll's Student Advisory Board has been working with the advisers at the Journalism Education Association to plan and promote specific themes for each day of next week. Here's a summary of what we're doing for each day:
Sunday, Feb. 17 — Use #SJW2019 on and before Sunday AND each day in addition to our daily themed hashtags.
Monday, Feb. 18 — #MyCommunityMonday. What is your Quill and Scroll chapter doing to promote the betterment of your communities? Tell your stories of helping out and don't forget to use the hashtag #MyCommunityMonday.
Tuesday, Feb. 19 — #RealNews. High school journalists do important work, not fluff. What #RealNews have you reported in the past year? Tell about it on Tuesday.
Wednesday, Feb. 20 — #EverydayJournalism. Wednesday's focus is about the hard work that student journalists do every day. It's #EverydayJournalism.
Thursday, Feb. 21 — #SavingDemocracy. Scholastic journalism often has to step in and report on public officials and public institutions because of the systematic gutting of professional newsrooms around the U.S. How are you doing your part in #SavingDemocracy.
Friday, Feb. 22 — #NewVoices #StudentVoice. Fourteen states have instituted anti-Hazelwood laws since that disastrous 1988 decision. But #NewVoices acts are being considered in Nebraska and Missouri. Help spread the word about the value of the #StudentVoice.
Saturday, Feb. 23 and Sunday, Feb 24 — #Tinkerversary — Celebrate the 50th anniversary of the landmark Supreme Court decision Tinker v. Des Moines Independent Community School District on Feb. 24 and with #Tinkerversary.
Q&S THE SOURCE podcast's fourth installment: INITIATIVE
Quill and Scroll spoke to Ron Stallworth, a retired police officer and author on Jan. 23 to tell us his story about infiltrating the Ku Klux Klan in 1979 Colorado. Listen to our podcast below, or read the article about Stallworth here.
Stallworth's investigation was kept under wraps for 35 years until Ron himself decided to go public with his story in his 2014 memoir, "Black Klansman." The book gained an immense popularity and led to Director Spike Lee's adaptation of the story into a major motion picture in 2018—which later won the Grand Prix at the Cannes Film Festival and was nominated for four Golden Globes, four Critics Choice Awards, the Academy Award for Best Picture and more.
Both the book and the film delve into the serious tensions of racial divide, racism and some anti-police prejudice. However, the book and novel also depict the honest and authentic reality of undercover investigative work.
2019 Writing, Multimedia and Photo Contest
Submissions for our 2019 Writing, Photo and Multimedia Contest closed Feb. 6. Thank you to those of you submitted entires for our judges to evaluate on individual excellence and overall performance quality.
We received over 2,200 entries from more than 100 schools across the world. Our judges evaluate each submission carefully, and winners will either receive a framed certificate or plaque, depending on their placing. All individual winners receive a Quill and Scroll National Award Gold Key and, as seniors, they are eligible to apply for one of the scholarships offered by Quill and Scroll.
Stay tuned to hear the winners by the end of March.
News Media Evaluation Contest
The News Media Evaluation Contest entry will be open April 1 to June 15. However, you can pay for it with your WPM Contest entries on the School Registration Form
here,
as well as view more general information on the contest.
To view a complimentary guide for your own entries on the actual content and judges comments from the 2018 NME Contest, click
here
.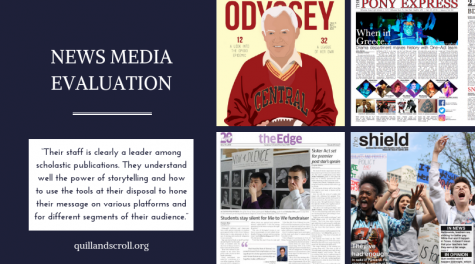 Student Advisory Board applications
Quill and Scroll's Executive Director Jeffrey Browne is accepting applications for the 2019-2020 Student Advisory Board. A total of eight students will be accepted, and their goal and responsibility is to work together in an international, pro-journalism campaign.
Board members must be inducted into the Q&S organization before Sept. 1, 2019. However, if you're already a member, or anticipate becoming a member for the upcoming school year, fill out the form
here
.
The application can be found
here
, and the deadline for submission is April 10, 2019.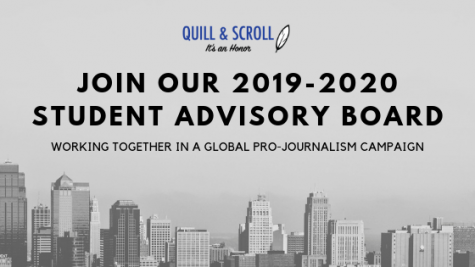 Adviser scholarships
Quill and Scroll encourages advisers to apply for our scholarships. Winners can receive up to $500 for actual tuition, room, board and transportation costs.
The Lester G. Benz Memorial Scholarship for College Journalism Study requires you to have at least six semester hours of journalism courses and a minimum of four years of teaching experience and advising of school publications. You must currently teach a journalistic writing class, and plan to return to the high school classroom and media advising next year to apply the information gained in the course work taken as a result of this scholarship.
Download the application 
here
, and send then submit it through mail to our address at 100 Adler Journalism Building, Room E346 Iowa City, Iowa 52242.
Student scholarships
Q&S encourages students to apply for our scholarships.
To be considered, students must fill out 
this application
 if they are an eligible senior who was or will be a winner in our contests. This means any student who has placed first, second, third or honorable mention is can apply.
Scholarships can be used for tuition, room and board at any college or university that offers a major in journalism or related areas of communications such as multimedia, broadcast, graphic design, strategic communications, and photography.
Apply for the scholarship
here
. The deadline to submit the application is May 10, 2019.
d
What's viral?
Misleading photos outperform fact checks on Facebook
Poynter released an article on Feb. 13, showing false or misleading photos on Facebook gain more audience reach and engagement than posts that debunk the so-called "fake news." Despite the fact that Facebook has a partnership with partners who are signatories of the International Fact-Checking Network's code of principles, false photos in the Philippines, France and Turkey reached a larger audience than their debunking posts this past weekend.
A list of the top fact checks since Feb. 5 can be found here in order of how many likes, comments and shares they received on Facebook. That data is according to audience metric tools BuzzSomo and CrowdTangle analyzed. The top misleading post was one claiming U.S. Rep. Alexandria Ocasio-Cortez (D-N.Y.) "demanded welfare for 1 million illegal immigrants in exchange for President Donald Trump's wall along the U.S.-Mexico border," according to Poynter. The post reached 4.7K engagements despite Factcheck.org debunking that post, saying the story initially published contains a substantial amount of falsehoods about AOC as well as the perpetuation of the false claim that illegal immigrants are eligible for government benefits.
Read the full Poynter story here.
Stephen King followers save book reviews section of a local Maine newspaper
Portland Press-Herald newspaper, a local daily newspaper in Maine, decided to stop publishing regional book reviews of authors originating from Maine in January. Press-Herald CEO and Publisher Lisa DeSisto said it was a part of their site that didn't generate a lot of viewership or audience engagement. In a time where local newspapers are struggling to stay afloat, Herald was set to eliminate that section of their paper to maximize their yearly budget.
In response to this decision, Stephen King tweeted:
The Portland Press Herald/Maine Sunday Telegram will no longer publish local, freelance-written reviews of books about Maine, set in Maine, or written by Maine authors.
Retweet this if you're from Maine (or even if you're not). Tell the paper DON'T DO THIS.

— Stephen King (@StephenKing) January 11, 2019
Following King's post, the Press-Herald said they would keep the section of their paper if King could get 100 of his followers to sign up for digital subscriptions.
These are challenging times for newspapers. But here's an offer: If you can get 100 of your followers to buy digital subscriptions to the @PressHerald, we will reinstate the local book reviews immediately. Use the promo code KING. Deal? https://t.co/5eoqjQ2psV https://t.co/8QfGJOXdjP

— Portland Press Herald (@PressHerald) January 11, 2019
Within 48 hours, at least 200 people signed up for digital subscriptions with the Press-Herald. It showcased a classic example of how celebrity endorsements really do work for companies, including publishing companies, while also showing that people do still care about newspapers and books.
In a more critical lens, Journalist Matthew Skibinski looked at the economics behind this interaction as a digital subscription marketer.
"In particular, it made me think about how publishers can make smart content decisions by looking at reader demand through subscription metrics such as Customer Lifetime Value," Skibinski wrote.
CLV calculates the total revenue one customer amounts to a business for the entirety of the time they have a relationship with that business. With subscriptions, it's particularly useful because subscription models and publishing budgets are created based on the revenue customers drive to that company over time.
Click here to read Skibinski's full marketing analysis behind this one interaction and his tips for other subscription-based companies.
jj
Just a Thought
Denver students receive pushback from administrators about sharing with media
School administrators rebuked students who have been sharing photos, videos and other information with local media about the first teachers strike in Denver in 25 years that started on Feb. 11. Tony Lichenwalter, student executive producer of Denver East High School's broadcast team, said he was called in to the principal's office Feb. 12 after filming the chaos that ensued from students following news of the teachers strike. In an article from the Denver Post, which students have been working with to get documentation of the strike out, Lichenwalter said "[Principal John Youngquist] told me I can only film for personal things. If I communicate with media, he can't let me be on school property. In order to communicate with media, we had to leave our own school."
Youngquist told the Denver Post he had in fact spoken with Denver East students communicating with local media, but said he did not tell them to leave school. He instead said that the students are acting as agents of a media source when they're sharing and sending information to media. If students are classified as media, then they cannot be on school property in Youngquist's mindset, Lichenwalter said.
This leads to the issue of how student and student journalists can report on important, newsworthy information in their school if they are not allowed to document the events through photography or videography among other mediums as they are happening. Visual media is an important tool for getting an audience to understand the weight, severity and truth of a situation as it occurred. It also provides a clearer transparency to the audience.
Think about how visual documentation enhances and engages with your audience and continue to ensure that the information being reported on, whether through your school newspaper or in the local media, is being heard and being heard without any prior restraint from any entity. To read the full story, click here.
Reduce political polarization
Despite major news organizations doing pretty well, especially in coverage of politics in an America that is consistently concerned with the inescapable nature of national politics, local news organizations are struggling at staggering numbers with major decreases in ad revenue, workforce and circulation.
"At a time when national political news is inescapable, there's less local news to be found — and less interest in local politics from Americans," according to Nieman Lab.
The decrease in local news can have dangerous effects, including ignorance about local politics and events happening within a community as well as larger bipartisan divide. Journalists at Nieman Lab found that the loss of local news contributes to the political polarization of community members, a problem in an already divisive America. This polarization leads to an increasing issue for people to be governed not only locally, but nationally.
Read their full story here.
https://quillandscroll.org/wp-content/uploads/2017/08/WeeklyScrollLogo.jpg
1108
2554
Nichole Shaw
https://quillandscroll.org/wp-content/uploads/2017/10/QS-Logo.png
Nichole Shaw
2019-02-13 14:56:18
2019-11-08 13:47:10
Weekly Scroll for February 15, 2019