News, tips and advice from the Quill and Scroll International Honor Society
Compiled and written by Quill and Scroll journalist Nichole Shaw
jjj
The Lede
Time's 2018 Person of the Year: The Guardians
Time magazine revealed their 2018 person of the year Tuesday morning. The surprise: it's a group of people. The magazine declared targeted journalists who engage in the "War on Truth" as their reputable person of the year. Of the nine journalists is Jamal Khashoggi, and he marks the first time a deceased person has taken the title of Time's Person of the Year. The others include The Capital Gazette newspaper staff who endured a mass shooting in June where five were killed, Reuters reporters Wa Lone and Kyaw Soe Oo who were imprisoned for reporting on Myanmar military's mass killings of Rohingya Muslims and CEO and executive editor of Rappler Maria Ressa who was charged by the Philippine government with tax fraud and allegations that she could be sent to prison for 10 years. Below, find the full video delving in to why they were picked or read the full article by Time here.
Supreme Court declines key case against Planned Parenthood
Medicaid funding at Planned Parenthood and other organizations that provide women's reproductive health services will continue after the United States Supreme Court declined to hear a Kansas and Louisiana case, suggesting to defund Medicaid funding at those places. Those particular states are Republican-led and were seeking to appeal lower court rulings that didn't allow them to withhold Medicaid money for health care of low-income women. "The case does not involve federal money for abortion-related services. That is barred by federal law," according to NPR. Instead, the states are looking to block Medicaid funding for abortion providers that provide services like cancer screenings, prenatal services, birth control and ultrasounds. The decline to hear a case like this indicates the want of SCOTUS judges to keep a low profile this year. Read more here.
Nobel Peace Prize winner demands action on international sex abuse
Congolese doctor and hospital founder Denis Mukwege and Iraqi activist Nadia Murad share the 2018 Nobel Peace Prize. Together, they are pushing for international action against the sex abuse that has been prevalent for years, including reparations for past victims. Mukwege argues the international community has enabled the sex abuse of Congo for more than two decades and pushes countries to stand against leaders who have used sexual violence to get where they are and take power. Murad was a victim of sexual abuse herself and emphasizes the importance for sympathy for victims to turn into actions against the abusers. The full story can be found here.
jjj
It's an Honor
HS WIRE: Q&S and JEA partner with professional media to publish HS journalism content
Quill and Scroll and the Journalism Education Association are excited to announce a partnership that will help amplify student voices by distributing student work through professional media. JEA's "The Best of High School Journalism" magazine on Flipboard.com will be changed to "HS WIRE" this December. Not only will HS WIRE showcase the "best stories" in highs school journalism, it will post even more timely news content on the site. Once it's there, we'll work with professional partners like The Associated Press, The New York Times, Huffington Post, Public News Service, Patch.com and others to see if they'd like to re-publish the content, all the while giving credit to the students, the teacher, the high school and anyone else associated with the production.
Send your best timely work to
[email protected]
 starting now!
 JEA Professional Outreach Committee Chair Jonathan Rogers and Quill and Scroll Executive Director Jeff Browne will review the submissions and post the best to HS WIRE Magazine on Flipboard. Then we will notify professional media that those stories are available provided our partners agree to our crediting parameters. Student journalists often fill in the blank where professional newsrooms can't. This is your chance to have your voice amplified.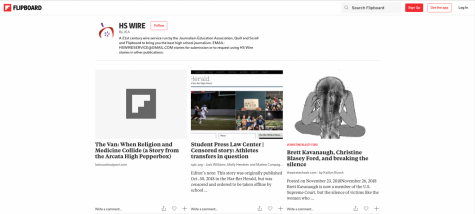 Yearbook Excellence Contest
The entries for the 2018 Yearbook Excellence Contest have been judged and Quill and Scroll is in the process of putting together the awards. We hope to announce all winners by early January.
2019 Writing, Photo and Multimedia Contest adds video and podcast
Quill and Scroll's Writing, Photo and Multimedia Contest is adding three video and two podcast categories in the multimedia section of the contest, bringing the total number of categories to 30, spread among writing, photo, design and digital media.
The contest is now open, and the final entry deadline is Feb. 6, 2019. Each entry costs $5, and winning students will be eligible for Quill and Scroll scholarships at the end of the school year. Please go to our WPM Contest page to learn more and to enter. A complete list of winners can be found here along with a brief showcase of and links to the award-winning work.
Does your school have a Q&S Charter?
If you're unsure of your school's charter status, check the Q&S 
charter page
 to search for your school! Have a charter? Simply re-activate your charter by emailing 
[email protected]
. Not on the list? Click
here
to open your charter, get your official Q&S banner, and begin inducting students.
k
d
What's viral?
Never-ending Dutch church service protects migrants from police
A marathon church service started more than six weeks ago at Bethel Church in the Netherlands to protect five Armenian refugees from being arrested by immigration police and deported. The Tamrazyan family fled to the church in sanctuary as an obscure Dutch law prohibits police from disrupting a church service to make an arrest. The family had to flee Armenia for political reasons in 2010, which cannot be disclosed to protect repercussions for relatives still living in Armenia. Since the service began in late October, "More than 550 pastors from about 20 denominations have rotated through Bethel Church, a nonstop service all in the name of protecting one vulnerable family," according to The New York Times. Click here to discover more about how the never-ending service unfolded and why.
50 Best Albums of 2018
As the year comes to a close, the music industry makes their assessment of what the best albums of 2018 are. NPR is the front runner in radio listenership as they reach 99 million users monthly across broadcast and digital platforms. Thus, they seem the most informed news organization based on listenership to determine the best albums 2018 was graced with. At the top of their list: Janelle Monáe's Dirty Computer. This was Monáe's third album and the first time listeners were really introduced to her, as in the past she adopted alter egos in her music. She aimed to be free in this album, capturing "the bliss of sexual fluidity, the eloquent anger and spirituality of black feminism, the temporary high of nihilism, the sandbagged weight of self-doubt and finally the euphoric reckoning of learning who you are," according to NPR. Among the other front-runners are Kacey Musgraves, Cardi B, Ariana Grande and The Carters. For the full list of all 50 albums, click here for their descriptions or here to listen.
Don't eat the raw cookie dough!
The holiday season is approaching, and that means licking the bowl clean of leftover cookie dough after you've popped the cookie tray into the oven. Wrong! The Centers for Disease Control and Prevention urges people to not eat unbaked cookie dough, because it can and will make them sick.
"Say No to Raw Dough!" the CDC warns.
The reasons: raw flour can contain E. coli and raw eggs are carriers of salmonella bacteria. When cooked, the bacteria is killed; uncooked, they pose a huge threat to the possibility of a person experiencing symptoms of severe stomach pain, diarrhea, vomiting and fever.
So turn away from that bowl filled with the sugary sweetness of brown sugar and chocolate chips this holiday season. Just a taste isn't worth the possible health repercussions.
jjj
Just a Thought
Religion and medicine collide: is it ethical?
Arcata High Pepperbox journalism students wrote a story covering the potential ethical dilemma the proximity of a religious van providing heath services to Arcata High School poses. The van, J. Rophe Medical "Mobile Medical Unit," parks 369 feet away from the high school and offers free pregnancy tests. However, they also are a religious organization that encourages pro-life evangelical-Christian practices. The "J" in J. Rophe stands for Jehovah Rope, meaning 'God our Healer.'
This poses an ethical dilemma the newspaper staff delved into, questioning whether it is appropriate for religion to intersect with professional health care. Their conclusion: No; facts should be facts. The pamphlets J. Rophe hands out are called "Before You Decide," and serve as a guide to those confused about what kind of decision to make when they find out they are pregnant: parenting, abortion or adoption. Most of the information in it is heavily biased and often not factual, as the students uncovered in their research. You can read the full story here. Have groups reached out to your school to try and persuade students to make a decision regarding pregnancy? Were those students vulnerable? If so, there might be a story there to help your community decide where the ethical line stands in health care treatment regarding health care and abortion. Look into it.
Writing news for young people
In a move to rethink the way news storytelling is reported and presented, BBC Research & Development prototyped new digital storytelling formats to try and reach younger audiences. They held conversations with 85 people face-to-face and discovered a new set of writing principles that can reach Generation Z, the diverse group of people born after 1995 and natives to the digital era, and women aged 28-45 who struggle with time while they balance work and their families.
Takeaways:
Give context at the right point for a complex or long-running story, which should often be near the beginning.
Anticipate questions and answer them. Use Google Trends.
Give entry points like summaries and timelines for complex, long-running stories so your audience doesn't feel overwhelmed.
Keep it simple: don't use jargon, but don't "dumb down" your writing.
Provide quality journalism that the people can trust. Be a source of clarification or verification.
Offer a range of perspectives to combat skepticism and mistrust.
Write more representative and personally relevant stories for young people and women.
Give the option to subscribe to developing stories.
Think about solutions to stories being reported on to avoid "the news is too depressing" perception.
Read the full story on the user test by Medium and BBC News Labs here.
Structural segregation in the Midwest affects life outcomes
Discriminatory policy decisions and disinvestment in areas populated by African Americans in Cleveland, Ohio, has resulted in serious structural segregation that puts African Americans at a serious disadvantage, according to Public News Service. Wide disparities between blacks and whites in birth outcomes, criminal justice, income and health became vividly apparent from The Center for Community Solutions data. Center Researcher Kate Warren says this is a common theme in Midwestern cities because the black population is isolated to a certain area and face worse outcomes than whites in the same cities. Read the full report here. Think about your city and if there's a group of people isolated to a certain area based on their demographic and if it puts them at a disadvantage. Representation for a diverse group of people is necessary in the newsroom.
https://quillandscroll.org/wp-content/uploads/2017/08/WeeklyScrollLogo.jpg
1108
2554
Nichole Shaw
https://quillandscroll.org/wp-content/uploads/2017/10/QS-Logo.png
Nichole Shaw
2018-12-11 15:02:18
2018-12-12 10:09:18
The Weekly Scroll for December 14, 2018