News, tips and advice from the Quill and Scroll International Honor Society
Compiled and written by Quill and Scroll journalist Nichole Shaw
jjj
The Lede
Deadly California wildfires kill 56
Californians have been left in a state of uneasy unrest as deadly fires destroy most of northern California. The deadliest fire in California history was dubbed Camp Fire, killing 56 and is the size of Atlanta, Georgia, according to AP News. Places affected include Thousand Oaks where a bar shooting left 13 dead and celebrity homes in Malibu. Kim Kardashian West and Kanye hired private firefighters to save their home. Miley Cyrus responded to the fires differently than the West family did, posting her appreciation for first responders and stating, "I am one of the lucky ones. My animals and LOVE OF MY LIFE made it out safely & that's all that matters right now. My house no longer stands but the memories shared with family & friends stand strong."
Criminal justice system reform is one thing Republicans and Democrats agree on
First Step Act, composed of a bipartisan group of senators, proposed a bill that would shorter prison sentences, lighten drug sentences, eradicate "stacking" of sentences for first-time offenders that are in possession of a firearm and judges would generally have more leeway in avoiding mandatory minimums, according to The New York Times. The bill has already easily passed in the House, and Trump has indicated his full support of the bill on Wednesday. An issue of this magnitude being worked on by both parties in a nation that is usually politically divided is new, showing common ground can be achieved. To read more, click here.
Death penalty is sought for Khashoggi's murder suspects
The top prosecutor in Saudi Arabia, Saud al-Mojeb, announced he is seeking the death penalty for five murder suspects of late Washington Post columnist and Saudi dissident Jamal Khashoggi. The prosecutor's decision is seen as an attempt to distance Saudi Crown Prince Mohammed bin Salman from ties to Khashoggi's murder, according to AP News. Cause of death is unclear as prosectors said he was killed by a lethal drug injection under restraint despite a Turkish journalist who said Khashoggi was suffocated by a team of Saudi operatives. NPR has more on the full story here.
jjj
It's an Honor
Quill and Scroll's Fall 2018 Magazine
Quill and Scroll's Fall 2018 Magazine was released last week. Check your emails for the link to the e-issue if you're a subscriber. If not, you still have access to four of the stories that were featured in the fall issue here! To start a subscription with us, call (319) 335-3457. Subscription rates are $17 per year and $30 for two years. Check out some of our past issues here. Below is a sneak peak of our fall issue.
jjj
Listen up! THE SOURCE: Ep. 4 – Loyalty
In the fourth installment of THE SOURCE, host Nichole Shaw interviews Colorado Student Media Association Executive Director Jack Kennedy on loyalty in the journalism industry. Take a listen to discover the importance of understanding loyalty and your responsibility as a journalist to stick to what you know is right, even though it may be difficult to face. Listen to the podcast here.
Quill and Scroll teams with TheChisel.com
DO YOU:
Need a meaningful Q&S chapter activity this semester?
Hope to solve a problem in your community or school?
Want to interact with policy-makers and journalists?

Quill and Scroll has partnered with TheChisel.com to help you develop skills in reporting on, writing about, and devising solutions for issues in your school or hometown. You can read about the partnership on our webpage here, or you can download the pretty flier we created just for this partnership. If you have any questions, you may contact Q&S's Jeff Browne at [email protected] or TheChisel's Deborah Devedjian at [email protected].
Writing, Photo, and Multimedia Winning Entries Available
Quill & Scroll's annual Writing, Photo, and Multimedia Contest for 2018 is complete, and winning entries are now available for your perusal. A complete list of winners can be found here along with a brief showcase of and links to the award-winning work.
The 2019 Contest will be open for entries from December 2018 through Feb. 5, 2019. Work entered should have been published online or in a news publication between Feb. 1, 2018 and Feb. 1, 2019. As always, students who finish in the top 10 percent in any category are eligible for Quill and Scroll scholarships.
Does your school have a Q&S Charter?
If you're unsure of your school's charter status, check the Q&S 
charter page
 to search for your school! Have a charter? Simply re-activate your charter by emailing 
[email protected]
. Not on the list? Click
here
to open your charter, get your official Q&S banner, and begin inducting students.
k
Yearbook Excellence Contest
The entries for the 2018 Yearbook Excellence Contest have been sent to judges, and they have a Nov. 30 deadline to complete their work. We hope to announce all winners before the holiday break begins in mid-December.
d
What's viral?
Doctors push back against NRA
A tweet by the NRA on Nov. 7 has gained large negative attention after posting doctors should "stay in their lane" regarding gun control. The tweet sparked outrage from the medical community with doctors taking to social media, posting bloody, gruesome photos of what it's like to treat gun violence victims. Their response has been trending for a full week now, with no signs of stopping, as the tweets keep rolling in under #ThisIsMyLane, #ThisIsOurLane and #ThisIsEveryonesLane. The response has turned into a campaign by doctors to show the horrific impact gun violence has on victims and push for gun control in a way never seen before.
Dear @NRA ,
Until you're covered in blood and pronounce someone dead in the trauma bay, or told a mother that her child is dead, or sewed someone's scalp together so their family doesn't have to see their brain matter, please don't tell me what my lane is. #thisismylane https://t.co/u5QX7VUaKX

— Danielle Kay (@KayDaniellei) November 10, 2018
FDA cracks down on flavored e-cigarettes and vapes
An epidemic of tobacco use by teenagers has pushed the FDA to announce plans for action against e-cigarettes, vapes and flavored cigars sale to minors. This comes as an aggressive attempt to reduce underage tobacco use and young nicotine addiction after the Wall Street Journal announced data showing a 75 percent of vaping usage since 2017. The ease of obtaining and using these devices has been prompted by attractive ad campaigns of Juul and other companies to a younger demographic. That ease has been stilted by the administration's plan to "ban menthol cigarettes and flavored cigars from the market, as well as restrict the sales of flavored e-cigarettes in stores and online convenience stores," according to Vox.
Racism grips a Texas school and parents search for solutions
A viral video of Carroll Independent School District students chanting racial slurs surfaced two weeks ago. The district has a history of racism, according to parents who spoke about various racist incidents where students of color have been targeted and left emotionally distressed afterward. The mothers of the community in Southlake, Texas, gathered Wednesday night for a "mom-to-mom" discussion about how to eradicate the racism that has plagued their district. To full story can be accessed here.
jjj
Just a Thought
Investigating inequality in public schools
In an effort to connect and coach students journalists, News Producer Taylor Blatchford creates a recipe to investigate inequality in public schools. The Miseducation database is a user-friendly resource student journalists can use to decipher "information on racial disparities in more than 96,000 schools and 17,000 districts." A recipe on how to use the database in the best way was created by ProPublica and can be read here. Perhaps your school has a sensitive issue like race. Think about covering it to bring attention to the inequalities certain students face and give those people a voice. See where the information takes you and develop your story as you continue to investigate. To read more about the recipe and discover other great advice and tips for scholastic journalists, click here.
Some podcasts may be manipulative in their storytelling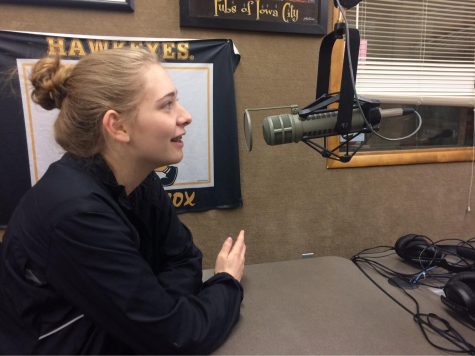 The New Yorker published an unusual piece for their Nov. 19, 2018. It highlights the wonderful opportunity that podcasts and audio narratives offer to listeners in the often chaotic world we live in. However, they also warn of the manipulation that can occur as listeners allow themselves to be slowly immersed into the stories of speakers and hosts. Podcast series "Missing Richard Simmons" posed an ethical dilemma in subjecting the faded celebrity to intense scrutiny and fervid inquiry that was borderline immoral in nature, according to the Times. The New Yorker further warns that "sometimes, a narrative can satisfy because it is beguiling, not because it is true," as the "With Her" podcast by Pineapple claimed to chronicle the Hillary Clinton 2016 campaign for presidency when in reality, much of the story was fictionalized drama. Read the full story here. Think about starting a podcast at your school to cover interesting stories in a more narrative, informal mode that can attract a large audience. However, don't forget that as a journalist, your first priority is to the truth and accuracy.
https://quillandscroll.org/wp-content/uploads/2017/08/WeeklyScrollLogo.jpg
1108
2554
Nichole Shaw
https://quillandscroll.org/wp-content/uploads/2017/10/QS-Logo.png
Nichole Shaw
2018-11-15 11:41:18
2018-12-04 11:09:39
The Weekly Scroll for November 16, 2018