The Weekly Scroll for Friday, Oct. 6
The Weekly Scroll for Friday, Oct. 6
News, tips and advice from the Quill and Scroll International Honor Society.
Compiled and written by Marni Wax, Allison Wunder and Emily LaGrange.
The Lead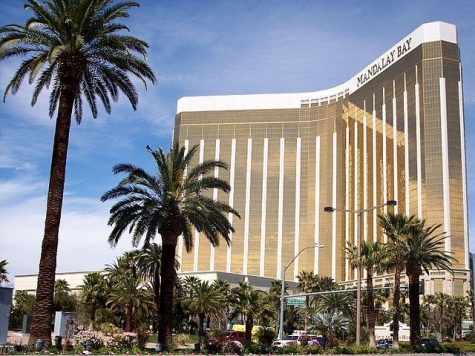 Tragedy in Las Vegas
All the way up on a 32nd floor, a  gunman overlooked a Las Vegas Strip casino and fired a rapid shower of bullets on an outdoor music fest. He killed 58 people and left 527 more injured. Thousands of frightened individuals screamed and ran for their lives (literally…what a terrible image to think about). It is now known to be the deadliest mass shooting during modern times in the United States.
How to cover these heavy, heartfelt stories.
Orlando Sentinel Managing Editor John Cutter and a few other reporters from Orlando knew that journalists would be working on their stories all night to educate people about what was going on from the tragedy in Las Vegas last week. Cutter spoke with the Poynter Institute on Monday to share thoughts, tips and advice for local journalists in Las Vegas. 
Click here to learn how to tread lightly, when dealing with such a heavy topic.
It's an honor:
What's it like to be a part of something bigger than yourself?
Go to our Facebook page to learn how to share your testimony about what it means to be a member of Quill and Scroll. Or you can go to the Quill and Scroll website to give a more detailed story about your connection to Q&S.
Attention:

PDF of fall 2017 issue of Q&S magazine up on issu to be sent to members via mail in mid-October
CALLING ALL ADVISORS!
Does anyone have any footage of their induction ceremonies! We would love to feature your students in a video! Contact us at [email protected] for more information.
What's Viral:
Express yourself (and your political viewpoints).
One of the hardest parts about being an educator is grasping that your students can, and most likely will, have different viewpoints than you…especially when they are in their high school years. Has your school district's (or any public school in the United States that you know of) school or athletics director forbidden players from kneeling during the national anthem? If so, IT'S WRONG! Here's a school that does is right…another one threatening to "violate its students' First Amendment rights."
And…ANOTHER one.
Waylon Bates, the principal of Parkway High School in Louisiana, sent a letter to the students at his high school, and their parents. The letter had the sole purpose to serve as a warning that any athletes who did not "stand in a respectful manner" during the national anthem would face consequences. He made it clear that he has the authority to kick players off the team if need be. Click here for the inside scoop.
Just a Thought:
Figuring out what to write is more than half the battle.
Ever struggle to come up with things to write about? Every writer does! Even the best. Blogging is a particular hard style of writing to come up with blog agendas, especially when you want to produce consistent content for their audience. Here are some different types of posts you can produce.
Technology might give quantity, but not quality.
This year's key developments will focus on the changing technology and how it is affecting the quality of information we receive about our democracy. Donald Trump's presidency will highlight the increasing power of new communication styles, as media continues to both influence all and bring in money.
http://quillandscroll.org/wp-content/uploads/2017/10/QS-Logo.png
0
0
Marni Wax
http://quillandscroll.org/wp-content/uploads/2017/10/QS-Logo.png
Marni Wax
2017-10-09 10:39:55
2019-11-08 13:51:14
The Weekly Scroll for Friday, Oct. 6