Solar Energy
Reducing carbon emissions in the next thirty years
On Wednesday, the Biden Administration released a plan to reduce carbon emissions in the U.S. by producing almost half of the nation's electricity from the sun by 2050. Last year, solar energy provided less than 4% of the country's energy. 
The Energy Department said that the country needed to double the amount of solar energy panels installed every year over the next four years and then will need to double installations again by 2030.
Here's what you can do:
While Biden has a nationwide goal, you can ask the energy sector of your city what their goal is (if they have one). Do they have any idea on how to increase solar energy in their own area? 
Because larger cities use more energy than smaller cities, it's always interesting to compare numbers with cities around you. Does your city produce three times the amount of energy as the neighboring small town? Or does it produce half as much? Show us. Your city manager should have this information. 
Now that you're on the subject of climate change, it's time to find out how else your city has done its part in reducing its own emissions and pollution. If a strong effort hasn't been made, ask them why. Putting pressure on the local government can cause them to rethink their actions toward climate change. 
So if you're an environmentalist, or simply trying to localize a national government story, climate change is an extremely relevant and important topic no matter where you are writing.
Remembering 9/11
The 20th anniversary of the historical attacks on the U.S.
Saturday is the anniversary of one of the most tragic days in American history: a day that changed things forever, including journalism and the importance of reporters.
The attack on the World Trades Center launched our country into the longest war ever fought by the United States — with an occupation in Afghanistan lasting longer than high schoolers today have been alive.
Here's what you can do:
A topic like 9/11 and the past 20 years that has followed is huge and includes so many layers. 
Here are several ways you can localize a story about 9/11 from anywhere in the country: 
Talk to people in your city (of course, they need to be old enough to remember 9/11.) Ask them what they remember from that day and how it changed them. Ask them where they were and what outlet they found out the news from. Though 20 years ago, people still remember the details from that day. 

While it may seem controversial, talk to veterans or other local military personnel if they believe occupation in Afghanistan was justified and if they think the US responded correctly. The most emotional responses make for great direct quotes because they really help younger readers feel that day. 
With a topic that stirs so much emotion, you want to stay away from quoting anyone who may be perpetuating a stereotype or being offensive. Using diverse voices is really important for a story like this and t it's okay to expand your reach and go outside of your own town if that is necessary to find those voices.
Covid-19 vaccine booster shots
The debate for vaccine efficacy and distribution reaches a new level
Like many other vaccines, the COVID-19 vaccine has the potential to require a booster dose to increase vaccine efficacy. Those boosters should be released by the end of the year, but many areas are still struggling to get enough people initial doses of the vaccines. 
The CDC's original plan was to offer boosters by Sept. 20; they have since decided that more debate into the efficacy of those boosters must be done first.
Some countries have already received booster dosages, stirring up a discussion about whether it is ethical for wealthier countries to receive a third dose before other countries have even had the opportunity to vaccinate their population.
Here's what you can do:
While the country awaits a decision on whether the CDC will release booster shots just yet, stories can still be written. 
In order to give readers background, talk to local health professionals and start by having them explain what exactly a booster shot does. These experts can also tell you what other vaccines require boosters and how long it took after their development to require these extra doses. 
Ask your city's health department for the number of residents in the city that are vaccinated as well to put your local area into perspective compared to the nation or state. 
You can also talk to people in your community to see if they are willing to take a booster shot if it does become required. Whether they say yes or no, remember to ask them all why. 
Sometimes it may seem that you have worn out the COVID-19 topic, but there will always be new angles to tell another story about the pandemic.
Park Vista Community HS 'Little Free Library'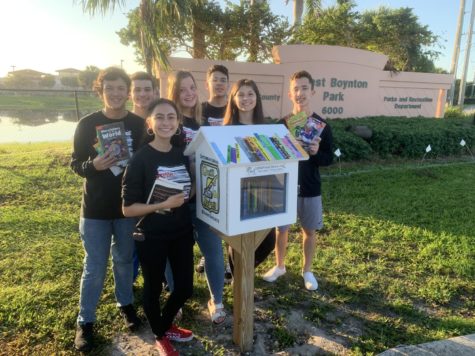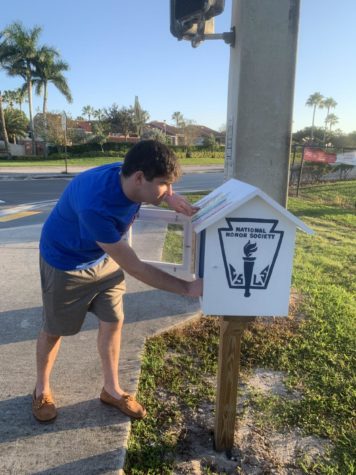 There's nothing we love more here at Quill and Scroll than receiving news on our chapters across the world. Check out these photos from Park Vista Community HS in Lake Worth, FL!
As part of their community service requirement, Q&S members planted a "Little Free Library" at their school's main entrance. The members are responsible for its upkeep as well as stocking it with books.
Is your chapter doing something you'd like to show off? Let us know by email [email protected] or tag us on Twitter.
Apply for our Student Advisory Board!
Do you want to serve your fellow student journalists and Quill and Scroll members? Join the Q&S Student Advisory Board for 2021-22. The application deadline is Sept. 30.
SAB members will work on projects including establishing a regular communications channel for editors and other student journalists to discuss problems, successes, and yearbook and news coverage; and working on seminars that can aid Quill and Scroll chapters.
Yearbook Excellence deadline is Oct. 10
It sure is. Thirty categories, including pandemic coverage, and two classes of schools highlight the 2021 Q&S Yearbook Excellence Contest. The deadline is more than a month away (Oct. 10), but what better way to have your students critique last year's book than by choosing the best entries for the world's premier yearbook contest? (Answer: There isn't a better way.)
News Media Evaluation results
Last week, we announced the awards for our NME service. Nine schools were awarded the prestigious George H. Gallup award, and a record-breaking 21 schools were awarded International First Place.
Communications Coordinator Sylvia Clubb announced these winners via Twitter.
For a full list of winners, visit our website.
Q&S and NSPA agreement
Quill and Scroll and the National Scholastic Press Association (NSPA) will work together to promote scholastic journalism and membership in Quill and Scroll.
While working together on this project, NSPA will include the opportunity for advisers to induct members into Quill and Scroll while also filling out NSPA member forms.
More updates to come on this partnership. The agreement began September 7.
Alumni Service
Have you ever wondered if there's someone like Fred "Mr." Rogers (Greater Latrobe HS, 1946) or Debra Messing (East Greenwich HS, 1983) among your school's Quill and Scroll alumni? How about journalists, writers and teachers such as Ryan Foley, Barbara Tholen, Dan Fellner, and Chris Barton. 
Quill and Scroll has the names of every student ever inducted into your school's Q&S chapter. Those names are easy to access from the period 2004-2021, but it takes a little longer to get those names between 1926 and 2003, when all memberships were recorded on cards that now reside in the basement of the Adler Journalism Building here at the University of Iowa.
If you're interested in building a list of distinguished journalism alumni from your school, just contact [email protected] and use the phrase "Q&S ALUMNI LIST" in your subject line. 
For a cost of $50/hour, we'll retrieve those names and sort them for you by year of induction and get them back to you in time for a fundraising dinner or a special ceremony celebrating student journalism at your school.
Kylie Jenner announces second pregnancy
Makeup mogul will have second child with rapper Travis Scott
Social media star and makeup mogul Kylie Jenner announced Tuesday via Instagram that she is expecting her second child with rapper Travis Scott. Their eldest daughter, Stormi, was born in 2018.
The one minute and thirty second long video featured videos and photos of family announcements, time in the doctor's office and clips of Stormi and Scott.
Rumors had been circulating for months regarding the a potential Jenner pregnancy. After Stormi's secretive and surprise birth in 2018, fans knew what to look out for on Jenner's social media pages. Apart from a few anonymous confirmations, internet sleuths may have known Jenner was pregnant before the information was publicly available.
A message from Steve
Former Blues Clues star wants you to know he's 'proud of you'
The popular Nick Jr. series turns 25 this month! After some form of "Blue" being on air since 1996, the first – and arguably most recognizable – "Blue's Clue's" host Steve Burns took to Twitter to give his fans a message Tuesday.
So about that time Steve went off to college… #BluesClues25 pic.twitter.com/O8NOM2eRjy

— Nick Jr. (@nickjr) September 7, 2021
Burns was host for the original series from 1996 – 2002 until leaving abruptly in the sixth season and handing the hosting role over to his "brother," Joe.
The sweet message from Steve reminded original fans of the magic of seeing an old friend again.
After winning a day-time Emmy award, Steve's departure was a shock to some. However, the show managed to produce two spin-off series ("Blue's Room" and "Blue's Clues and You!") and has been playing on the network for years.
'Don't Look Up' trailer
2021 Netflix film promises one of the biggest and brightest casts… maybe ever
Netflix's much anticipated movie, "Don't Look Up," dropped its first teaser trailer Wednesday. Why don't we play a game of iSpy? I'll go first.
I spy… Leonardo DiCaprio, Jennifer Lawrence, Jonah Hill, Meryl Streep, Ariana Grande, Timothée Chalamet, Tyler Perry, Anthony Mackie… the list goes on and on. If those names aren't enough to get you excited, I don't know who will.
"Don't Look Up" is written and directed by Adam McKay, mastermind behind movies like "The Big Short," "Vice," "Step Brothers," and "Anchorman: The Legend of Ron Burgundy."
While you might not associate all of these actors with comedies, it's safe to say we're in for a treat when this drops in theaters Dec. 10 and Netflix Dec. 24.
Meet Q&S: student staff introductions
Lauren White and the importance of high school journalism programs
Hi! My name is Lauren White and I am a third year at the University of Iowa studying Journalism and Mass Communications and Political Science. I have written for The Daily Iowan for three years now, but this is my first year working for Quill and Scroll (this is actually my first month) and I'm already enjoying myself here. 
In high school, I was already interested in news and journalism, but there was one problem — we didn't have a journalism program at my high school. With a graduating class of 40 and a student body of about 200, we didn't really have a whole lot of extracurriculars in general. 
My entire high school journalism career consisted of writing a few articles about school sports and student spotlights in the local newspaper.
Then why am I, a junior at The University of Iowa who didn't even have a journalism career until college, working for a high school journalism organization? Well, the lack of a journalism program actually showed how important it would have been to have one. 
When I came to Iowa in August 2019, I started working at The Daily Iowan within my first week. Right away I was overwhelmed by things my limited journalism background had never prepared me for, i.e. pitch meetings, sourcing, phone calls, etc. It took me months to finally get over my anxiety of making a phone call (and I don't think I ever completely got over it)! 
That's why I know that high school journalism programs are so important for the future of journalism. Imagine if my entire newsroom had been filled with freshmen like me who cried when they tried to make a phone call. Nothing would have ever gotten done! Luckily, the newsroom had reporters who learned lots of these important techniques in high school and were prepared to kick off writing hard-hitting stories as soon as they started college. 
Entering contests and applying for scholarships are just some of the ways that Quill and Scroll can help you beef up a resume and show those college news rooms that you know what you're doing. It's never too early to build a resume; a high school journalism career is a perfect start to this even before reaching university. 
Take it from me: while it is possible to work in the field without high school experience, it is so much harder to get your bearings. You have the unique perspective of being a high school student writing about current events and stories that matter to your community.