Four students earn Q&S Scholarships
2020 Q&S Scholarship Winners
FHN digital innovator wins top scholarship; three others selected
Emily Hood from Francis Howell North High School in St. Charles, Missouri has been named the winner of the 2020 George and Ophelia Gallup Scholarship, awarded by Quill and Scroll.
Hood, who served two years on the Quill and Scroll Student Advisory Board, earned the $1,500 award because of her outstanding work as a student journalist, and because of her commitment to the profession and the organization's eight guiding principles.
FHN adviser Aaron Manfull noted Hood's impact on the school's journalism program and her initiative — one of Quill and Scroll's guiding principles — in starting a daily digital newscast for teens.
"She planned her show, built a space at home to film it, and decided she would write, film, edit and produce it all on her own," Manfull wrote.
The result of her work was "The Hood Report."
Hood's principal, Nathanael Hostetler, wrote about her maturity in tackling complex issues and projects.
"She brings large, complex stories to life with a high level of polish. Beyond her professionalism, Emily carries a high level of ethical standards into her work as well. When she is working with potentially sensitive or controversial subject matter, Emily is mindful of both her imperative to be truthful in reporting as well as the need to consider multiple audiences in a school setting."
Hood will attend the University of Missouri in Columbia, where she will study journalism.
"I want to keep reporting far beyond the walls of my school, continuing to show the struggle, persistence, and spirit of those around me," she wrote in her application statement.
The Quill and Scroll Scholarship Committee chose Hood for its top prize, but it also was impressed by the work of three others who earned scholarships.
Here are the scholarships Quill and Scroll will award:
George and Ophelia Gallup Scholarship ($1,500) — Emily Hood, Francis Howell North HS, St. Charles, Missouri

Edward J. Nell Memorial Scholarship ($500) —

Anna Mullins, Lakota East High School, Liberty Township, Ohio

Edward J. Nell Memorial Scholarship ($500)

— Nina Lavezzo-Stecopoulos, Iowa City High School, Iowa City, Iowa

Richard P. Johns Scholarship ($500) — Elise Trexler, West Henderson High School, Hendersonville, North Carolina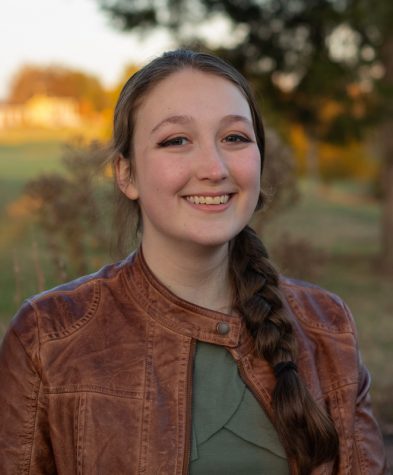 Anna Mullins
Anna Mullins from Lakota East High School in Ohio distinguished herself as both a tireless reporter and skilled storyteller for Spark, the school's monthly newsmagazine, for which she also served as co-editor her senior year.
Here's how Spark adviser Dean Hume describes Mullins' … well … spark:
"Whether the story is in print or electronic, Miss Mullins uses the same approach," Hume wrote in his letter of recommendation. "She skillfully steers the interview direction toward the most compelling angle, while referencing points connected to her topic. Quietly, she gained the source's trust, and a relaxed discussion follows. It is the same 'MO' she uses during her time-intensive work as class package editor.' It involves 'coaching' between 16-20 students toward their first major indepth. To do so, she opens her house to the writers at all hours for as long as it takes to support every reporter."
Mullins' story "Sold" was awarded first place for In-Depth Reporting: Individual in the 2020 Q&S Writing, Photo and Multimedia Contest. It provided her readers a look into the problem of human trafficking and dispelled myths about the practice while telling moving stories and showing Mullins' passion for social justice.
In the fall, Mullins will attend the University of Cincinnati and major in digital media.
"I have chosen this broad field because I can't predict what stories will need telling," Mullins wrote in her scholarship application, or "whether the path leads to broadcast, print or film. I will continue telling stories that need to be told because that is what I am, a storyteller."
Nina Lavezzo-Stecopoulos
Nina Lavezzo-Stecopoulos from Iowa City High School joins a long list of honorees who have worked for The Little Hawk, the award-winning publication at City High, one of 19 original Q&S charter schools and in Quill and Scroll's hometown.
Lavezzo-Stecopoulos served as The Little Hawk's executive editor her senior year, and she won 11 awards, including five first places, from the Iowa High School Press Association. Her adviser, Jonathan Rogers, pointed to Lavezzo-Stecopoulos' commitment to equality and fairness in her journalism, as well as a passion for telling stories about issues important to her generation.
"From gender equality to vaping to LGBTQ issues to TikTok to racial inequalities to standardized testing to reviews of important art, she has covered it all," Rogers wrote. "Looking back at her body of work, it is easy to see that Nina had an eye for the important issues."
Lavezzo-Stecopoulos will attend Barnard College at Columbia University in New York, where she will major in journalism and continue to tell stories important to her and the world.
"I am confident Nina will continue to excel in her future academic and career endeavors" City High counselor Linda Noel wrote. "She will be a 'difference maker' in the future."
Elise Trexler
Elise Trexler from West Henderson High School in Hendersonville, North Carolina, served as editor of Wingspan for the past two years, during which time she said she learned the discipline and excitement — "giddiness" is her word — that comes with being a journalist.
"Journalism pushes me to my limits in the best ways," Trexler wrote in her application letter. "It makes me consider all sides of every story and challenges me to cover them all in a timely manner. It forces me to delegate, which is hard for me since I love every part of the process. I have even learned to love delegating; it allows younger staffers to feel the same passion and go on the same journey on which I got to embark."
Trexler's adviser, Jason Livingston, was effusive in his praise for her, and he highlighted her devotion to Quill and Scroll's guiding principle — truth.
"Elise loves to tell stories," Livingston wrote. "She is so determined to seek the truth in a time when 'truth' can be so distorted. Elise is fair and just in her practice and has gained the respect of teachers, peers and administrators."
Trexler will attend the University of North Carolina in Chapel Hill, where she will major in journalism.
Can you help build our scholarship fund?
In the very near future, Quill and Scroll hopes to increase its top award to $5,000 per year, but we need to build our endowment before we can do that. If you'd like to help with that, please visit this page and think about a generous donation to our scholarship fund. It's likely tax-deductible.
https://quillandscroll.org/wp-content/uploads/2019/11/the-digital-quill.png
500
500
Jeff Browne
http://quillandscroll.org/wp-content/uploads/2017/10/QS-Logo.png
Jeff Browne
2020-06-04 11:02:20
2020-06-04 11:13:08
Four students earn Q&S Scholarships