News, tips and advice from Quill and Scroll
President Trump and the FBI under scrutiny
Both the President of the United States and the Federal Bureau of Investigation took turns in the spotlight this past week, absorbing allegations from the U.S. House of Representatives and the Inspector General of the Department of Justice.
First, the president
On Tuesday, House Speaker Nancy Pelosi (D-California) and Judiciary Committee Chairman Jerrold Nadler (D-N.Y.) announced the two articles of Impeachment against President Donald Trump for high crimes and misdemeanors. The House Democrats are pursuing two articles of impeachment against President Trump — abuse of power and obstruction of Congress.
Democrats wrote the first article, abuse of power, because President Trump withheld funds to Ukraine in an attempt to get that government to open an investigation of former Vice President Joe Biden. Democrats claim that's a threat to the 2020 election, in which Biden is one of the Democratic front-runners.
The second article, obstruction of Congress, is inspired by the accusations of Trump's instructions to White House staff to withhold documents sought by investigative committees and to not cooperate with the investigation by appearing in front of Congress, which is supposed to practice oversight of the Executive Branch.
A simple majority vote (which is currently 21 votes) in favor of approving the articles of impeachment of the members of the House Judiciary Committee is necessary. If the articles receive those 21 votes from the House Judiciary Committee the articles would then move to the full House of Representatives to be voted on (also needing a simple majority vote of 218 votes).
So, what's next in the process? Basically, if the articles are approved by both the House Judiciary Committee and the full House of Representatives, President Trump will be impeached, and then a trial will begin in the U.S. Senate. Two-thirds of that body would have to vote to remove the President from office. Senate Majority Leader Mitch McConnell (R-Kentucky) said the trial could begin in early January.
Stay tuned, but most political pundits expect the Democratically controlled House to vote for impeachment, but for the Republican-led Senate to not reach the 67-vote threshold to remove the president from office.
Not the first time
The last Senate trial of a president occurred in February 1999 when President Bill Clinton was impeached by Congress on charges of perjury and obstruction of justice. Clinton lied to a grand jury about having had sexual encounters with a White House intern. Only 45 of the 100 senators voted to convict Clinton of perjury, and only 50 voted to convict him of obstruction of justice, so Clinton served the final two years of his second term as president.
In 1974, the House of Representatives drew up articles of impeachment against Richard Nixon, but Nixon resigned in August 1974 before the House could vote on impeachment and move to a Senate trial.
In 1868, President Andrew Johnson was impeached by the House on 11 charges. By the time the trial occurred in the Senate, only three of the original charges were voted on. At the time, only 27 of the 37 states had representation in the Senate because 10 Southern states had not been fully re-admitted into the Union after rebelling against the U.S. and fighting a civil war against it. As a result, only 54 senators voted in the trial, and 35 voted to convict Johnson. That was one vote shy of the two-thirds threshold required to remove him from office, and Johnson served out his final 10 months in office.
The FBI did what?
On Wednesday, Justice Department nonpartisan Inspector General Michael Horowitz released a report on the origins of the investigation that eventually led to Special Counsel Robert Mueller conducting an investigation in Russian interference in the 2016 presidential election. The FBI's work and Mueller's investigation resulted in more than 30 people being indicted, convicted and/or thrown in jail. That includes former Trump campaign manager Paul Manafort, former Trump personal attorney Michael Cohen and longtime Trump friend Roger Stone.
However, the president and others — including Attorney General William Barr — accused the FBI of "spying" on the president's campaign. The IG's report exposed some obvious blunders by the FBI in conducting its investigation, including some potentially egregious errors in seeking information about one former Trump campaign member, Carter Page. However, the IG's final conclusion is that the investigation was legitimate. The ironic part? AG Barr, Horowitz's "boss," made public statements that he thinks Horowitz's report was itself flawed.
So much more to come.
Finally, the foundation
Good gracious it was a busy week.
At about the same time on Tuesday that House Democrats announced articles of impeachment against the president, the New York Attorney General's Office reported a settlement in the 2018 lawsuit against the president for misusing funds in his charitable foundation, paying off business debt and funneling money to his presidential campaign.
In the settlement, Trump admitted to misusing the funds and three of his adult children — Donald Jr., Ivanka and Eric — all were required to undergo a mandatory training program to ensure they wouldn't again engage in such activity. The three were officers of the foundation.
Also, the remaining $1.8 million in the Donald J. Trump Foundation was disbursed to eight different charities.
This is a separate settlement from the $25 million 2018 settlement in which the president re-paid money to disgruntled former students of the online Trump University.
Q&S announces yearbook contest winners

Judges evaluated 1,439 entries and selected 206 national winners in the 2019 Yearbook Excellence Contest.
Professional journalists and graphic designers, and retired Hall of Fame yearbook advisers served as judges. Their comments on the first-, second- and third-place winners will be available when the Winners' Slide Show is available later in January 2019.
Yearbook staff members recognized in this year's contest received Gold Keys and the opportunity to apply for Quill and Scroll scholarships. For a complete list of winners, see below. Sweepstakes Winners (First Place) will receive plaques from Quill and Scroll. The 2019 contest had two enrollment divisions (A = 750 students or more; B = 749 students or fewer) and 18 subject categories, making for 36 Sweepstakes winners. Some categories did not have honorable mentions because judges were instructed to award approximately 10 percent to 15 percent of the entries.
Blue and Gold Winners
Class A (Schools with enrollments of 750 or more students)
Staff Excellence
McKinney High School, McKinney, Texas
Comprehensive Visuals
McKinney High School, McKinney, Texas
Lawrence High School, Lawrence, Kansas
Westlake High School, Austin, Texas
Comprehensive Writing
Texas High School, Texarkana, Texas
Shawnee Mission Northwest High School, Shawnee, Kansas
Wando High School, Mount Pleasant, South Carolina
Class B (Schools with enrollments of fewer than 750 students)
Staff Excellence
Calvary Day School, Savannah, Georgia
Comprehensive Visuals
Richland R-1 High School, Essex, Missouri
Minnehaha Academy, Minneapolis, Minnesota
Savannah Christian Preparatory School, Savannah, Georgia
Comprehensive Writing
Calvary Day School, Savannah, Georgia
Christ Presbyterian Academy, Nashville, Tennessee
Geneva School of Boerne, Boerne, Texas
For a list of all Sweepstakes and National winners, click here.
Not too early to apply for Q&S scholarships
The scholarship forms for both students and advisers are open now.
For students, scholarships can be used for tuition, room and board at any college or university. Recipients must major in journalism or a related area of communications.
For advisers, Q&S identifies and rewards experienced journalism teachers and publication advisers who seek the opportunity to upgrade their journalism skills, teaching methodologies and advising techniques.
The scholarship forms for application are open until April 15 (advisers) and May 10 (students).
2020 WRITING, PHOTO AND MULTIMEDIA CONTEST OPEN FOR ENTRY!
Our Writing, Photo and Multimedia Contest is now open for entry until Feb. 5, 2020. This year, we've updated the contest so that it rewards students with the work they regularly produce in their newsrooms.
New contest categories include:
Portrait Profile Photo — This is likely to be an environmental portrait of a person or a group of people. These sorts of photos usually accompany a profile story.
Documentary Video — This is not a news video, but a non-fiction project that your students may have completed that feels more like a film. It can be any length longer than five minutes. Traditional news packages should be entered in the Video Package categories: news, sports and features.
News Show for Web or TV: Single Episode — Submit a single show of between five and 30 minutes, produced either for cable and/or web.
Quill and Scroll will also award Blue and Gold Awards in three areas this year:
Comprehensive Writing (Categories 1-11 below)
Comprehensive Visuals (Categories 12-24)
Comprehensive Multimedia (Categories 25-30)
Enter now to reward students with the work they regularly produce in their newsrooms at https://quillandscroll.org/writing-photo-multimedia-contest/. A form of payment must be completed at the time of entry. Online credit card payments must be completed by Feb. 5; purchase orders must be emailed to Quill and Scroll at the time of entry; and checks must be in our office by February 14th, 2020!
Below, you can find the complete list of 2020 WPM Contest categories: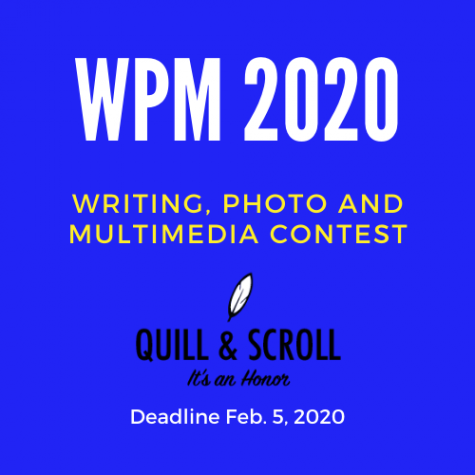 Editorial Writing
News Writing
Feature Writing
Opinion Writing
Review Writing
In-Depth Reporting: Individual
In-Depth Reporting: Team
Sports Writing
Profile Writing
Political Writing
Health, Science and Agriculture Writing
News Feature Photo
Sports Action Photo
Sports Reaction Photo
Photo Illustration
Photo Slideshow
Profile Portrait
Cartoon
Informational Graphic
News Mag Cover Design
News Front Page Design
Feature Page Design
Sports Page Design
Editorial Page Design
Video News Package (up to five minutes)
Video Sports Package (up to five minutes)
Video Feature Package (up to five minutes)
Documentary Video (Single subject, five minutes or longer)
Audio Podcast Single Episode (any length)
News Show for Web or TV, Single Episode — 5:00 to 30:00
In addition, Blue and Gold Awards will be given for overall excellence. McCallum High School in Austin, Texas, has earned that title for the past two years.
The contest deadline remains Feb. 5, 2020. As always, the top 10 percent of all entries in every category qualify the student who produced it for the Quill and Scroll scholarships in their senior year.
Official Quill and Scroll video!
Discover the rich history behind Quill and Scroll's founding principles and organizational practices. Click that play button below to join our journey, understanding how we developed and progressed over the years. From 1926 to today, we are an organization dedicated to honoring quality student journalist work, providing students and their advisers with resources to do that great work and have it recognized.
Video accredited to Roman Slabach from The Daily Iowan.
Greta named TIME's 2019 Person of the Year
Wednesday morning, TIME Magazine named its 2019 Person of the Year: Greta Thunberg. The 16-year old from Sweden has brought major attention to the world climate crisis since 2018, when she first began to protest outside of Swedish Parliament to persuade them to join the Paris Climate Agreement. Since then, she has met with countless political, cultural and social leaders: from presidents to the Pope to Ellen DeGeneres.
Past winners of the accolade include Mahatma Gandhi, Queen Elizabeth II and Pope Francis. The 2018 story was devoted to a group called "The Silence Breakers," focusing on women who have made an impact in the #MeToo movement. Ninety-two people or groups have graced the cover since 1927. A complete list of winners can be found here.
Thunberg is famous for the impact she has made surrounding international attention brought to the climate crisis. Her interactions with political and social giants throughout the world make her a household name; more so, she serves as an example to today's youth of the strides they may choose to make in regards to legislation, protests, and personal choices that affect the environment.
Her upfront approach to addressing the world about climate change does not skirt around the issue; along with this, her choices reflect her own reduced carbon footprint by refusing to travel by plane and vegetarianism. In placing a sixteen year-old on the cover of TIME, she represents the new generation and their future.
Read the full article here.
Miss Universe pageant makes strides for LGBTQ and black communities
Zozibini Tunzi of South Africa was crowned Miss Universe 2019 on Sunday that aired on Fox. With her crowning, this is the first time in history that all four major pageant titles — Miss Universe, Miss America, Miss USA and Miss Teen USA — are held by black women in a specific year.
https://twitter.com/_TrellOfficial/status/1203889705529548810?ref_src=twsrc%5Etfw%7Ctwcamp%5Etweetembed%7Ctwterm%5E1203889705529548810&ref_url=https%3A%2F%2Fwww.glamour.com%2Fstory%2Fmiss-universe-winner-black-women-pageants
Miss Universe Zozibini Tunzi, Miss America Nia Franklin, Miss USA Cheslie Kryst and Miss Teen USA Kaliegh Garris will work together throughout their reigns in scholarship, service and public appearances.
"I grew up in a world where a woman who looks like me, with my kind of skin and my kind of hair, was never considered to be beautiful. I think that it is time that that stops today," Tunzi said.
Tunzi's platform revolves around fighting gender-based violence as well as creating leadership opportunities for young girls.
Also on the Miss Universe stage was Miss Universe Myanmar, Swen Zin Htet, the pageant's first openly gay contestant. While she did not advance to the Top 20 of the competition, she made international news for coming out online and on social media just days before the pageant aired. Myanmar, Htet's home country, allows punishment by imprisonment for same-sex relationships; this rarely is put into effect.
The Miss Universe pageant also released a statement of support for Htet, "We are honored to give a platform to strong, inspirational women like Miss Universe Myanmar, who are brave enough to share their unique stories with the world," said the pageant's president, Paula Shugart. "Miss Universe will always champion women to be proud of who they are."
This comes after Miss Universe Spain 2018 was the first transgender woman to compete in the competition last year.
Spotify reveals most listened to artist and song of the decade
The popular streaming app Spotify reveals the decade's top song and artist since 2010, according to its data history. Spotify's "Wrapped" playlist appears at the end of every year, relating to an individual user's own year wrapped, as well as the most popular song's and artist's of the year according to all of Spotify user's listening habits. This year, Spotify came out with both a year "Wrapped" playlist and a decade "Wrapped" playlist.
According to the streaming service, Post Malone was 2019's most streamed artist, while "Señorita" by Shawn Mendes and Camilla Cabello was 2019's most streamed song.
It's the most wonderful time of the year. #SpotifyWrapped is here! Get yours. https://t.co/MUJHwP1iK3 pic.twitter.com/4X92B9rvPM

— Spotify (@Spotify) December 5, 2019
The decade was led by Drake; Ed Sheeran's "Shape of You" was the most streamed song of the decade. Using the app's data, they were able to calculate and compile a list of the most streamed artists and songs of every year since 2010.
Finally, we leave you with a bit of wisdom from presidential historian Jon Meacham and country musician Tim McGraw, who teamed this year to publish a book called "Songs of America," in which they discuss the importance of music in America's history and how it can heal the partisan divide we find ourselves in. If ever there was a time to sidle up next to a fellow American and sing a song, it's this week. The video is from June 2019.