News, tips and advice from the Quill and Scroll International Honor Society
Compiled and written by Quill and Scroll journalist Nichole Shaw
jjj
The Lede
The Green New Deal technologically possible, politically not so much
The Green New Deal is a resolution currently spearheaded by Alexandria Ocasio-Cortez, proposed to drastically reduce the emissions over the next 10 years in lieu of increasing climate change and global warming. Trump referred to it as a "high school term paper that got a low mark." Republicans in Congress regard it as so outlandish, the plan is comical. Democratic House Speaker Nanci Pelosi even called it a "green dream."
However, energy experts and economists said the proposal is within technological reach, according to the New York Times. Experts agreed it would be expensive, with trillions of dollars that would be required to support the Green New Deal, and would likely not be completed within the 10-year time frame suggested.
"Proposals for a Green New Deal — which would aim to slow climate change and catapult myriad industries into cutting-edge, low-carbon technologies — have been debated for more than a decade," according the the New York Times. "But the subject was given new urgency last year by a high-profile United Nations report."
That UN report called for overwhelming changes in the global energy economy. It's clear from scientists, the UN and AOC and her supporters, that drastic changes in the economy and energy economy protocol needs to happen to try and combat a rapidly warming Earth. However, the resolution in its entirety is likely to fail, with aspects of it moving forward to be passed in Congress.
Read more on the Green New Deal here or find answers to nine key questions about it here.
USA Today investigation led to discovery of Editor-in-Chief publishing and designing yearbook with blackface content
Recent media coverage of blackface has led to USA Today leading an investigation of 900 yearbooks. What spurred the investigation: Virginia Gov. Ralph Northam appearing in blackface in his 1984 medical school yearbook, complemented by other Virginia exposés of Attorney General Mark Herring and Senate Republican Leader Tommy Norment participating in or publishing blackface photos in yearbooks.
USA Today found blatant racism in their investigation, citing "more than 200 examples of offensive or racist material at colleges in 25 states, from large public universities in the South, to Ivy League schools in the Northeast, liberal arts boutiques and  Division I powerhouses."
In their research, reporters found that Arizona State University's 1988-89 yearbook included a photo on page 218 of two white male students dressed in blackface, attempting to emulate Mike Tyson and Robin Givens at Alpha Kappa Psi fraternity's Halloween party. The person who designed, edited and published that page in 1989 was Nicole Carroll, who ironically is the current editor-in-chief of USA Today.
"It is horrible, and of course the photo should not have been published.," Carrol said in a column she published on Wednesday, shortly after the original investigative report by USA Today was released. "I am sorry for the hurt I caused back then and the hurt it will cause today…I was shocked as I had no memory of that photo."
To read the full story, read USA Today's report here or Carroll's column here.
Coast Guard lieutenant planned to kill Democrats and journalists
A court filing from the U.S. Attorney's Office for the District of Maryland found 15 firearms and more than 1,000 rounds of ammunition in possession of Coast Guard Lt. Christopher P. Hasson. Federal agents said Hasson was a self-described white nationalist who was arrested in Maryland last week on gun and drug charges.
However, the federal investigation found Hasson was planning to kill prominent journalists and Democratic politicians, as well as professors, judges and others he considered  "leftists in general," according to the Tuesday court filing.
The arrest and investigation marks yet another attack on journalists and Democrats in the United States, following after the explosives addressed to Obama and others, as well as the targeted gunman attack at Annapolis journalists from Capital Gazette.
Read more on the developing story regarding Hasson here.
k
It's an Honor
Q&S THE SOURCE podcast's sixth installment: INTEGRITY
Quill and Scroll Student Advisory Board Member Emily Hood interviewed her principal, Nathan Hostetler. Emily Hood is a student at Francis Howell North High School in St. Louis, Missouri and, in the podcast below, discusses how high school publications can work to develop relationships with their administration to ensure important stories can be told and the overall school community can improve. Listen to all of our podcasts here.
2019 Writing, Multimedia and Photo Contest
Submissions for our 2019 Writing, Photo and Multimedia Contest closed Feb. 6. Thank you to those of you submitted entires for our judges to evaluate on individual excellence and overall performance quality.
We received over 2,450 entries from more than 100 schools across the world. Our judges evaluate each submission carefully, and winners will either receive a framed certificate or plaque, depending on their placing. All individual winners receive a Quill and Scroll National Award Gold Key and, as seniors, they are eligible to apply for one of the scholarships offered by Quill and Scroll.
Stay tuned to hear the winners by the end of March.
News Media Evaluation Contest
The News Media Evaluation Contest entry will be open April 1 to June 15. However, you can pay for it with your WPM Contest entries on the School Registration Form 
here,
 as well as view more general information on the contest.
To view a complimentary guide for your own entries on the actual content and judges comments from the 2018 NME Contest, click 
here
.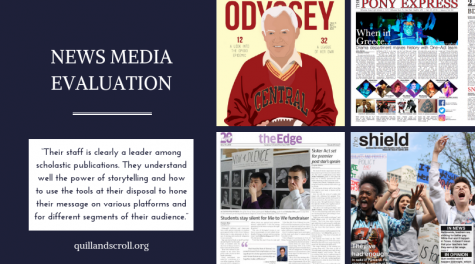 Student Advisory Board applications
Quill and Scroll's Executive Director Jeffrey Browne is accepting applications for the 2019-2020 Student Advisory Board. A total of eight students will be accepted, and their goal and responsibility is to work together in an international, pro-journalism campaign.
Board members must be inducted into the Q&S organization before Sept. 1, 2019. However, if you're already a member, or anticipate becoming a member for the upcoming school year, fill out the form 
here
.
The application can be found 
here
, and the deadline for submission is April 10, 2019.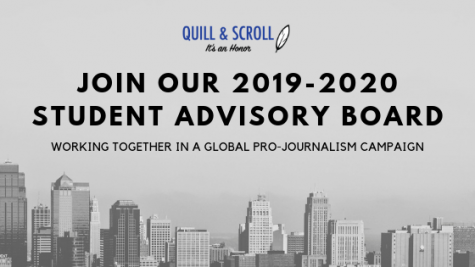 Adviser scholarships
Quill and Scroll encourages advisers to apply for our scholarships. Winners can receive up to $500 for actual tuition, room, board and transportation costs.
The Lester G. Benz Memorial Scholarship for College Journalism Study requires you to have at least six semester hours of journalism courses and a minimum of four years of teaching experience and advising of school publications. You must currently teach a journalistic writing class, and plan to return to the high school classroom and media advising next year to apply the information gained in the course work taken as a result of this scholarship.
Download the application 
here
, and send then submit it through mail to our address at 100 Adler Journalism Building, Room E346 Iowa City, Iowa 52242.
Student scholarships
Q&S encourages students to apply for our scholarships.
To be considered, students must fill out 
this application
 if they are an eligible senior who was or will be a winner in our contests. This means any student who has placed first, second, third or honorable mention is can apply.
Scholarships can be used for tuition, room and board at any college or university that offers a major in journalism or related areas of communications such as multimedia, broadcast, graphic design, strategic communications, and photography.
Apply for the scholarship 
here
. The deadline to submit the application is May 10, 2019.
d
What's viral?
Student journalists and publications struggle against crippling power of administration
University of North Alabama's Flor-Ala newspaper published an article reporting on the resignation of the school's vice president of student affairs and the banning of a professor from the college campus. Harley Duncan, editor-in-chief of Flor-Ala, and Scott Morris, the student-media adviser for the Flor-Ala, were called before the provost of the university. The provost criticized the publication, claiming it had multiple inaccuracies and misrepresentations.
When Morris pushed the issue and asked waht inaccuracies the provost was talking about, he received no response and was later fired after human resources informed him school administration rewrote his job description and he no longer qualified for his position, because he didn't have a PhD.
Other cases like this have been seen in the past year: an Indiana high school journalist being barred from covering sexual assault allegations against a student, an Arkansas high school suspension of its paper's publication due to an investigation into football player transfers and a Texas banning of editorials in its school paper.
Restrictions like these are tied to the landmark Supreme Court case of Hazelwood School District v. Kuhlmeier (1988) that ruled public schools could censor student publications if it is deemed biased, objectionable or otherwise unfit for students.
Read more about this here.
–
Just a thought
Concussions have lasting impact
Every state in the United States has laws in place to protect high school student athletes from concussions. However, this podcast suggests protocol might not be enough to protect students, and in some communities, concussions are seen as worth the risk of having a good athletic season. Think about how your school handles student concussions and consider looking into how your community is directly impacted by this issue.
Explore how your state stacks up on concussion laws here. To read more about the general lasting impact of concussions here.
https://quillandscroll.org/wp-content/uploads/2018/03/WeeklyScrollLogo-180x180.jpg
180
180
Nichole Shaw
https://quillandscroll.org/wp-content/uploads/2017/10/QS-Logo.png
Nichole Shaw
2019-02-21 15:54:57
2019-02-21 16:43:00
Weekly Scroll for February 22, 2019