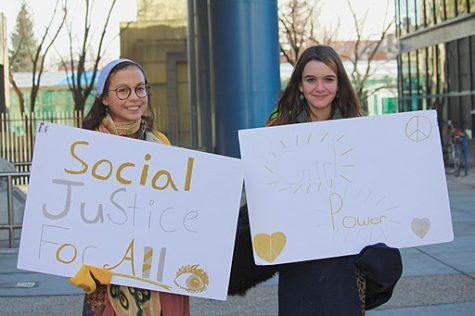 News, tips and advice from the Quill and Scroll International Honor Society
Compiled and written by Quill and Scroll journalist Marni Wax
The Lede:
Girls, we run the world.
Every single year, for 33 years (yes…a withstanding tradition). "The President's Club Charitable Trust" hosts a dinner at the ever so exclusive Dorchester Hotel in London, with the efforts to fundraise for "worthy children's causes" (but wait, it gets better I promise). This past Thursday, people in attendance included Britain's most elite, from the highest esteemed industries in the country. Plot twist – it was a "MEN ONLY" event, broadcasted on the host's website, except for 130 "hostesses" that were hired to cater to about 360 men in attendance. Little did they know, one of the hostesses this year was a female journalist from the Financial Times named Madison Marriage. Check out their undercover report!
Michigan Man Threatens to Murder CNN Journalists
Authorities arrested a Michigan man last week after he allegedly called CNN several times, threatening to kill employees at the network's headquarters in Atlanta, Georgia. Brandon Griesemer made 22 calls to CNN on January 9 and January 10 and four calls, which were recorded, contained threats, according to the affidavit, which was unsealed Friday. Griesemer, whose age was not given, also made disparaging statements about Jewish people, African-Americans and the network in several calls, the affidavit said. He was charged Friday in US District Court with transmitting interstate communications with the intent to extort and threat to injure. He was released Friday on $10,000 bond.
"Mr. Nassar, I have just signed your death warrant."
Awarded the title of "the must see doctor" for the best gymnasts in the United States, Larry Nassar, will now get a different type of attention as he spends up to 175 years in prison. Over the last several days, women recounted his sexual abuse at a marathon sentencing hearing in Michigan. More than 160 woman say that Larry Nassar abused them, including world famous Olympic athletes. Click here to see what his accusers have to say.
Social media strikes again (and always making a difference).
The glow from James Franco's best actor win at the Golden Globes didn't last long. Shortly after Franco accepted the prize for his role in "The Disaster Artist" this month, several women tweeted allegations of sexual misconduct, casting a pall over his victory. It looked like it would happen twice. But the Academy Awards on Tuesday snubbed Franco despite him being a supposed lock for a best-actor spot. But once again, the omission underscored the extent to which the Time's Up initiative, Me Too movement and general woke culture now permeate Hollywood. Click here to see how others have been affected.
It's An Honor!:
Q&S Chapter wins JEA Diversity Award
The Journalism Education Association has selected The Globe student newspaper of Clayton (Missouri) High School as winner of it Diversity Award. "The JEA Diversity Award honors a scholastic journalism teacher, student media adviser or scholastic journalism group demonstrating a commitment to cultural awareness and encouraging a multicultural approach with its student media staff, media production and/or community. The honoree must be in the forefront in promoting diversity in the scholastic media arena and must have taken steps to break down walls of misunderstanding and ignorance." WAY TO GO!! Check out the link to learn how you could win as well.
Former Q&S Director earns JEA Lifetime Achievement Award
JEA on Thursday will announce that Vanessa Shelton will be getting the Journalism Education Association's Lifetime Achievement Award. Press release coming Thursday at 10 a.m. Check it out!!
Yearbook Excellence Contest Winners
I can't wait for the day that I pull out my yearbook and show my kids all the outstanding outfits and hairstyles their mom had at their age. However, my best friend from high school will be able to say that she won an award when showing hers! Will you or your friends share that same gift? Congratulations winners! Here's the page with everybody's name.
Q&S Adviser Wins Scholarship from JEA
The Journalism Education Association has awarded Elise Carlson of Oviedo High School with the second annual JEA Future Administrator Scholarship. The scholarship is given to current scholastic media advisers who intend to earn a secondary administrator's credential/license and seek a position in administration. Click the link to learn more about Ms. Carlson and her outstanding accomplishments. .
More award winners from Q&S…
Congratulations to, Brenda Field from Glenbrook South High School, Illinois. Check out her story here!
Q&S Adviser wins National Teacher of the Year Honor
The official word coming soon Columbia Scholastic Press Association/Dow Jones News Fund National Journalism Teacher of the Year. Check out our Director's friend and the success that he has had within his industry. What big shoes to follow, students!
Enter the Q&S Writing, Photo and Multimedia Contest. NOW!
The Feb. 6 deadline is approaching, so don't delay much longer. We have categories in well, writing, photo, design and multimedia. And entry is all online!! 
What's Viral:
Extra! Extra! Read all about it (the competition that is).

Check out the biggest competition at the Oscars this year. Good luck to all, and may the best movie win.
Tragedies, important to reflect.
Bailey Nicole Holt and Preston Ryan Cope. Two names that will not be forgotten, this year, or ever. Two 15-year-old students were killed on Tuesday morning in a Kentucky high school, and it was one of their classmates who shot them. But why? There were 20 people affected by the attack. The victims ranged in age from 14 to 18. The suspect, another student at the high school, has been apprehended, according to the Marshall County Emergency Management. Sadly, we now have the first fatal school shooting of 2018 in the United States.
The Tide Pod Challenge (yes, it can be fatal).
Well, teens are eating laundry detergent. (I'm sure you know what I'm talking about…which is exactly the issue.) This can be looked at as a social media stunt, like the Cinnamon Challenge, here you put a coated capsule of laundry detergent in your mouth and record your reaction as the pod dissolves. "In the first 15 days of 2018, there were 39 reported cases of intentional Tide Pod ingestion among 13- to 19-year olds," The American Association of Poison Control Centers reported last week. Dr. Michael Lynch, medical director of the Pittsburgh Poison Center and AAPCC spokesperson, knows it's terrible…check out the health risks above (it's not just a dumb thing you did growing up).
Just a Thought:
There is legitimately an app for EVERYTHING.
And once again…Apple astounds us. Apple grows it's ambitions by leaking into the digital health market. The tech giant announce a brand new feature that would allow its users to download and see parts of their medical records right down in their hands…on their iPhone of course. Apple's popular Health app, will add in this feature and it will make everything from health data to prescriptions available at the click of a finger. They've done it folks, they've really done it.
What goes up, must come down (and figure out where it's going).
How do New York Times journalists use technology in their jobs and in their personal lives? Check out their work benefits and how they make the most of the technology they are offered.
Print journalism might be dying, but there will be a place for it to go.
When James Hyman was a scriptwriter at MTV Europe (before the rise of the internet…I know guys…NUTS!) , he started pursuing the desire for an enormous collection of magazines. Whenever possible, Mr. Hyman tried to keep two copies of each magazine he acquired, so he always had a backup. One copy was for his nascent magazine collection and another was for him and his friends to enjoy but of course was marked with his name so it found its way back to him (can never be too safe, or compulsive). Well guess what guys, jokes on us for making fun because…these magazines he kept became the Hyman Archive, which now contains approximately 160,000 magazines, most of which are not digitally archived or ANYWHERE online at all (that would never happen now, we hope). Check out what happens next. Thank you Mr. Hyman for doing us this favor!