News, tips and advice from the Quill and Scroll International Honor Society
Compiled and written by Quill and Scroll journalist Marni Wax
The Lede:
The Truth Shall Set You Free
So your cranky Uncle Jethro keeps telling you: "There is absolutely no way that the Legacy Media (ABC, CBS, NBC, CNN, NYT, WashPo, etc) will ever cover this POTUS in a fair manner." Uncle Jethro ate up Wednesday's "Fake News Awards" presented by President Trump. He's convinced — as are all of his buddies down at the Elks Lodge — that journalists are hopelessly biased and not to be trusted.
Wednesday, however, also brought us a strong rebuttal from Sen. Jeff Flake (R-Arizona), who chastised the president for his attacks on a free press. Flake's remarks could serve as defining moment for him on his way out of the Senate, and as he may prepare for a bigger run in 2020.
But for Quill and Scroll, Flake's defense of the truth underscores the very meaning of our honor society. Some of his statements are worth borrowing (and attributing, of course) as you prepare your own comments for induction ceremonies this spring. But here's the most pithy:
"It is for that reason that I rise today, to talk about the truth, and its relationship to democracy. For without truth, and a principled fidelity to truth and to shared facts, Mr. President, our democracy will not last."
Is Aziz a sleaze?
Babe.net, an online publication, printed a story in which a woman it called "Grace" told reporter Katie Way in explicit detail about a date Grace had with actor and comedian Aziz Ansari, whom she accuses of him of sexual misconduct. Babe editors eventually got a response from Anzari via his publicity team in which he states his support for Grace and his concern about sexual assault. Some media people have excoriated Ansari, but others have defended him. It's a difficult conversation, and if you choose to cover such issues in your publications, please use the expertise of your advisers and sexual-assault survivors and advocates before publishing stories.
New Voices, New Laws?
Several states — including Missouri, Nebraska, Indiana and North Carolina — are hoping to join the 13 states that already have anti-Hazelwood laws by passing student free-expression bills in their state legislatures this spring. North Carolina already has one supporter in the professional Wilson Times. Four high schools in the Wilson area have Quill and Scroll charters. In Indiana's Goshen News, former IHSPA Director Diana Hadley has written a moving testimony to the First Amendment. Missouri's Joplin Globe is getting behind that state's effort. And the University of Nebraska's newspaper is covering the movement in the Cornhusker state.
The Student Press Law Center is planning its "Hazelwood Day of Action" for Wednesday, Jan. 31. Read about how you can help in your state and what action you can take to support the First Amendment.
It's an Honor:
It's that time of the year
If you're at an active Quill and Scroll charter school, you are probably thinking about who's going to be inducted into the honor society this spring. Some of you may already know the date, the time and the honorees. If you aren't quite sure how this whole induction thing works, check out our Student Memberships page to learn more about the qualifications. Scroll down to see the various awards you can get to commemorate your induction.
We also have scripts for the induction ceremony if you do it with candles or sans candles. Both are pretty cool.
And, if you're within a few hours of Iowa City, Quill and Scroll Executive Director just might be able to attend your ceremony and say a few words. Just send him an email and ask.
How do you Quill and Scroll?
Does anyone have any footage of their induction ceremonies? We would love to feature your students in a video. Contact us at [email protected] for more information.
Enter the Writing, Photo and Multimedia Contest
Quill and Scroll's 2018 Writing, Photo and Multimedia Contest is now online and ready for you to enter. Use the online entry form to submit all your school's entries. We ask that schools do it all in one shot. Don't enter a few now and a few later. The deadline for entry is Feb. 6, 2018. And, as always, don't hesitate to email Jeff Browne if you have any questions.
What's Viral:
Slate and Watergate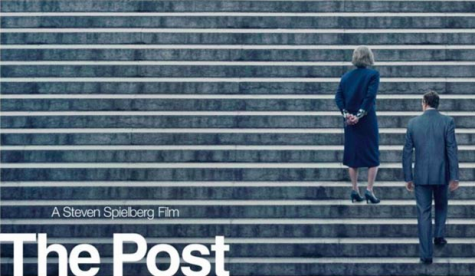 The movie "The Post" — starring Meryl Street and Tom Hanks — is earning rave reviews from journalists and critics across the country for its defense of the First Amendment in the Post's publication of "The Pentagon Papers." The film definitely provides students and teachers an array of lessons to discuss and implement. At the end of the film, there's a hint, too, of the impending Watergate scandal and the Post's coverage of it. Slate has produced an extensive seven-episode podcast that helps explain the complexity of Watergate. It's always fun to learn about history and journalism at the same time.
Apple waits for tax break, and writes US Economy a $350 billon check
Apple is planning to build a new corporate campus and hire 20,000 U.S. workers in an expansion driven in part by a tax cut that will enable the iPhone maker to bring an estimated $245 billion back to its home country. The pledge announced Wednesday comes less than a month after Congress approved a sweeping overhaul of the U.S. tax code championed by President Donald Trump that will increase corporate profits.
Apple plans to take advantage of that provision to bring back most of its roughly $252 billion in offshore cash, generating a tax bill of about $38 billion. That anticipated tax bill implies Apple intends to bring back about $245 billion of its overseas cash, based on the temporary tax rate of 15.5 percent on foreign profits. Most of the $350 billion reflects money that Apple planned to spend with its suppliers and manufacturers in the U.S. anyway, even if corporate taxes had remained at the old 35 percent rate.
Katie Couric to host Winter Olympics?!
Former "Today Show" host, Katie Couric will join NBC again next month as a co-host of the Winter Olympics opening ceremony from South Korea reaching her fourth opening Olympics. Couric will co-host the live broadcast with NBC Sports' Mike Tirico on Feb. 9.
Jim Bell, president of production and programming for NBC Olympics, said he reached out to Couric on his own a few weeks ago. Bell believes, "It' s a hard job" that requires some experience.
Just a Thought:
See? Nothing is private…especially with an iconic search engine in the mix.
A groundbreaking Google app that is used to match many selfies to famous works of art has received astounding attention, but is also raising many privacy concerns. Here's what you need to know to fight against these concerns.
Check out this video to see how. 
Facebook updates, yet again.
Facebook said this week it is shifting the focus of its news feed to promote "meaningful" posts (shocker, right?), mostly those shared by family and friends rather than news organizations or brands. But how will that change their economic status??
The revamp comes after revelations that fake news and other troubling content plagued the site during and after the 2016 election (once again…thank you Trump). Even though the changes are going to be subtle, they will be noticeable to avid users. It's likely users will still see news articles or even notifications about good deals…but it will only be based on what their friends and family like and comment on as well.
Advertisers might be hit hard that use Facebook's massive platform, reaching over 2 billion users. But then again…it's nothing personal, it's just business.
https://quillandscroll.org/wp-content/uploads/2017/08/WeeklyScrollLogo.jpg
1108
2554
Jeff Browne
https://quillandscroll.org/wp-content/uploads/2017/10/QS-Logo.png
Jeff Browne
2018-01-19 07:31:51
2018-01-19 07:31:51
The Weekly Scroll for Jan. 19, 2018