Fact checking
Promise to tell the truth, the whole truth, and nothing but the truth
Did someone on your city council, school board, or even student council say something that sounds crazy? Feel free to write a fact check. As Journalists, our job is to give the public the full truth. 
Fact checks are articles that talk to experts and researchers about a topic that some figure (city councilperson, board member, etc) made a claim about. Some fact checks are long-form in-depth stories while others are simple, yes, this is correct or no, this is false. 
Statistics are always good to fact check especially when the speaker may be trying to push priorities or political agenda. 
Here's how to localize it:
Some common statements that can be fact checked: 
Last fiscal year's budget made it so that new public buildings could be constructed and our employees could get a raise. 

Talk to the city planner as well as various local government employees to find out if this statement is correct. The planner's information will be readily available online but the others may take some asking around. 

More homework leads to higher test scores. 

Talk to physicians and educators who specialize in testing and ask what are the factors to good test scores. 

Our school district has the highest average GPA in the state. 

Find out what that GPA is and find out about the rest of the districts in the state. This might take a while, and if the statement is true turn the story into one about what the school does in order to achieve this. 
Childcare crisis
More than just a lack of babysitters
Ask any working parent and you will find that there is a serious crisis when it comes to finding affordable childcare. While many governments have put forward legislation to improve conditions, there is still a long way to go. 
Members of the Biden Administration on Wednesday urged Congress to support proposed spending to help fund childcare services. This funding would be covered under the $3.5 trillion plan. 
Here's how to localize it:
Talk to local daycare centers and find out what problems they are experiencing. What would they do with excess funding and how many children do they care for a day? 

Talk to parents and guardians who use childcare services and what problems they find and ask them a very important question— how much do they spend on childcare annually. It's probably more than you think. Remember to get names of parents and children, as well as the children's ages because these are all details to include in your story. 

If you live in a place where there is no child care crisis, tell us the story of why. What does your national or state government do to help support childcare services and how do local daycares and providers compare to those without funding. 
Pope questions vaccine skeptics
Catholic secular leader in support of vaccinations
Pope Francis released a statement Wednesday in support of COVID-19 vaccinations — and confusion as to why people are refusing to get vaccinated.
"It's a bit strange, because humanity has a history of friendship with vaccines," Francis said.
Of course, this comes with longstanding views that some populations are citing religious reasons as to why they are not receiving a COVID-19 vaccination. However, Francis did not cite religious beliefs as a reason he found for hesitation. The Vatican's doctrine office has found receiving the vaccine to be "morally" acceptable for Catholics.
Francis stated it would be "suicide" not to receive the vaccine. Both Francis and Emeritus Pope Benedict XVI are fully vaccinated with Pfizer-BioNTech.
Here's how to localize it:
Whether we like it or not, vaccines have developed into a state AND secular issue – even though they're related to medical science.
Here, we have a secular giant confirming his support for vaccinations and misunderstanding for those who refuse to receive a vaccination. However, there are also political and secular figures who are NOT in support of vaccinations for a variety of reasons.
No matter your religious affiliation, interview students and community members of various political and religious affiliations on their stance on vaccines in relation to their identities. Once you've collected a variety of responses, create an infographic detailing the metrics of these interviews. This is a great way to publicize information for widespread consumption.
Additionally, reach out to community political and secular leaders for their stance on vaccinations. How do they feel about a secular figure speaking out in support of vaccines? In contrast, how do they feel about political figures speaking out on vaccines?
Celebrate Constitution Day 2021
JEA Scholastic Press Rights Committee lesson materials
Friday, September 17 is the commemoration of the signing of the United States Constitution. What better way to celebrate a proclamation of free speech than for student journalists to engage with history and culture surrounding the First Amendment?
The Journalism Education Association (JEA) compiled multiple activities for teachers, advisers and students to engage with the U.S. Constitution. Check them out here!
Park Vista Community HS 'Little Free Library'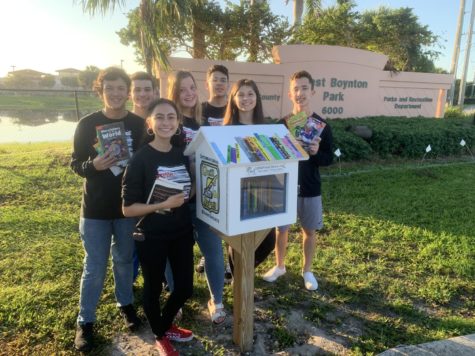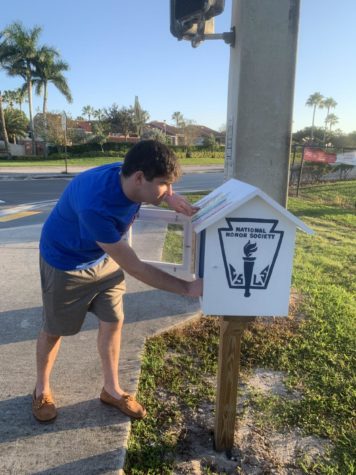 There's nothing we love more here at Quill and Scroll than receiving news on our chapters across the world. Check out these photos from Park Vista Community HS in Lake Worth, FL!
As part of their community service requirement, Q&S members planted a "Little Free Library" at their school's main entrance. The members are responsible for its upkeep as well as stocking it with books.
Is your chapter doing something you'd like to show off? Let us know by email [email protected] or tag us on Twitter.
Apply for our Student Advisory Board!
Do you want to serve your fellow student journalists and Quill and Scroll members? Join the Q&S Student Advisory Board for 2021-22. The application deadline is Sept. 30.
SAB members will work on projects including establishing a regular communications channel for editors and other student journalists to discuss problems, successes, and yearbook and news coverage; and working on seminars that can aid Quill and Scroll chapters.
Yearbook Excellence deadline is Oct. 10
It sure is. Thirty categories, including pandemic coverage, and two classes of schools highlight the 2021 Q&S Yearbook Excellence Contest. The deadline is more than a month away (Oct. 10), but what better way to have your students critique last year's book than by choosing the best entries for the world's premier yearbook contest? (Answer: There isn't a better way.)
Q&S and NSPA agreement
Quill and Scroll and the National Scholastic Press Association (NSPA) will work together to promote scholastic journalism and membership in Quill and Scroll.
While working together on this project, NSPA will include the opportunity for advisers to induct members into Quill and Scroll while also filling out NSPA member forms.
More updates to come on this partnership. The agreement began September 7.
Alumni Service
Have you ever wondered if there's someone like Fred "Mr." Rogers (Greater Latrobe HS, 1946) or Debra Messing (East Greenwich HS, 1983) among your school's Quill and Scroll alumni? How about journalists, writers and teachers such as Ryan Foley, Barbara Tholen, Dan Fellner, and Chris Barton. 
Quill and Scroll has the names of every student ever inducted into your school's Q&S chapter. Those names are easy to access from the period 2004-2021, but it takes a little longer to get those names between 1926 and 2003, when all memberships were recorded on cards that now reside in the basement of the Adler Journalism Building here at the University of Iowa.
If you're interested in building a list of distinguished journalism alumni from your school, just contact [email protected] and use the phrase "Q&S ALUMNI LIST" in your subject line. 
For a cost of $50/hour, we'll retrieve those names and sort them for you by year of induction and get them back to you in time for a fundraising dinner or a special ceremony celebrating student journalism at your school.
Egyptian tomb restored for public viewing
4,500-year-old tomb of King Djoser open to tourists
After 15 years of restoration, Egypt's Ministry of Antiquities and Tourism opened the ancient tomb structure of King Djoser's – a former pharaoh – cemetery complex on Tuesday. The structure, named the Southern Tomb, is over 4,500 years old.
While King Djoser was not buried inside the tomb, it makes up part of the Saqqara complex near Cairo, which features the Step Pyramid (the oldest known pyramid) where King Djoser was buried.
Restorations included reinforcing the underground corridors, refurbishing carvings and tiled walls and installing lighting. This restoration and opening was done in part to increase Egypt's large tourism sector, impacted in the last decade because of the political climate and COVID-19 pandemic.
Met Gala: celebs, looks, and Americana
2021 star-studded event featured classic American designers and hosted a new breed of celebrities
Fashion lovers and social media addicts alike tuned in to the 2021 Met Gala on September 13 to see 175 stars and their dates stroll the steps of the Metropolitan Museum of Art in New York City. The Met Gala is an annual party and fundraiser for the annual fashion exhibit curated by the museum's Costume Institute.
Each event features a distinct theme that attendees and designers must follow. This year's theme, "In America: A Lexicon of Fashion," explores ages of fashion throughout the United States. The museum displays around 100 men's and women's outfits that evoke the theme within the Anna Wintour Costume Center.
The gala's guest list, announced a few months back, originally sparked controversy for the number of TikTok stars, YouTubers, and social media influencers invited to the "elite" event. This year, frequent attendees like Taylor Swift, Lady Gaga, Zendaya and Blake Lively were all missing from the event.
Stars Billie Eilish, Timothée Chalamet, Amanda Gorman and Naomi Osaka served as the event's co-hosts, with YouTuber Emma Chamberlain working as an interviewer for Vogue.
Rodrigo, Lil Nas X win big at MTV VMA's
Old-school noms and newcomers take over MTV screens
Last Sunday, the MTV Video Music Awards celebrated the TV channel's fortieth anniversary in style. Hosted by rapper Doja Cat, the awards show featured snippets from Madonna, Cyndi Lauper, and memorable performances and acceptances from today's biggest stars.
Justin Bieber led this year's award show with seven nominations (and walked away with two Moon Men). Megan Thee Stallion, who came in with six nominations, walked away with no wins. Billie Eilish, BTS, Doja Cat, Drake, Lil Nas X, Olivia Rodrigo and Giveon rounded up the rear with five nominations each.
The big wins – which was no surprise to us – went to Olivia Rodrigo and Lil Nas X, who went home with three awards each. Both performers reached superstar levels this year with their song and album releases (Lil Nas X premieres "Montero" Friday).
https://twitter.com/lilnasxstats/status/1437245216935849986?ref_src=twsrc%5Etfw%7Ctwcamp%5Etweetembed%7Ctwterm%5E1437245216935849986%7Ctwgr%5E%7Ctwcon%5Es1_&ref_url=https%3A%2F%2Fwww.billboard.com%2Farticles%2Fnews%2Fawards%2F9628357%2F2021-mtv-vmas-best-moments
We can't forget to mention appearances by Megan Fox and Kourtney Kardashian, supporting boyfriends Machine Gun Kelly and Travis Barker, respectively.
Before the interviews, consider observation
Jack Kennedy, Quill and Scroll Board Member
We expect reporters to go the scene… to interact with key people at a newsworthy event, and to add their own impressions of the scene based on what they saw and heard and smelled and touched. Why else do we see those poor souls leaning into hurricane gales and sideways rain as the big storm blasts the coast? Why else do we get breathless reports from sideline reporters updating injuries along with quick thoughts direct from the head coaches as the teams retreat to the locker room at halftime?
We like our reporters to attend practices and bring us insights that we can't get from simply watching a game or an insurrection or radar image on TV. We want reporters to have informal conversations with newsmakers. In fact, in-person access that most readers will never attain is what makes most reporting worth reading or listening to. It's why many media maintain "beat reporters" who invest hours and hours simply "being there."
Being there can lead to better questions. Being there can help reporters understand motivations and challenges. Being there helps provide needed background and context.
It's not impossible to reconstruct key moments from a game or a rehearsal or event from interviews alone. But putting all your hopes in after-the-fact interviews puts a lot of pressure on your sources to have closely observed, to be able to retain key moments in some depth, and to be willing to share key scenes and conversations from the event.
The past nearly 18 months have made it challenging to even attend sporting events or club meetings or rehearsals in some areas of the country, so maybe I should cut everyone a break here. But the lack of in-person observation has been apparent in many publications for years.
My theory is that we all become better reporters when we have invested some time simply observing.
"Being there," of course, takes time and our busy students are feeling the time "squeeze."
But if we want to find some ways to improve our reporting and our ability to take readers to places they can't go themselves, finding ways to get our reporters on the scene is a great place to start.
Perhaps we should think of spending an hour at a rehearsal for the fall play or at volleyball practice as the homework we don't assign for our journalism classes.