News, tips and advice from Quill and Scroll
Coronavirus: the latest updates
A patient in California has been identified as the first US coronavirus patient with an unknown cause of exposure. The patient has not traveled to any infected cities and has not had known exposure to any other patients who contracted the virus.
The unknown nature of the infection means that a possible "community spread" has reached the US, according to the CDC. Community spread refers to the contraction of the virus with an unknown infection cause.
The US currently has recorded 60 cases of the virus, but they expect that number to grow.
Summer Olympics 2020, Tokyo and the coronavirus
The Summer Olympics held in Tokyo are set to open on July 24, 2020. When planning the games, organizers are given information regarding how to handle rescheduling when related to earthquakes, fires and terrorist attacks. An international pandemic isn't quite in those directions for rescheduling.
Japan's public health planning had focused on lowering the number of sexually transmitted diseases, cases of rubella and measles and food poisoning in preparation for the largest international sporting event. But as the games draw closer and coronavirus continues to get worse in spread and numbers, organizers are faced with making tough decisions about the quadrennial event.
Officials can choose to move the games to a different location or different time. This, however, causes problems in planning the locations of the games for years to come, as well as keeping to the four year schedule the Summer Olympics currently hold. Because of the scale of the games, officials would also have to consider what city is equipped to handle the thousands of participants, viewers and press that visit the cities while the games progress.
On three separate occasions, the games have been canceled. However, this has only happened during World Wars: 1916, 1940 and 1944. Canceling the games also means throwing away the billions of dollars that go into preparation for the hosting city, networks and coverage of the event.
Lastly, the organization can limit travel to participants in the games, only. This would eliminate the thousands of travelers that come in support and for press reasons to the games' location. However, this still puts thousands of travelers at risk of contracting the virus as they travel from their home countries to Tokyo.
Read more about the Olympics and coronavirus here.
2020 World Press Photo of the Year nominees
This year, World Press Photo compiled a list of their finalists for their 2020 Photo of the Year award. Photos range from a clash between riot police and students in an anti-government demonstration to an injured Kurdish fighter in a hospital bed. Look at the photos below to see what World Press Photo have dubbed some of the best photos journalists have captured in all of 2020. To view more in-depth background stories on the photographs themselves and the photographers, click here.
First Amendment Press Freedom Award winners
Quill and Scroll, alongside representatives from the Journalism Education Association and National Scholastic Press Association, chose nine First Amendment Press Freedom Award
winners for 2020.
The award rewards high schools that actively support, teach and protect First Amendment rights and responsibilities of students and teachers, especially with student-run media that leaves final editorial decisions up to the students themselves, as stated in this JEA announcement. Schools must demonstrate that they are avid supporters and protectors of the First Amendment by submitting their policies and practices to the committee of judges and questionnaire responses.
The 2020 First Amendment Press Freedom Award winners are as follows:
— The Archer School for Girls, Los Angeles.
— Chantilly (Virginia) High School.
— Convent of the Sacred Heart High School, San Francisco.
— Kirkwood (Missouri) High School.
— McLean (Virginia) High School.
— Monta Vista High School, Cupertino, California.
— Mountlake Terrace (Washington) High School.
— St. Louis Park (Minnesota) High School.
— Thomas Jefferson High School for Science and Technology, Alexandria, Virginia.
On April 16, these high schools will be honored with their achievement at the opening ceremony of the JEA/NSPA Spring National High School Journalism Convention in Nashville, Tennessee.
Quill and Scroll deadlines and reminders all in one place
Don't want to read through all of our deadlines and reminders for contests, scholarships and more? We've got you covered. Quill and Scroll staffer Sylvia Clubb is featured in the video below, sharing everything you need to know in under two minutes! Take a look below to get all the quick information you need to continue your engagement with Quill and Scroll.
Nominate students now for Quill and Scroll Honors
It's never too early to submit your school's nominations for Quill and Scroll induction! Student memberships are coveted honors that award the top achievers in student journalism. Nominate your sophomores through seniors today!
As the spring semester continues, orders pour through our doors. Complete your orders for graduation cords and pins now to ensure quick fulfillment. We have both member and nonmember awards available.
Chapter of the Year
Quill and Scroll will award its first Vanessa Shelton Chapter of the Year honor to a deserving chapter this year. The application process is simple and free, so there's no reason not to enter. Here's a link to the page describing the award. It's also where you'll find the entry form to apply before April 1.
The 2020 Vanessa Shelton Chapter of the Year will receive:
A trophy signifying the winning chapter's achievement.
One student from the chapter will be awarded a spot on the Quill and Scroll Student Advisory Board for the coming year.
Memberships for five eligible staff members —including five pins and honor cords — in Quill and Scroll for qualifying students from the school (A $160 value).
WPM Contest wraps up
Quill and Scroll received more than 2,600 entries from high school journalists in five countries in the 2020 Writing, Photo and Multimedia Contest. Entries were forwarded to judges on Feb. 10, and they'll be returned to us by mid-March, when we hope to announce all the winners. Ten percent of all entries are guaranteed to earn at least honorable mention, and the students who worked on those entries are then eligible to apply for our Q&S scholarships.
Not too early to apply for Q&S scholarships
The scholarship forms for both students and advisers are open now.
For students, scholarships can be used for tuition, room and board at any college or university. Recipients must major in journalism or a related area of communications. Members and students who earned a national award in our Yearbook Contest or our WPM Contest (above) are eligible to apply.
For advisers, Q&S identifies and rewards experienced journalism teachers and publication advisers who seek the opportunity to upgrade their journalism skills, teaching methodologies and advising techniques.
The scholarship forms for application are open until April 15 (advisers) and May 10 (students).
News Media Evaluation up next!
The News Media Evaluation provides media staffs a one-of-a-kind self-assessment, thorough analysis and rating of your publication(s), with constructive comments and suggestions for improvement from qualified evaluators. The evaluation exercise and feedback are instructive and developmental. The ratings are motivational. High schools and junior high schools may enter their multimedia news operations, newspapers, news magazines and/or online news sites until June 15, 2020. Entries and ratings are returned in September 2020. This service is open to non-member schools as well as member schools. Entry forms are available now on our website. 
You have four choices for submission:
COMPREHENSIVE NEWS MULTIMEDIA. Do you have a news magazine, a website and social media associated with both? Submit multiple media — including three issues of a printed publication and URLs for digital and social media — for a full evaluation of your entire news and journalism programs. These critiques include extensive comments from your evaluator. (Fee is $150 for a comprehensive evaluation.)
COMPREHENSIVE SINGLE NEWS MEDIUM. Submit three issues from 2019-2020 of a single medium (newspaper, news magazine or online news site) for a full evaluation. These critiques include extensive comments from your evaluator. (Fee is $80 per medium.)
RATINGS ONLY MULTIMEDIA. Submit your multimedia news operation — including three issues of a printed publication and URLs for digital and social media — for a ratings-only evaluation ($80). These critiques include no comments from your evaluator. (Fee is $80.)
RATINGS ONLY SINGLE NEWS MEDIUM. Submit three issues from 2019-2020 of a single medium (newspaper, news magazine or online news site) for a ratings-only evaluation. These critiques include no comments from your evaluator. (Fee is $55.)
All entries are eligible to be considered for the top rating, the Gallup Award. Read about how to be evaluated here.
Bloomberg releases fake Twitter video of debate slam dunk 
Democratic Presidential candidate Mike Bloomberg debate performance on February 20 was considered a loss; however, the next morning Bloomberg took to Twitter and other social media platforms to post an edited video that made his performance look exceptional compared to other candidates.
Anyone? pic.twitter.com/xqhq5qFYVk

— Mike Bloomberg (@MikeBloomberg) February 20, 2020
Now, Bloomberg is receiving backlash for being guilty of producing disinformation from his personal account. While political campaigns often post content in order to make their candidate look better than perceived, Bloomberg's video is a big deal because of the current political climate surrounding disinformation, the 2020 election, foreign influencers and President Trump's own "fake news" claims.
Bloomberg's campaign press secretary Galia Slayen said the video was not supposed to be perceived as real, but rather a "tongue-in-cheek" attempt to make light of Bloomberg's performance.
Still, the video calls into attention to social media policies regarding disinformation. Read more about Twitter's policies and Facebook's policies to understand why Bloomberg is under scrutiny.
Scholastic Journalism Week 2020: Big Questions, Big Results
The 2020 theme for Scholastic Journalism Week is, "Big Questions, Big Results." Each day this past week has included a themed hashtag to get school journalism students to think about how the theme applies to their experience as a student journalist.
The themes are listed below:
Monday, Feb. 24: #Askedandanswered — Highlight stories with impact.
Tuesday, Feb. 25: #Tacklingtruth — Tackling tough and controversial issues, maybe even including some lessons about fact-checking.
Wednesday, Feb. 26: #OurNeighborhood — Highlight community and everyday journalism, stories that are important but maybe don't get a lot of recognition.
Thursday, Feb. 27: #Press4Education — Highlight importance of scholastic journalism with the Society of Professional Journalists.
Friday, Feb. 28: #WhoweAre — Show the students and faces behind scholastic journalism and why students chose to participate in scholastic journalism.
Check, check and re-check until you're sure it's factual. Just one of the tips on our news literacy checklist -> https://t.co/eCK5iPJL2T What tips and tricks do you use to make sure you get it right?#tacklingtruth #journalism #education #hjyearbook #byyourside

cc @nationalJEA pic.twitter.com/aWRIEXmmTs

— HJ Yearbook (@HJYearbook) February 25, 2020
.@FresnoChristian will partner w/ @ENPFresno, sending over 200 campus HS students throughout #Fresno to serve the community in various projects all day, Feb. 27. #OurNeighborhood #SJW2020 #ServeDay2020 #thefeather Why do you serve? @ScholasticJWeek https://t.co/9mVvixQWI3

— The Feather Online (@thefeather) February 26, 2020
Schools across the nation tweeted out how they were celebrating each theme in their community. Some focused on the community of students within their high school, while others focused on community outreach and service. The hashtags give students the opportunity to interact directly with the Journalism Education Association (JEA); the posts also provide students with the opportunity to gain ideas from other schools across the country and how they celebrate their roles as student journalists.
TV reporter goes live with Facebook Mystery Mask filter on accident
Facebook users were entertained on Feb. 20 when North Carolina journalist Justin Hinton went live with a report and accidentally had the Mystery Mask filter activated. Hinton is a reporter for WLOS ABC 13, who released the blooper on their page for everyone to enjoy as a lighthearted reminder that journalists are human and make mistakes, even if it's as silly as turning on a Facebook Live mask.
Hinton was trying to put on a serious report about the weather in North Carolina, in this case the snow, but viewers were looking at anything but the flakes falling around him. Instead, they were watching as Hinton's switched from lifting weights and embodying a wizard to adopting googly eyes and a purple mustache. The best part of the video? When Hinton goes off camera, asking his coworker, "Wait, Misty, did I have a weird face?"
Jif puts an end to the debate of how to pronounce GIF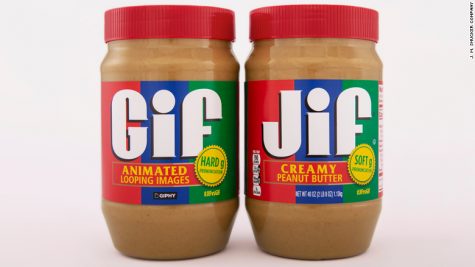 Evers since GIFs were invented in 1987 by American computer scientist Steve Wilhite, the argument for how to pronounce it has been sustained. Despite Wilhite going on the record in his acceptance of a Webby Award in 2013, the debate over how to pronounce still ran rampant on social media. GIF stands for Graphics Interchange Format for those of you that aren't computer savants.
The peanut butter brand Jif is here to finally put an end to the confusion and debate in their partnership with GIPHY, a GIF search engine. The limited edition peanut butter jars are available on Amazon for $10, pretty much double the price for a traditional Jif jar. We'll see how well this partnership works in the #JIFvsGIF debate on social media, as March 1 is National Peanut Butter Lover's Day.
It's another partnership geared to utilize the power of the Internet to drive sales and marketing with the viral nature of social media. Jif and GIPHY aren't the first to tap into this, as Platners killed off their mascot Mr. Peanut in a car accident and birthed Baby Nut, leading to anarchy on Twitter. Read more about Jif, GIF and others here.
When is it okay to call a GIF a "Jif"? Never. Help us put the lid on the infamous internet debate once and for all. #JIFvsGIF https://t.co/INoJNiquwq

— Jif® Peanut Butter (@Jif) February 25, 2020
THE SOURCE: Student journalists talk about #WhoWeAre during Scholastic Journalism Week 2020
Student Advisory Board member Lucy Smithwick and editor of The Eagle at East Mecklenburg High School in Charlotte, North Carolina speaks with new staff members and the editor of East Mecklenburg's literary magazine. They discuss the hard work that student journalists put into their publications and the type of news they cover. This episode is a part of Scholastic Journalism Week, whose Friday theme is, #WhoWeAre.