News, tips and advice from Quill and Scroll
President acquitted in Senate trial
The U.S. Senate on Wednesday voted to acquit President Donald Trump on two impeachment charges brought by the U.S. House of Representatives: abuse of power and obstruction of Congress.
The charges are in conjunction with the president's desire to have Ukraine investigate former Vice President Joe Biden (who is running for president as a Democrat) and his son Hunter, and the president's stonewalling of the House in providing witnesses and documents. The Senate voted mostly along party lines last Friday not to hear from witnesses or to see any new evidence in the trial.
Wednesday's vote on the second charge fell along party lines, with all 53 Republican senators voting to acquit, all 45 Democrats voting to convict, and both independent senators also voting to convict.
The vote on the first charge was almost the same, but former Republican presidential candidate Mitt Romney of Utah voted with the Democrats and independents to remove the president from office. You can hear his thoughts below under "Just a Thought."
The president's removal from office was always highly unlikely because it would have required a two-thirds vote in the Senate.
What does it mean? We've rounded up a sampling of reaction from across the political spectrum.
Iowa did a thing, kind of
Yeah, so Q&S is located in Iowa City, so the Democrats among us got a chance to participate in the Iowa caucuses, all of us for the first time. The Republicans and independents on staff didn't get to because, well, the Republican nomination is the president's for sure, and independents aren't a party, so they don't have primaries and caucuses.
Anyway, we went to our local gym, or VFW hall, or church, and we talked with our neighbors about politics — and hardly anyone got upset or agitated!
So that was good.
We filled out cards indicating our preference, we turned them in, and we went home. But when the Democratic Party tried to report the results, well, things didn't go so well. The app used to report the results failed miserably, and the poor TV talking heads couldn't expound about who "won" for three days or more. And we're still not sure who got the most "votes."
Mayor Pete Buttigieg and Sen. Bernie Sanders (I-Vermont) earned the most votes with about 26 percent each.
Voters in Nevada, New Hampshire and South Carolina are next.
Nominate students now for Quill and Scroll Honors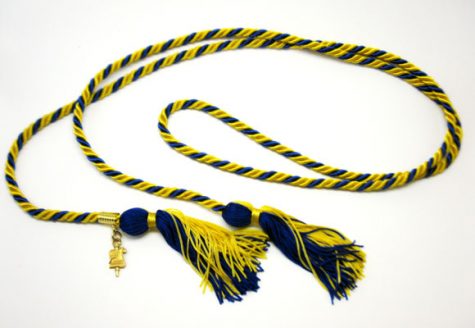 It's never too early to submit your school's nominations for Quill and Scroll induction! Student memberships are coveted honors that award the top achievers in student journalism. Nominate your sophomores through seniors today!
As the spring semester continues, orders pour through our doors. Complete your orders for graduation cords and pins now to ensure quick fulfillment! We have both member and nonmember awards available.
Q&S SAB, JEA and SJW (Huh?)
The Journalism Education Association celebrates SJW Feb. 24-28, 2020, and the Quill and Scroll Student Advisory Board is happy to partner with JEA and SJW Chair Adam Dawkins on SJW activities. Listen as SAB member Emily Hood and adviser Jordyn Kiel of Francis Howell North discuss how your school can get involved with SJW — in both big ways and small.
Here's a link to the JEA SJW page for more information.
Also, follow our Spotify account!
Chapter of the Year
Quill and Scroll this year will award its first Vanessa Shelton Chapter of the Year honor to a deserving chapter. The application process is simple and free, so there's no reason not to enter. Here's a link to the page describing the award and former Quill and Scroll Executive Director Vanessa Shelton. It's also where you'll find the entry form to apply before April 1.
The 2020 Vanessa Shelton Chapter of the Year will receive:
A trophy signifying the winning chapter's achievement.
One student from the chapter will be awarded a spot on the Quill and Scroll Student Advisory Board for the coming year.
Memberships for five eligible staff members —including five pins and honor cords — in Quill and Scroll for qualifying students from the school (A $160 value).
WPM Contest wraps up
Quill and Scroll received more than 2,600 entries from high school journalists in five countries in the 2020 Writing, Photo and Multimedia Contest, which closed to entries Feb. 5. We will forward the entries to judges on Feb. 10, and they'll be returned to us by mid-March, when we hope to announce all the winners. Ten percent of all entries are guaranteed to earn at least honorable mention, and the students who worked on those entries are then eligible to apply for our Q&S scholarships.
Please submit payments for orders before Feb. 14, if you didn't do so at the time you entered.
Not too early to apply for Q&S scholarships
The scholarship forms for both students and advisers are open now.
For students, scholarships can be used for tuition, room and board at any college or university. Recipients must major in journalism or a related area of communications. Members and students who earned a national award in our Yearbook Contest or our WPM Contest (above) are eligible to apply.
For advisers, Q&S identifies and rewards experienced journalism teachers and publication advisers who seek the opportunity to upgrade their journalism skills, teaching methodologies and advising techniques.
The scholarship forms for application are open until April 15 (advisers) and May 10 (students).
News Media Evaluation up next!
The News Media Evaluation provides media staffs a one-of-a-kind self-assessment, thorough analysis and rating of your publication(s), with constructive comments and suggestions for improvement from qualified evaluators. The evaluation exercise and feedback are instructive and developmental. The ratings are motivational. High schools and junior high schools may enter their multimedia news operations, newspapers, news magazines and/or online news sites until June 15, 2020. Entries and ratings are returned in September 2020. This service is open to non-member schools as well as member schools.
Entry forms will be available on the site on Feb. 17, 2020
You have four choices for submission:
COMPREHENSIVE NEWS MULTIMEDIA. Do you have a news magazine, a website and social media associated with both? Submit multiple media — including three issues of a printed publication and URLs for digital and social media — for a full evaluation of your entire news and journalism programs. These critiques include extensive comments from your evaluator. (Fee is $150 for a comprehensive evaluation.)
COMPREHENSIVE SINGLE NEWS MEDIUM. Submit three issues from 2019-2020 of a single medium (newspaper, news magazine or online news site) for a full evaluation. These critiques include extensive comments from your evaluator. (Fee is $80 per medium.)
RATINGS ONLY MULTIMEDIA. Submit your multimedia news operation — including three issues of a printed publication and URLs for digital and social media — for a ratings-only evaluation ($80). These critiques include no comments from your evaluator. (Fee is $80.)
RATINGS ONLY SINGLE NEWS MEDIUM. Submit three issues from 2019-2020 of a single medium (newspaper, news magazine or online news site) for a ratings-only evaluation. These critiques include no comments from your evaluator. (Fee is $55.)
All entries are eligible to be considered for the top rating, the Gallup Award. Read about how to be evaluated here.
Nancy Pelosi rips up President Trump's State of the Union Address
Speaker of the house Nancy Pelosi went viral again this week, this time for ripping up a copy of President Trump's annual State of the Union Address after his speech on Tuesday had concluded. This was done so on national live television.
The video has gained international attention, with many turning to social media to express their opinions regarding Pelosi's choice. Many have questioned whether Pelosi committed a crime in destroying government property or her ethics in doing so, while some remain in awe of her veracity for committing such an act on national television and in the president's vicinity.
Either way, Pelosi spoke to House Democrats in their private caucus meeting Wednesday saying, "I felt very liberated last night."
Celebrating Trayvon Martin, inspiration for "Black Lives Matter" slogan, on his birthday
Trayvon Martin was shot and killed in February of 2012 by a member of a neighborhood watch program, George Zimmerman. Martin was unarmed besides holding an iced tea and a bag of candy. His untimely death started the #BlackLivesMatter slogan to go viral and appear throughout the internet, in campaign slogans and protests. Martin would have been 25 on February 5, 2020.
At the time of his death, former President Barack Obama released a statement saying, "If I had a son, he'd look like Trayvon."
For years after his death, millions of Americans choose to wear their hoodies up, brandishing the statement "I am Trayvon."
He was remembered on Twitter during the celebration of his birthday.
Today would have been Trayvon Martin's 25th birthday.

His memory should always have a place in our hearts, and his tragedy should always have a place in our work. #HappyBirthdayTrayvon pic.twitter.com/GyMgKoaf15

— Frederick Joseph (@FredTJoseph) February 5, 2020
Shakira and Jennifer Lopez celebrate LatinX culture at Super Bowl LIV
Shakira and Jennifer Lopez (J.Lo) took to the Super Bowl stage last Sunday to perform 15 minutes of music in both English and Spanish. In order to put on such a performance, the Latina duo included over 3,000 people in the decision making and building process since the announcement of their spot as headliners in September 2019.
Their performance received both praise and backlash: it was celebrated for its quiet political statements and celebration of Latinx culture, but also berated for its sexual promiscuity and exposure.
Neither Shakira nor Lopez were paid for the performance. However, according to New York Post contributor Ben Cost, the NFL foots the bill for the entire production, ranging around 10 million dollars.
Watch the full performance below.
Romney votes his conscience
Whether you agree with Mitt Romney's vote in the impeachment trial of President Donald Trump, you have to admit it was courageous for him to vote against the other 52 member of his party in the Senate and choose to vote for Trump's removal from office. As the party's 2012 nominee to run for president against Barack Obama, Romney was at that time the party's leader. That mantel, of course, has now been passed to the president.
Here's the video of Romney's speech to the Senate this week. It will be included in history books as an example of a politician who decided to break with his party in a time when that is almost unheard of.