News, tips and advice from the Quill and Scroll Honor Society for High School Journalists
---
The Lede
Kentucky students barred from DeVos event rip secretary of education
Student journalists in Kentucky are crying "foul" after they were turned away from an 11 a.m. mid-week appearance in their hometown, Lexington, by U.S. Secretary of Education Betsy DeVos. The students are staff at the Lamplighter at Paul Laurence Dunbar High School.
The students hadn't received an invitation to the "invitation-only" event, so they were unable to RSVP, which is what they were told they lacked when they showed up at the event, which was primarily a discussion between DeVos and Kentucky Gov. Matt Bevin about DeVos' proposed "freedom scholarships," which would push public money to private schools, even those that discriminate against LGBTQIA+ students.
A DeVos spokesperson issued this statement:
"No one from the Secretary's staff was made aware that student journalists were attempting to attend the roundtable. We welcome student journalists and would have been happy for them to be in attendance. We are looking into what, if any, miscommunication might have happened between other staff on site for the event."
Houston school sets dress code for … wait for it … parents!
Parents at James Madison High School in Houston, Texas will not be able to enter the school if they don't conform to a new dress code instituted by the school's principal, Carlotta Outley Brown. The details of the dress code are here.
"Parents, we do value you as a partner in your child's education," Outley Brown wrote in a memo to parents. "However, please know we have to have standards, most of all we must have high standards."
Critics are saying the code — particularly a ban on "hair wraps" — punishes class differences and could be seen as prejudiced.
"I'm sorry — this principal may have plenty of money and time to go to the hairdresser weekly and have her stuff done," said Zeph Capo, president of the Houston Federation of Teachers. "Who are you to judge others who may not have the same opportunities that you do? Having a wrap on your head is not offensive. It should not be controversial."
Alabama deputy placed on leave because of homophobic rant
Five days after the suicide of a gay 15-year-old boy in Alabama, a Madison County sheriff's deputy has been placed on leave because of a homophobic social media post in which he called homosexuality a "fake movement" with a "fake agenda." The deputy, Jeff Graves, posted this on a news site's Facebook page after it reported on the death of 15-year-old Nigel Shelby, who had been bullied for being gay.
"Liberty/Guns/Bible/Trump/BBQ. That's my kind of LGBTQ movement. I'm seriously offended there is such a thing such as the movement. Society cannot and should not accept this behavior. I have a right to be offended by this fake movement which requires no special attention but by persons with an altered ego and fake agenda."
In the meantime, the LGBTQ community in Huntsville has banded together to raise more than $26,000 for Shelby's family.
---
It's an Honor
Quill and Scroll names 2019-2020 Student Advisory Board
Thirteen Quill and Scroll members from every part of the United States have been named to the Q&S Student Advisory Board for 2019-2020. The 13 students will work on national pro-journalism projects for all Quill and Scroll chapters.
The students are:
Riya Chinni, Carmel HS (Indiana)
Caylee Cicero, Starr's Mill HS (Georgia)
Max Preuninger, Bryant HS (Arkansas)
Will Munro, Regis Jesuit HS (Colorado)
Lucy Smithwick, East Mecklenburg HS (North Carolina)
Sophie Sallah, Harrisonburg HS (Virginia)
Benji Wilton, Kirkwood HS (Missouri)
Emily Hood, Francis Howell North HS (Missouri)
Mira Bohannan Kumar, Iowa City HS (Iowa)
Colleen Sherry, Langley HS (Virginia)
Meredith Comas, Manhattan HS (Kansas)
Emalee Weeks, Calvary Day School (Georgia)
Vince Orozco, Blue Valley HS (Kansas)
Get your orders in, make your nominations for induction … now !
We ask any schools wishing to send in orders of pins, t-shirts, cords, etc. to do so as soon as possible. In April, our office becomes very busy with a large influx of orders; as a result, we ask for your patience and allow at least three weeks for your order to be processed and completed. We also need a form of payment (check, purchase order, credit card payment) before we ship.
Q&S wants your induction video!
Would you like to be a part of the official Quill and Scroll video? Send us any video of your induction ceremony by clicking the button below, and we'll use it as b-roll for our video. The Q&S video is set to debut in the fall. Send us the video file in .mov or m4v format. It doesn't matter if you've used professional cameras or your mobile phone. Send it to [email protected].
Below is the most recent Q&S video, produced in 2010. It's time for a new one!
Commemorate your induction with an official Quill and Scroll Certificate Plaque
We are pleased to introduce our new official membership certificate plaque program in partnership with Award Emblem — our award partner and manufacturer of the official Quill and Scroll International Honorary Society membership pin for more than 50 years. For the first time, you can now purchase exceptional quality plaques that honor your induction and membership into Quill and Scroll. Each plaque is custom imprinted with your personalized membership certificate. These beautiful plaques will remind you and others of your hard-earned achievement for years to come.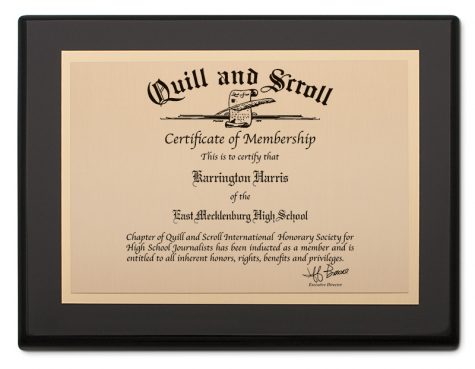 Student scholarship deadline is May 10
Students who are national winners of the Yearbook Excellence Contest or the International Writing, Photography and Multimedia Contest and Blogging Competition are eligible to apply for one of the Edward J. Nell Memorial scholarships in journalism, or one of two George and Ophelia Gallup awards.
The Richard P. Johns Scholarship is open to all Quill and Scroll seniors, including those who did not enter contests. Postmark deadline for all applications is May 10. All scholarships can be used for tuition, room and board at any college or university. Recipients must major in journalism or a related area of communications. The scholarships are awarded for the freshman year only and are paid in two installments (fall semester and spring semester).
Classical Academy in California wins Student Journalist Impact Award
Quill and Scroll and the Journalism Education Association have named The Chronicle staff at Classical Academy High School in Escondido, California, as winner of the 2019 Student Journalist Impact Award.
After the death of one of their classmates, the staff of The Chronicle knew it needed to do something to help the school and community learn more about mental health and the impact on their generation.
What followed was an in-depth look driven by information collected in 370 student survey responses, which accounts for almost half of their student body. "Invisible Wounds," a full-page spread, presented information that the school and community not only listened to, but used as a driving force to take action and make change. 
Chronicle students will receive their award Thursday, April 25 at the opening ceremony of the 2019 Spring National High School Journalism Convention in Anaheim, California.
---
What's Viral?
Remembering the Chinese workers who built the Transcontinental Railroad
May 10 will mark the 150th anniversary of the driving of the Golden Spike, which completed the building of the Transcontinental Railroad. It was the first time Americans could use "mass" transportation — instead of horses and conestogas — to cross from the Atlantic to the Pacific. Perhaps the most forgotten part of that accomplishment is that it was built by immigrants, mostly imported laborers, which included more than 10,000 Chinese workers.
NBC News is producing a five-part series to remember their sacrifice and their hard work in advance of the May 10 anniversary.
Kansas families push back against web-based curriculum
With so many schools underfunded these days, it's only natural for them to begin to look at ways in which students can learn independently. So when Silicon Valley's Summit Learning pitched its primarily online curriculum to schools in the Wichita area, many jumped on board. But winter's discontent over the curriculum has continued into spring, and parents are now pulling their kids out of public schools because they feel the curriculum dehumanizes the students.
Summit's curriculum is used in 380 schools and by more than 70,000 students across the U.S. The New York Times looks in-depth at the "merits of self-directed, online learning versus traditional teacher-led classrooms."
---
Just a Thought: Earth Day

Why don't teachers teach about climate change?
NPR reports that 80% of American parents want their children to learn about climate change in schools, and 86% of teachers agree. But most teachers aren't making that happen. A new survey from IPSOS and NPR tries to figure out why. Listen below.
Vox chats with climate-change author Paul Hawken
Everybody — or at least those who think climate change is a major problem — seems to have a solution about how it can be reversed and the planet saved, from the Democrats' "Green New Deal" to the Republicans' "Green Real Deal," which focuses on deregulating industry.
In 2016 Paul Hawken compiled a list of the 100 best ideas to address climate change in a book called "Drawdown." Just this week, Vox News spoke with Hawken about what has happened between the publication of his book and Earth Day 2019.
Summer camp for environmental journalists
Explore the nation's most pressing environmental concerns this summer through ambitious journalism in NYC's urban neighborhoods or immersed in Maine's rugged outdoors with the Institute for Environmental Journalism.
High school students or recent graduates who are interested in the environment and journalism are encouraged to apply. Work with professional reporters, hear from guest speakers, and go off-site on reporting trips. You can apply for their two summer programs here.
https://quillandscroll.org/wp-content/uploads/2017/08/WeeklyScrollLogo.jpg
1108
2554
Jeff Browne
https://quillandscroll.org/wp-content/uploads/2017/10/QS-Logo.png
Jeff Browne
2019-04-23 12:21:02
2019-11-08 13:43:19
The Weekly Scroll for April 26, 2019