News, tips and advice from the Quill and Scroll International Honor Society
Compiled and written by Quill and Scroll journalist Caley Griebenow
j
The Lede
FBI charges various celebrities with fraud in massive college admissions scandal
It was revealed three days ago that dozens of wealthy parents, from Hollywood actors to business leaders, had paid exceptionally large sums of money to obtain acceptance to selective schools such as The University of Southern California, Georgetown University, Yale, and Stanford for their kids. The Justice Department's investigation of this scheme spanned six states, 200 agents and a total of 50 people charged. Among the various celebrities charged are Television star Lori Loughlin, known from her role in Full House, her husband Mossimo Giannulli, and actress Felicity Huffman.
In addition to the vast amounts of payments to secure admission, some parents were also accused of falsely portraying their kids as star athletes in order for elite college coaches to recruit them, as well as hiring third parties to take standardized tests, or having their child fake a disability in order to obtain a higher score with the help of a complicit proctor. For instance, Loughlin's daughter, social media influencer and USC student Olivia Jade, was recruited for the school's crew team despite never playing the sport. Olivia even admitted on a now viral YouTube video that she doesn't "really care about school."
This case highlights the economic disparities that exist in the world of college admissions, and how the very wealthy can seemingly buy their way into elite colleges and institutions. Questions of both economic and white privilege are being discussed as more stories and updates about the scandal pour in.  Read the New York Times' report here.
It's An Honor
2019 Writing, Multimedia and Photo Contest Winners!
McCallum High School of Austin, Texas has won the 2019 Blue and Gold Award for Staff Excellence in the 2019 Quill and Scroll International Writing, Photo and Multimedia Contest.
Students from five countries submitted 2,486 entries over all 30 categories, and judges chose 268 winning entries produced by 319 students, or National Winners. Every winning entry earns a Quill and Scroll Gold Key.
Quill and Scroll honors Sweepstakes Winners (First Place) in every category with a special framed certificate. All National Winners (Sweepstakes, Second Place, Third Place and Honorable Mention) receive award letters and are eligible to apply for Quill and Scroll Scholarships, which have an application deadline of May 10.
The individual winners are all listed here.
Schools with the most winning entries receive Blue and Gold Awards for Writing, Visual and Overall Excellence. Here are those winning schools:
Staff Excellence
McCallum High School, Austin, Texas
Visual Excellence
McCallum High School, Austin, Texas

Shawnee Mission East High School, Prairie Village, Kansas

Johnston High School, Johnston, Iowa (Tie) and

Carmel High School, Carmel, Indiana (Tie)
Writing Excellence
McCallum High School, Austin, Texas

St. John's School, Houston, Texas

Cedar Park High School, Cedar Park, Texas
If you would like a slideshow of the winning entries, with links to and visual representations of the top three entries in all 30 categories, please email Executive Director Jeff Browne at [email protected].
Ordering information for our members
We once again highly encourage any schools wishing to send in orders of pins, t-shirts, cords, etc. to do so sooner rather than later. After April 1, our office becomes very busy with an large influx of orders; as a result, we ask for your patience and allow at least three weeks for your order to be processed and completed. We also need a form of payment (check, purchase order, credit card payment) before we ship.
News Media Evaluation Service
The News Media Evaluation Service
entry will be open April 1 to June 15. Get your publications ready for submission as soon as possible. If you paid for your NME entry with your entries into the Writing, Photo and Multimedia Contest, then simply send your entry forms and publications (if you're having print publications evaluated) before the deadline. If you haven't paid, then you'll have to go the NME page to take care of that.
—
To view a complimentary guide for your own entries on the actual content and judges comments from the 2018 NME Contest, click 
here
.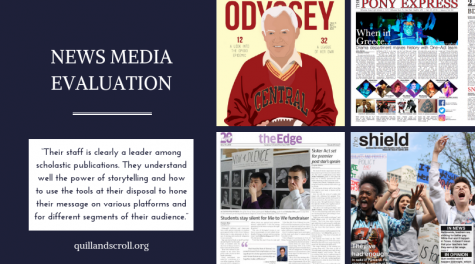 Student Advisory Board applications
Quill and Scroll's Executive Director Jeffrey Browne is accepting applications for the 2019-2020 Student Advisory Board. A total of eight students will be accepted, and their goal and responsibility is to work together in an international, pro-journalism campaign.
–
Board members must be inducted into the Q&S organization before Sept. 1, 2019. However, if you're already a member, or anticipate becoming a member for the upcoming school year, fill out the form 
here
.
–
The application can be found 
here
, and the deadline for submission is April 10, 2019.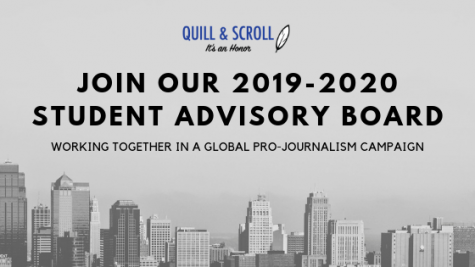 Adviser scholarships
Quill and Scroll encourages advisers to apply for our scholarships. Winners can receive up to $500 for actual tuition, room, board and transportation costs.
–
The Lester G. Benz Memorial Scholarship for College Journalism Study requires you to have at least six semester hours of journalism courses and a minimum of four years of teaching experience and advising of school publications. You must currently teach a journalistic writing class, and plan to return to the high school classroom and media advising next year to apply the information gained in the course work taken as a result of this scholarship.
–
Download the application 
here
, and send then submit it through mail to our address at 100 Adler Journalism Building, Room E346 Iowa City, Iowa 52242.
–
Student scholarships
Q&S encourages students to apply for our scholarships.
–
To be considered, students must fill out 
this application
 if they are an eligible senior who was or will be a winner in our contests. This means any student who has placed first, second, third or honorable mention is can apply.
–
Scholarships can be used for tuition, room and board at any college or university that offers a major in journalism or related areas of communications such as multimedia, broadcast, graphic design, strategic communications, and photography.
–
Apply for the scholarship 
here
. The deadline to submit the application is May 10, 2019.
What's viral?
Bloomberg uses Twitter to explain how grounding Boeing 737 MAX aircraft affects you
Following mounting pressure from aviation experts and passengers alike, President Trump announced on March 13 that his administration would be halting all Boeing 737 aircrafts after the fatal crash of flight 302 in Ethiopia that killed all 157 of its passengers. Reports show that the captain requested a landing only three minutes after takeoff, citing the plane's abnormal acceleration. Air traffic control lost communication five minutes after takeoff.
This decision comes after the US originally said the planes could continue flying despite the deadly crash days prior.
Paid reporting opportunity for girls
Ms. Magazine is accepting pitches from self-identified teen girls for its "The Future is Ms." column for the May and June blog. This column highlights newsworthy U.S.-based teen girls who are making an impact on the lives of other feminists. The topic and the impact should be timely and tied to current events. For more background on the column,
read this Call for Pitches.
The pitch should include the specific impact of the teen or teen movement you are interested in profiling. Send pitches to 
[email protected]
 by Wed. March 20, 2019.
Just a Thought
Teen Suicide: The causes and how journalists should cover it
Psychology researchers this week released a report that indicates today's teens have a higher suicide rate than previous generations did when they were adolescents. Researchers couldn't specifically pinpoint reasons, but their work leads them to believe that social media and a lack of sleep are major contributors.
If you are faced with the question of if you should write about suicide in your school or community, please check out the site "Reporting on Suicide," which was developed by psychologists, doctors, journalists and other professionals who want to help reduce the number of suicides in the U.S.
Scientists: Pollution is a class and race issue
Scientists have found that air pollution is disproportionately caused by white Americans and disproportionately inhaled by black and Hispanic Americans.
"Inequity in exposure to air pollution is well documented, but this study brings in the consumption angle," one researcher said. "If you're contributing less to the problem, why do you have to suffer more from it?"
https://quillandscroll.org/wp-content/uploads/2017/10/QS-Logo.png
0
0
Caley Griebenow
https://quillandscroll.org/wp-content/uploads/2017/10/QS-Logo.png
Caley Griebenow
2019-03-15 12:01:55
2019-11-08 13:46:52
Weekly Scroll for March 15, 2019