News, tips and advice from the Quill and Scroll International Honor Society
Compiled and written by Quill and Scroll journalist Caley Griebenow
The Lede
House passes sweeping measure in attempt to condemn hate speech
The Democratic-majority House of Representatives on March 7 approved a broad resolution that condemns hate speech of all types, specifically anti-Semitic and anti-Muslim speech.
The House was moved to act after Republican representatives wanted to rebuke Rep. Ilhan Omar (D-Minnesota) for public comments she has made about the influence on U.S. policy exerted by conservative pro-Israel lobbying groups. Republicans wanted a resolution condemning hate speech specifically against Jews, but in the final bill Democrats added language among its nine points to protect Muslims as well.
All 235 Democrats in the House voted for the proposal, along with 175 of the 198 Republican House members.
Trump's former campaign chair gets 47 months in prison
Paul Manafort, who served as President Trump's campaign chair for several months in 2016 — including during the Republican National Convention — received a 47-month prison sentence during his sentencing in a Virginia courtroom Thursday evening. Manafort, who made a fortune working for foreign governments including Ukraine, was found guilty of eight felony counts of bank fraud and other financial crimes that defrauded individuals of more than $55 million.
The sentence was seen as a slap in the face of Special Counsel Robert Mueller, who is investigating Russian meddling in the 2016 U.S. election. Mueller, who referred the case to prosecutors who asked for between 19 and 25 years for Manafort. That has led many legal experts to question Judge T.S. Ellis' fairness.
FYI in 2018, #JudgeEllis sentenced Frederick Turner, 37, to a mandatory minimum of 40 years in prison for dealing methamphetamine: "I chafe a bit at that, but I follow the law. If I thought it was blatantly immoral, I'd have to resign. It's wrong, but not immoral." #PaulManafort

— Laura Coates (@thelauracoates) March 8, 2019
Manafort will be back in a Washington, D.C., courtroom next week to face sentencing on two more crimes — conspiracy to defraud the United States and witness tampering. He could be sentenced to an additional 10 years in prisons for those crimes. The judge in that case is Amy Berman Jackson.
Splashdown for Dragon!
SpaceX's Crew Dragon capsule splashed down in the Atlantic Ocean off the Florida Friday morning. Recovery ships brought it back to Cape Canaveral after a week-long mission. The mission's goal was to prove that commercially built spaceships could carry astronauts and possibly private citizens safely into space and back to Earth. A dummy was the only passenger on Crew Dragon this week. Elon Musk is the founder of SpaceX.
It's an Honor
THE SOURCE podcast's eighth installment: FRIENDSHIP
For our final podcast of the semester, we've been focusing this year on the eight guiding principles for our organization. Our initiation ceremony notes that "Friendship is the link that binds humanity." Like Aristotle, we recognize the importance of friendship and the synergy it brings to the journalistic endeavor.
In late February, Nichole Shaw had the chance to meet with two siblings — two of scholastic journalism's best friends, John and Mary Beth Tinker.
The names should ring a bell. The Tinkers, along with John's friend Christopher Eckhardt, in 1965 were suspended from their Des Moines, Iowa schools because they wanted to protest the Vietnam War. They proposed wearing black armbands emblazoned with a peace symbol. With the help of the Iowa Civil Liberties Union, they sued the school district. The case eventually made its way to the Supreme Court, where in February 1969 the justices ruled in favor of the Tinkers. The "Tinker Case" has forever burned in our minds the sentence: "Students do not shed their constitutional rights to freedom of speech or expression at the schoolhouse gate."
Last month the Tinkers set out on a 50th anniversary celebration of that decision. Nichole Shaw spoke with them in the studios of KRUI, the student radio station at the University of Iowa.
Listen to all of our podcasts here.
Ordering information for our members
We highly encourage any schools wishing to send in orders of pins, t-shirts, cords, etc. to do so sooner rather than later. After April 1, our office becomes very busy with an large influx of orders; as a result, we ask for your patience and allow at least three weeks for your order to be processed and completed. We also need a form of payment (check, purchase order, credit card payment) before we ship.
2019 Writing, Multimedia and Photo Contest
Submissions for our 2019 Writing, Photo and Multimedia Contest closed Feb. 6. Thank you to those of you submitted entires for our judges to evaluate on individual excellence and overall performance quality.
We received over 2,450 entries from more than 100 schools across the world. Our judges evaluate each submission carefully, and winners will either receive a framed certificate or plaque, depending on their placing. All individual winners receive a Quill and Scroll National Award Gold Key and, as seniors, they are eligible to apply for one of the scholarships offered by Quill and Scroll.
Stay tuned to read about the winners by the end of March.
News Media Evaluation Service
The News Media Evaluation Service
entry will be open April 1 to June 15. Get your publications ready for submission as soon as possible. If you paid for your NME entry with your entries into the Writing, Photo and Multimedia Contest, then simply send your entry forms and publications (if you're having print publications evaluated) before the deadline. If you haven't paid, then you'll have to go the NME page to take care of that.
—
To view a complimentary guide for your own entries on the actual content and judges comments from the 2018 NME Contest, click 
here
.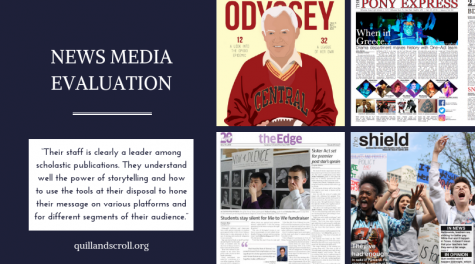 Student Advisory Board applications
Quill and Scroll's Executive Director Jeffrey Browne is accepting applications for the 2019-2020 Student Advisory Board. A total of eight students will be accepted, and their goal and responsibility is to work together in an international, pro-journalism campaign.
–
Board members must be inducted into the Q&S organization before Sept. 1, 2019. However, if you're already a member, or anticipate becoming a member for the upcoming school year, fill out the form 
here
.
–
The application can be found 
here
, and the deadline for submission is April 10, 2019.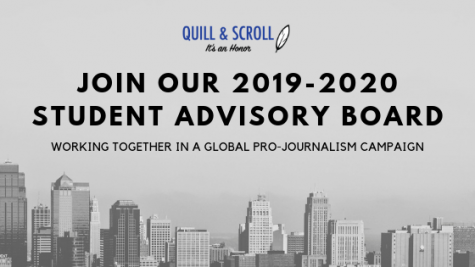 Adviser scholarships
Quill and Scroll encourages advisers to apply for our scholarships. Winners can receive up to $500 for actual tuition, room, board and transportation costs.
–
The Lester G. Benz Memorial Scholarship for College Journalism Study requires you to have at least six semester hours of journalism courses and a minimum of four years of teaching experience and advising of school publications. You must currently teach a journalistic writing class, and plan to return to the high school classroom and media advising next year to apply the information gained in the course work taken as a result of this scholarship.
–
Download the application 
here
, and send then submit it through mail to our address at 100 Adler Journalism Building, Room E346 Iowa City, Iowa 52242.
–
Student scholarships
Q&S encourages students to apply for our scholarships.
–
To be considered, students must fill out 
this application
 if they are an eligible senior who was or will be a winner in our contests. This means any student who has placed first, second, third or honorable mention is can apply.
–
Scholarships can be used for tuition, room and board at any college or university that offers a major in journalism or related areas of communications such as multimedia, broadcast, graphic design, strategic communications, and photography.
–
Apply for the scholarship 
here
. The deadline to submit the application is May 10, 2019.
What's viral?
YOU can do fact-checking for a national network
It's International Women's Day!
March 8 is International Women's Day, and Twitter is bursting at the seams with all the activity. Check out #internationalwomensday on Twitter as it unfolds around the world and in the U.S.
LSU coach caught on tape
Will Wade, the head men's basketball coach at Louisiana State University, has been caught on tape by the FBI talking about payoffs to potential recruits. Here's a great roundup of what college basketball pundits have to say about Wade and the allegations against him.
What are some of the pressures and perks of recruiting that athletes in your school face or benefit from? This is a great idea for an in-depth report in your publication.
Just a Thought
Media scholar says media education must focus on basic principles
Jeff Jarvis wrote this week that journalism and media education need to be reinvented in order to reach audiences who are intensely skeptical of what journalists do. That reinvention begins with nine basic principles:
Listening
Diversity
Community
Service over product
Service as an ethic
Stewardship
Change
Multi-disciplinary approaches
Students have access to police, but not to counselors
Citing U.S. government data from 2015-2016, the American Civil Liberties Union this week wrote that 1.7 million American children attend schools that have police officers but no counselors.
What's the balance in your district? In your school? In your state? If you're in a public school, those figures should be public and available for you to request. Check your state's open-records laws to see how you can request those documents.
https://quillandscroll.org/wp-content/uploads/2018/03/WeeklyScrollLogo-180x180.jpg
180
180
Caley Griebenow
https://quillandscroll.org/wp-content/uploads/2017/10/QS-Logo.png
Caley Griebenow
2019-03-08 10:40:17
2019-11-08 13:46:57
Weekly Scroll for March 8, 2019