Donate Today
---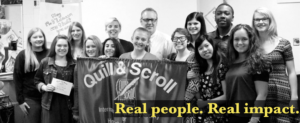 Thank you for supporting Quill and Scroll! We appreciate your dedication to the students, to the community, and to scholastic journalism, as well as to Quill and Scroll, and look forward to continuing our relationship in the future.
Your donation goes to Quill and Scroll Foundation, a 501(c)3 organization. Donations may be tax deductible, so please consult with your financial adviser.
Among its many services to develop and support scholastic journalism, Quill and Scroll annually presents scholarships ranging from $500 to $1,000 to graduating high school seniors who plan to major in journalism or communications in college.