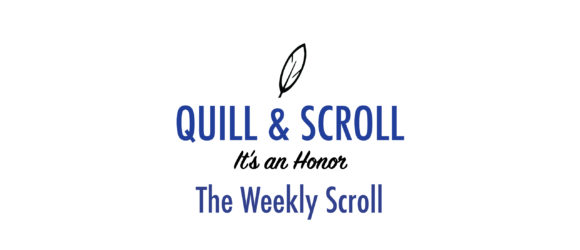 News, tips and advice from the Quill and Scroll International Honor Society.
Compiled and written by Marni Wax, Allison Wunder and Emily LaGrange.
The Lede:
Feed your curiosity, get out there
Maybe you caught the first few episodes this week of Ken Burns' documentary about Vietnam. (Maybe you didn't. Don't worry; there's time to catch up online or streaming to your television.) Burns tells great stories about the politics and the people involved, but even he can't tell all the stories about that time and the Americans affected by the war.
You can help. Who are the people in your town who served in that war? What stories do they have to tell? Your teachers? Your parents and grandparents? How about the people who emigrated from Vietnam to the United States during the war or shortly after? There are dozens of stories out there. Go get 'em.
Tips for dealing with tragedy
Caleb Sharpe takes the bus every day to his high school in a small Washington town, and one day last week he brought a black duffel bag with him to school.
Sharpe quietly pulled a pistol from his coat and shot his classmate, first in the stomach and then in the face, leaving him dead. Sharpe continued to make his way down the hallway, firing at other students or blindly shooting. Absolutely ruthless. When victims fight back against their bullies, it has gotten to extremes (and as we can see, it's the worst case scenario at this point). Click here to learn tips on how to cover stories of this magnitude.
Arrests due to London bombing (but do you feel any safer?)
Britain on Sunday lowered its terrorism threat level, a day after the police arrested a second man in connection with the bombing in a London subway station that left dozens of people injured.
The first man, was arrested Saturday in Hounslow, a borough in West London. The suspect, was detained under the Terrorism Act and was held at a police station in South London.  The second arrest came the same day. An 18-year-old man for suspicion of being in connection with the bombing.
Click here to learn about more tips on covering this (especially to a younger audience). Let us know and comment with what you think these reporters did well…or not so well.
It's an honor:
Get these critical tips, from one of our own
On the Quill and Scroll website, former Student Press Law Center executive director Frank LoMonte weighs in on the need for all journalists — especially student journalists — to have easy and ready access to public information, even if government agencies don't always want to comply.
What's it like to be a part of something bigger than yourself?
Go to our Facebook page to learn how to share your testimony about what it means to be a member of Quill and Scroll. Or you can go to the Quill and Scroll website to give a more detailed story about your connection to Q&S. http://quillandscroll.org/alumni
CALLING ALL ADVISORS!
Does anyone have any footage of their induction ceremonies! We would love to feature your students in a video! Contact us at marni-wax@uiowa.edu for more information.
What's Viral:
Okay ladies, now let's get in formation
Ladies, ladies. Don't you want to be represented (I mean we are the future…right?)! Click here to read about how Margaret Sullivan remembers standing in front of a class of Northwestern University journalism students. She noticed the difference there from the newsroom meetings she had led in previous years. Find out what that difference may have been.
Times running out, and so is the Administration's patience
The Trump administration escalated its verbal altercations with North Korea last Sunday, warning that time is ticking for Kim Jong Un's regime and the United States to remain as allies (and ticking fast). The Administration said the risk from North Korea's nuclear weapons program is only escalating and President Trump will address the crisis head on at the U.N. General Assembly.  
When you love your job, you don't work a day in your life
Report for America is a model that will strengthen journalism, enrich life in communities, and give confidence to citizens. This will restore the broken trust in media by developing a new generation of journalists to serve local news organizations in under-covered corners of America.
This organization is wanting to create a program modeled after the Teach for America program, which puts recent college graduates into America's classrooms as teachers. Report for America would do the same for newsrooms (hear that, guys?! JOBS!) and are looking for people to help them in this pursuit.
Just a Thought:
Sports, sports, sports!
No. 24 Florida (our executive director's second alma mater) beat No. 23 Tennessee on a last-second Hail Mary on Saturday, 26-20. Feleipe Franks found Tyrie Cleveland to win it from 63 yards away. Despite their efforts, Tennessee didn't have a lot of defensive help at the back of its secondary, and two defenders didn't have the angle to deny Cleveland in the middle of the end zone. Bummer for the Vols! Click here to see commentary and learn a new way to present game coverage via social media.
Tools for a social media mastermind
Click here to see that latest trends and tools across the biggest social media platforms (that you all are probably surfing in another browser, as you read this).