Membership is open to media staff members in a chartered high school.
There are no annual dues. When a candidate is recommended for membership, he or she pays a one-time initiation fee. The Society then provides the initiate with an official membership pin, membership certificate, and a one-year subscription to Quill & Scroll magazine.
Members of Quill and Scroll Honor Society must be chosen from students enrolled in the high school who, at the time of their recommendation, meet the following requirements:
1. They must be of sophomore, junior or senior classification.
2. They must have the equivalent of a B grade average, or be in the upper third of their class in general scholastic standing, either for the year of their election or for the cumulative total of all high school work.
3. They must have done superior work in some phase of journalism or school media work. They may be staffers of a magazine, newspaper, yearbook, news organization, online site or radio/television station at the school, or one conducted by an external organization.
4. They must be recommended by the supervisor or by the committee governing the media.
5. They must be approved by the Quill and Scroll Executive Director.
Membership is open to all media staff members in a chartered or member high school.
Don't forget to submit your application to us separately.
Download PDF of Induction Ceremony scripts: Candle Lighting Induction, Non-Candle Induction.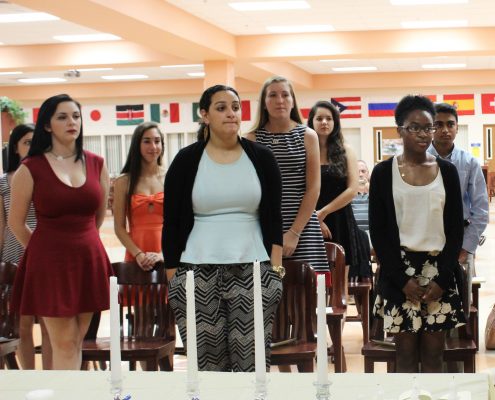 Member Awards

Schools with an established Quill and Scroll chapter can use the order form to:
Recommend and initiate new members
Order additional pins for previously initiated members
Order graduation honor cords, t-shirts, patches and other member awards
Order Quill and Scroll resources, publications and other chapter materials
Note: All Quill and Scroll materials and pins may only be ordered by journalism advisers and teachers or school principals. Click on the images above for an enlarged view of items.

Non-Member Awards
The following awards are available for junior high and other non-member students:
Creative writing awards (Item N2)
Journalism awards (Items N3 and N4)
Publication awards (Items N5, N6 and N7)
Award of Honor certificates (Items C1 and C2)
Testimonial Scrolls (Items C3 and C4)
Journalism recognition graduation cords (NCD)
Click on the images above for an enlarged view of items.