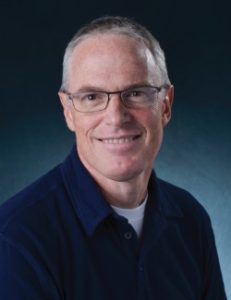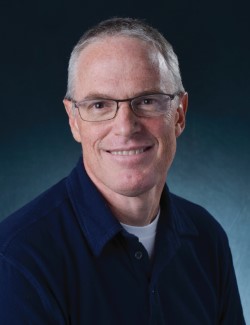 Jeff Browne has been appointed executive director of Quill and Scroll International Honorary Society for High School Journalists beginning July 5.
Currently the director of CU News Corps at the University of Colorado Boulder, Browne will succeed Vanessa Shelton as Quill and Scroll director. She is retiring after nearly 10 years in the position.
As executive director, Browne will direct the honor society and also will serve as editor of Quill & Scroll magazine and other organization media, and will direct Quill and Scroll Foundation.
Browne has extensive experience in scholastic journalism education, including as the executive director of the Kansas Scholastic Press Association from 2009-2013 and of the Colorado Scholastic Press Association from 2003-2004. In addition to directing the CU News Corps student media project at the University of Colorado, Browne is a journalism instructor teaching two to three courses per semester.
Under his direction, the News Corps students produced an award-winning documentary "Taking the Lede: Colorado Edition," which won a Best of Competition Award in 2016 at the BEA Festival of Media Arts. The documentary aired on Rocky Mountain PBS in June 2016. He served as producer of the film about First Amendment rights for Colorado high school student journalists.
From 1999-2009, Browne advised student media at Colorado State University and taught high school journalism, English and history from 1990-1999. He also has worked as a journalist in Florida.
He holds a bachelor's degree in journalism from the University of Nebraska, Lincoln, and a master's degree in education from the University of Florida.
Active in national journalism organizations and conferences including JEA and NSPA, Browne is completing a two-year term through October as head of the Scholastic Journalism Division of the Association for Education in Journalism and Mass Communication (AEJMC). He has taught at summer journalism workshops and was director of the Kansas Journalism Institute summer workshop from 2009-2013.
For more than a year, he has volunteered with Intercambio de Communidades teaching English to Spanish-speaking immigrants in Boulder County, Colorado.
Quill and Scroll International Honorary Society for High School Journalists recognized six scholastic media staffs with the inaugural Blue and Gold Awards launched this year in conjunction with the organization's 90th anniversary. These awards honor high school journalism programs that excelled in the International Writing, Photo and Multimedia Contest. Top publishing teams will also be recognized in the upcoming Yearbook Excellence Contest.
The Blue and Gold Awards are presented to top staffs based on individual student performance in the following categories: Comprehensive Writing, Comprehensive Visuals and Staff Excellence. The winning staffs are:
Westlake High School in Austin, Texas, received the Staff Excellence Award for overall excellence in its publication. It is the highest Blue and Gold Award a staff can receive.
Three schools received the Comprehensive Writing Award: Lakota East High School in Liberty Township, Ohio; Shalhevet High School in Los Angeles, California; and Westlake High School in Austin, Texas, for overall excellence in writing, including editorials, features and news. Health, science and agricultural writing was added as a category this year.
Four schools were presented the Comprehensive Visuals Award: Duncanville High School in Duncanville, Texas; McKinney High School in McKinney, Texas; Shawnee Mission East High School in Prairie Village, Kansas; and Westlake High School in Austin, Texas, were recognized for overall excellence in visuals, including graphic design, photography, infographics and photo illustrations.
With the founding of the Blue and Gold Awards, the Society continues supporting and recognizing schools for their journalistic endeavors, not just for individual achievements but for staffs as a whole.
After a competitive application process, six incoming college freshmen were awarded Quill and Scroll International Honorary Society scholarships for studies in journalism or communications.
The recipients of the George and Ophelia Gallup Memorial Scholarship are Ivana Giang, graduate from Lakota East HS, and Julia Poe, of Shawnee Mission East HS. Though hailing from Ohio and Kansas, respectively, both will attend the University of Southern California in the fall. The Gallup Memorial Scholarship is named in honor of George Gallup, Quill and Scroll's founder and renowned pollster, and his wife.
Named in honor of a former Quill and Scroll executive director, the Richard P. Johns Scholarship is awarded to Marie Obsuna, graduate from Kadena HS in Okinawa, Japan. Obsuna will attend Arizona State University.
The Edward J. Nell Scholarship, also named in honor of a former director, has three recipients. Alexzandria Churchill, graduate of Notre Dame de Sion HS in Kansas, MO, who is attending the University of Missouri, Columbia; Karringtan Harris, graduate of East Mecklenburg HS in Charlotte, NC, attending Wake Forest University in Winston-Salem, NC; and Jacob Prothro, graduate of Westlake HS in Austin, TX, attending Southern Methodist University in Dallas, TX.
More than 60 applicants vied for the scholarships, which range from $1,000 to $500. Seniors planning to major in journalism or communications in college and who are members of the honor society or were awarded Gold Keys in Quill and Scroll's Yearbook Excellence or Writing, Photo and Blogging contests are eligible to apply for the scholarships. The deadline for 2016 Quill and Scroll scholarships is May 10. More information is available at quillandscroll.org/scholarships.
The deadline for the Quill and Scroll Yearbook Excellence Contest is Nov. 1, and for the Writing, Photo Contest and Blogging Competition, Feb. 5. Each contest recognizes individual journalistic achievements of students. Middle and junior high school journalists may enter the Quill and Scroll Writing and Photo Contest for grades 5-9, which also has a Feb. 5 deadline.
Quill and Scroll members also have the opportunity to receive a $500 college scholarship from MyMozaic, where students can create portfolios of their work and link with colleges and other enrichment opportunities. For more information, visit www.mymozaic.com/quillandscroll.